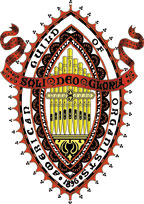 Newsletter
January 2004

Click here for the Newsletter Archive

Click here for a printable copy of the current newsletter


Letter from the Dean

Welcome to 2004!! I hope everyone's holiday celebrations were safe and happy. My family met in Pennsylvania to celebrate my parents' 50th wedding anniversary on December 26th by putting on a family recital at their retirement community. Besides the performances by my siblings and their families, a highlight was the fact that my father wore the tie we gave him for Christmas – a very colorful and bright "M&M's" tie. We had quite the musical buffet – piano, trombone, trumpets, French horn, oboe, clarinet, saxophone, voices, handbells and tuba. I can tell you that none of us kids traveled with much extra room in the car! Speaking of traveling, we had family that came from Okinawa, Mississippi, North Carolina, Georgia, New York and also my brother's family from Pennsylvania. Guess who was late? Yep, my brother from Pennsylvania – the one with the shortest trip!

I look forward to greeting everyone at our annual "Spuds and Sundaes" at the Dubois House of the Reformed Church in Fishkill from 4 to 6 on Saturday, January 17th. We will again offer the "musical bake sale" table, so bring all your extra sheet music to donate to the table. Such a culinary and nutritional treat is not to be missed! We have modified it slightly to include Salad and as always, we invite you to bring along your spouse. Events like this would be great ones to invite your organist friends that aren't (yet!) members of the AGO. And don't worry about the ice cream sundaes being fattening – the ice cream melts and just fills in the cracks – it doesn't count towards calories!

The latest news from the convention steering committee is that our proposed budget has been approved and we anticipate the approval of our program in the near future. We have already gotten some very positive feedback from AGO National about our convention plans, and as soon as we can officially finalize them we can start informing you all of the details of this exciting event in the life of our chapter. We have begun to reap the benefits of this undertaking as we have been able to expand our chapter "family" with the addition of Mr. Steve Lynn as our budget guru. We've been working with Steve for a few months now, and he attended our annual picnic and got to meet a few of us there. We're such a good influence on him – he is really intrigued by the pipe organ!

The convention planning has so far been a slow process. Our first "hurdle" was to get the budget approved, now we can move forward and "officially" get confirmation from our performers. You will soon be able to witness the huge amount of work the committees have been doing. Keep an eye on the "Convention 2005" stop on the website for the latest. We're not forgetting or ignoring those of us that don't "do" the internet – we'll publish updates in the monthly newsletter.

Ah, the innocence of youth. A neighborhood 1st grader told his parents that instead of milk and cookies, this year they should leave Santa Claus a $20 – he could use it to buy stuff to fix up his shop.

Looking forward to seeing many folks in Fishkill on the 17th!



Directions to First Reformed Church, Fishkill

The church property is right on the corner of Route 9 and Route 52 (Main Street) and the tall brown steeple is visible for a considerable distance. There is a parking lot next to the Dubois House, which is the white building closest to Route 9. Enter the parking lot immediately upon turning onto Route 52.
• From the North: Take Route 9 south to Fishkill. Turn right on Route 52.
• From the South and West: Take Route I-84 east to Exit 13 (Route 9) northbound. Turn left on Route 52.
Please don't forget to call Susan LaGrande at 845-226-6496 with your RSVP so we can prepare the right number of places at the table. If you forget to call, come anyway! We'll have plenty of food, and we can always squeeze in another chair. Bring a guest too!
Web Site Upgrades

If you haven't visited our chapter web site in a while, be sure to check out these new features which will make our web site even more useful:
• Guest Book - where visitors (and potential members) can sign in.
• Message Board on the secure Private page (for members only – if you forget your username and password, please contact Susan LaGrande at 845-226-6496).
These latest changes are in addition to several other behind-the-scenes upgrades that make it possible for new information to be posted quickly and easily, so that even last minute announcements and schedule changes can be made available in a timely way.

Our web site gets a steady stream of compliments, for which much credit goes to our Webmaster Dan Long of www.bachorgan.com. Thank you, Dan, for all your efforts on our behalf.
Editor's Corner

This newsletter is published by the Central Hudson Valley Chapter of the American Guild of Organists. The editor is:
Susan LaGrande
12 Montrose Lane
Wappingers Falls, NY 12590
Phone: 845-226-6496 (home)
Fax: 845-226-1035
e-mail: SUSANEL2@HOTMAIL.COM
Contributions to this newsletter are always welcome. We have been very pleased to offer a member profile in previous issues. If you would like to be profiled, you may write your own biography (up to 500 words) or contact the editor to arrange an interview.