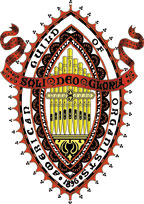 Newsletter
September 2011

Click here for the Newsletter Archive

Click here for a printable copy of the current newsletter



Dear Colleagues,

It seems that fall comes sooner every year! We are already looking forward to a new school year and new opportunities and responsibilities as we plan to attend and perform in concerts while preparing the music for our church and school programs. The leaves are starting to show some color, the breeze is a little cooler, and the words "Advent" and "Christmas" are starting to creep up on our planners. Perhaps not yet…

As you plan, please take some time to look at the Calendar on the web site or on your printed copy of this newsletter. The Hudson Valley has many opportunities to enjoy music – many of our choral groups such as Cappella Festiva, Camerata Chorale, Kairos, and many others. Church music programs and organ recitals are numerous as well.

The Central Hudson Valley chapter will be offering some interesting meetings this fall – which are open to all interested persons, not just members. On Sunday, October 2, at 3:00 PM, we are having an organ crawl at a private residence! Dale Ziegenfelder, who is a member of the Hudson/Catskill chapter, rebuilt a 1950 Kilgen organ in his house. The process took over 12 years! We will have the opportunity to see and play this instrument and then enjoy going out to dinner afterwards. You may link to the organ specifications on the website. Specific directions to Dale's house – which is off Route 28 northwest of Kingston – will be available shortly.

I enjoyed a nice conversation with Dale, his lovely wife and some friends he brought to the Hudson Valley Bachfest Concert on August 20. He is a frequent supporter of some of our local events.

On November 13 at 4:00 PM, we are co-sponsoring with Christ Episcopal Church, Poughkeepsie, a Concert of Patriotic Organ and Choral Music. Scheduled for the weekend of Veterans' Day, this concert will use as a springboard many of the favorite hymns of the Presidents of the United States throughout history. This will touch upon many different themes in addition to many of the patriotic songs favored by some of our presidents. All members of the AGO are encouraged to participate in this concert either through singing in the choir or playing individual selections on the organ. If you have such an interest or desire further information, please call Laura Russell at 845-485-1648.

If you have not joined our chapter or need to renew for the coming year, please check the Membership Form link below. When I arrived in the Hudson Valley area 11 years ago, I really did not know what was going on in this area, and it is mainly through the Central Hudson Valley AGO that I have formed relationships with new friends and colleagues. The role of this chapter is vital because of the great geographical area covered in the central Hudson Valley – covering four counties and five of New York State's 62 cities.

All the best with your fall preparations!


Craig Williams,
Sub-Dean, Central Hudson Valley AGO


Membership Application

Included in this month's newsletter is a membership application form for the upcoming 2011-2012 year. Please be sure to complete the form and send it, along with your check, to:
Central Hudson Valley Chapter, AGO
Eric R. Hepp, Treasurer
24 Lor-Mar Court
Wappingers Falls, NY 12590
We are a little late in distributing the form this year, so please help us out by submitting your form as soon as possible.

Deadline for Next Newsletter

We are always glad to receive input for the chapter newsletter in the form of calendar items, reviews of recent concerts and events, biographies, letters, photographs, etc. In order to make sure these submissions can be processed in a timely fashion, please make sure they are received by the 23rd of each month. However, material such as calendar items may be submitted at any time; even if the material may not make it into the printed newsletter, it can be quickly posted on our web site at www.chvago.org.

You may submit newsletter or web site material by mail, e-mail, fax or phone. Just contact the editor, Susan LaGrande, using the information given above. Remember, the deadline for the next printed newsletter, to be available the first week in October, is September 23rd.

Editor's Corner

This newsletter is published by the Central Hudson Valley Chapter of the American Guild of Organists. The editor is:
Susan LaGrande
12 Montrose Lane
Wappingers Falls, NY 12590
Phone: 845-226-6496 (home) - Fax: 845-226-1035
e-mail: SUSANEL2@OPTONLINE.NET