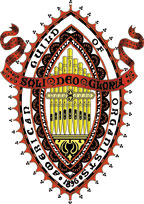 Newsletter
October 2011

Click here for the Newsletter Archive

Click here for a printable copy of the current newsletter



Dear Colleagues,

We have two very interesting programs coming up this fall. Craig wrote briefly about both of them in the last Dean's letter (when I was on vacation). I have some details I can now add.

First, coming up on October 2nd we have an invitation to visit the home of Dale Ziegenfelder in Glenford, NY. As Craig already explained, Dale has an organ in his house and he has invited us to come and hear and PLAY it. So bring music and shoes if you wish. The invitation is for 3:00 PM on Sunday, October 2. Those who wish may also go with a group that will be taking Dale and his wife out to dinner afterwards. Directions to Dale's home may be obtained by calling Susan LaGrande at 845-226-6496 or Craig Williams at 845-355-6451.

If you plan to attend, please contact Craig Williams at 845-355-6451.

Our other program is one which Laura Russell and Craig Williams are coordinating at Christ Church for November 13th at 4:00 PM. To celebrate Veteran's Day we are having a concert of Patriotic Music based around the theme of "Favorite Hymns of the Presidents". It will be a benefit for "Wounded Warriors", a non-profit group that assists hospitalized veterans. Music will include organ solos, presidential favorite hymns, and choral anthems.

You may participate as an organist, a singer, or as a member of the congregation. We are looking for organists who may be willing to contribute an organ solo, either based on one of the hymns below or in keeping with the patriotic theme. Depending on the response, we may need to limit the number of organists participating. You could also participate by accompanying one of the hymns (see list below).

Also needed are people to sing in a combined choir. You are encouraged to bring your choir, either to sing as part of the congregation or to join in the combined choir. Of the choir anthems listed below you may choose to do all with your participating singers or you could choose just to do the middle three which are the easiest. The anthems listed below are available from Laura Russell.

Here is a draft overview of the program:

HYMNS
The following hymns, which are presidential favorites, will be for congregational singing. Most of the numbers refer to the 1982 Episcopal Hymnal, which will be in the pew racks for the concert. LEVAS refers to the "Lift Every Voice and Sing" hymnal.

President - Title - Tune - Number
Barack Obama - "Life Every Voice and Sing" - LIFT EVERY VOICE - 599
Gerald R. Ford - "O God, Our Help in Ages Past" - ST. ANNE - 680
Jimmy Carter - "Amazing Grace" - NEW BRITAIN - 671
Woodrow Wilson - "It Is Well with My Soul" - VILLE DU HAVRE - LEVAS 188
Chester A. Arthur - "Abide with Me" - EVENTIDE - 662
George H. W. Bush - "Eternal Father, Strong to Save" - MELITA - 608
John F. Kennedy - "Holy God, We Praise Thy Name" - GROSSER GOTT - 366
Andrew Jackson - "Come, Thou Almighty King" - ITALIAN HYMN - 365
George Washington - "How Happy Is He Born and Taught" - TALLIS' CANON - insert

CHORAL ANTHEMS
Randall Thompson: movement from Testament of Freedom "The Lord who gave us liberty"
Wilhousky: Battle Hymn of the Republic
Buryl Red (Arr): America the Beautiful
Irving Berlin: Give me your tired, your poor
Aaron Copland: The Promise of Living

Choir sheet music: Laura Russell has ordered the music, but depending on the number of people wanting to sing, we may need more copies. Please be in touch with her if you already have access to any of these pieces of music, and if we could borrow your copies for the concert.

Combined choir rehearsal schedule: (all at Christ Church, Poughkeepsie)
Sunday, October 30 at 7:00 PM
Sunday, November 6 at 7:00 PM
Thursday, November 10 at 7:00 PM

If you would like to be involved, please contact: Laura R. Russell, Music Director, Christ Church, Poughkeepsie or Craig S. Williams, Music Director, Cadet Chapel, West Point.

I do hope you will be able to participate in one or both of these events. At the very least come on November 13th and encourage your congregation to come as well.



Beverly Simmons, SPC
Dean, Central Hudson Valley AGO

Deadline for Next Newsletter

We are always glad to receive input for the chapter newsletter in the form of calendar items, reviews of recent concerts and events, biographies, letters, photographs, etc. In order to make sure these submissions can be processed in a timely fashion, please make sure they are received by the 23rd of each month. However, material such as calendar items may be submitted at any time; even if the material may not make it into the printed newsletter, it can be quickly posted on our web site at www.chvago.org.

You may submit newsletter or web site material by mail, e-mail, fax or phone. Just contact the editor, Susan LaGrande, using the information given above. Remember, the deadline for the next printed newsletter, to be available the first week in November, is October 23rd.

Editor's Corner

This newsletter is published by the Central Hudson Valley Chapter of the American Guild of Organists. The editor is:
Susan LaGrande
12 Montrose Lane
Wappingers Falls, NY 12590
Phone: 845-226-6496 (home) - Fax: 845-226-1035
e-mail: [l=mailto:SUSANEL2@OPTONLINE.NET]SUSANEL2@OPTONLINE.NET[EL]