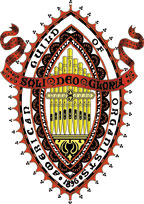 Newsletter
November 2011

Click here for the Newsletter Archive

Click here for a printable copy of the current newsletter



Dear Colleagues,

Many of you are already signed up to play or sing at our jointly sponsored (with Christ Church) Veteranís Day Concert. Thank you for your participation. We also need an audience. So please spread the word Ė post the flyer which Laura sent me and I forwarded by email to the membership. If you arenít one of those playing or singing then please plan on coming. Talk it up with friends and members of your congregation. Remember that the donation at the door will go to help wounded Veterans.

I just finished writing a newsletter article on the above for our monthly church newsletter. It made me wonder how many of us take advantage of the church newsletter to write articles about music. If you donít, you are missing a great opportunity to share some vital information with the congregation. Even if you think they arenít interested you are at the very least keeping the music program in peopleís minds if they see articles from you each month. I have often been surprised by comments from unexpected people who read something I wrote about the hymns we are singing or the reason for our chanting of the Psalms.

If you are getting ready to introduce something new Ė perhaps a new setting the Sanctus or a new Gloria Patri Ė it is the perfect time to give a little background. Where did the text of the Sanctus come from, has it always been part of our liturgy, or why do we sing the Gloria Patri or some other text? If you donít know the answer to your own questions it is a perfect time for a bit of research. It will mean more to you and the congregation if you know where it came from and why you are singing it.

If Iím playing a special Prelude or Postlude I might make mention of it in the Newsletter so people can decide to come early or stay late to hear it. Does it fit in with the service in a special way? If itís based on the hymn tune for the opening or closing hymn you can point that out. Will everyone be interested? Of course not. But there are some who will be and they can often interest others.

When I first went to Trinity Episcopal in Fishkill 4 Ĺ years ago, everyone talked loudly through the Postlude. (Does that sound familiar?) I began sharing with the choir and sometimes in the Newsletter what I was playing and why. Within the first year the choir began to stay and listen. Now it is not uncommon for a significant group of the congregation to listen and not move until I finish the Postlude. Is it quiet while I play? No. But those who choose to listen still find it rewarding and I certainly appreciate knowing that my work, while directed to God, is also giving them pleasure.

Thanksgiving is coming up at the end of the month and it seems a good time to take a deep breath (before Advent and Christmas begin) and focus on all of our blessings. We can begin with the fact that we have another day in which to serve our Lord. Most of us can make a long list of things for which we are thankful Ė from family and friends to our health and our jobs. As you count YOUR blessings donít forget to be thankful for the opportunities we have to serve while making music.

Happy Thanksgiving!


Beverly Simmons, SPC
Dean, Central Hudson Valley AGO

Membership News

Denise Bassen has a new phone number: 845-345-1500. Please discontinue using her old number as of the end of November.

Deadline for Next Newsletter

We are always glad to receive input for the chapter newsletter in the form of calendar items, reviews of recent concerts and events, biographies, letters, photographs, etc. In order to make sure these submissions can be processed in a timely fashion, please make sure they are received by the 23rd of each month. However, material such as calendar items may be submitted at any time; even if the material may not make it into the printed newsletter, it can be quickly posted on our web site at www.chvago.org.

You may submit newsletter or web site material by mail, e-mail, fax or phone. Just contact the editor, Susan LaGrande, using the information given above. Remember, the deadline for the next printed newsletter, to be available the first week in December, is November 23rd.

Editorís Corner

This newsletter is published by the Central Hudson Valley Chapter of the American Guild of Organists. The editor is:
Susan LaGrande
12 Montrose Lane
Wappingers Falls, NY 12590
Phone: 845-226-6496 (home) - Fax: 845-226-1035
e-mail: SUSANEL2@OPTONLINE.NET