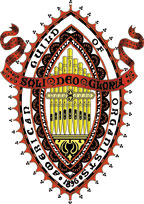 Newsletter
December 2011

Click here for the Newsletter Archive

Click here for a printable copy of the current newsletter



Dear Colleagues,

The busy season is upon us. We all have extra services, rehearsals and concerts to participate in and attend. Sometimes it can seem overwhelming. But try to step back and take a deep breath and remember why you got into this business in the first place. Music brings great joy to many people and especially at Christmas. People who wonít think of singing any other time of year will gladly join in to sing Silent Night or Joy to the World. And think of all the people who come to our churches on Christmas. Yes, it would be nice to see them at other times as well, but we have the opportunity to help them remember what we are really celebrating. Our music brings a message of hope and peace and joy. What a privilege to be part of bearing that message to the world. So as you rush from one thing to the next, take a moment to thank God for your ministry and ask him to use it this Christmas to bring delight to others. Then on December 26th take a few days off and relax! (I certainly plan to!)

This is also a great season to support your colleagues when you can. Go listen to someone elseís Lessons and Carols or their Christmas concert. It is not only enjoyable, but you may pick up some good ideas that you can use next year. And speaking of ideas for next year, keep your favorite one or two Advent or Christmas anthems out to share with us at our anthem reading session in March.

Those with email will probably have gotten notice of the National Convention. If you go to www.ago2012.org you can get all the information and even register. This year our National Convention is in Nashville, TN from July 1-6. Even if you canít go they have some wonderful pictures of churches and organs on the website. Itís worth a look.

Have a very blessed Christmas!



Membership News

We extend our condolences to Susan Guse, who recently lost her father, Frederick Calvin Brown. An obituary will be available in next monthís newsletter.

Deadline for Next Newsletter

We are always glad to receive input for the chapter newsletter in the form of calendar items, reviews of recent concerts and events, biographies, letters, photographs, etc. In order to make sure these submissions can be processed in a timely fashion, please make sure they are received by the 23rd of each month. However, material such as calendar items may be submitted at any time; even if the material may not make it into the printed newsletter, it can be quickly posted on our web site at www.chvago.org.

You may submit newsletter or web site material by mail, e-mail, fax or phone. Just contact the editor, Susan LaGrande, using the information given above. Remember, the deadline for the next printed newsletter, to be available the first week in January, is December 23rd.

Editorís Corner

This newsletter is published by the Central Hudson Valley Chapter of the American Guild of Organists. The editor is:
Susan LaGrande
12 Montrose Lane
Wappingers Falls, NY 12590
Phone: 845-226-6496 (home) - Fax: 845-226-1035
e-mail: SUSANEL2@OPTONLINE.NET