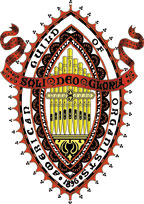 Newsletter
January 2012

Click here for the Newsletter Archive

Click here for a printable copy of the current newsletter



Dear Colleagues,

Happy New Year! I pray that 2012 will be a good year for each of you. May we meet its challenges with courage and resolve and be thankful for the many blessings as they occur. May your choir sing in tune and may your organ sound Positively Great – and Swell.
January brings a unique opportunity for us. Our member, Maris Kristapsons, sent me the following note in mid December: "I recently came into a very, very large private library of organ music, from the estate of Bob Dorum, former organist at St. Paul's. There are over 25 large grocery bags full of music of all sorts -- mostly classical organ, some lighter stuff, numerous hymnals, lectionaries, songbooks, choral music, etc. There are very substantial collections of Bach, Reger, Guilmant, and Lemare, among others."
He went on to say that the vast majority is not useful to him or else he already has it in his library. So he proposed having a sale to raise money for the chapter and so that he can clean out his choir room where he doesn't have room to store it!

The Board agreed that this was a good idea and since we usually have a "music sale" along with Spuds and Sundaes it was agreed to combine these events. So to avoid having to move all of this music we have changed the venue for the Spuds and Sundaes to St. Paul's in Poughkeepsie. The date is January 22 and here is how it will work.

11:30 – 1:00 Maris and any volunteers will begin to set up the sale.
1:00 PM – Open for business to ANYONE – not just chapter members. So if you know of an organist or pianist who might be interested please pass along the information. (There is piano music as well)
The sale will end at 5 PM when we will have our Spuds and Sundaes social. (At least the sale will end for the general public. If there is anything left that we want I'm sure that will be fine.) At the end of our social time I'm sure Maris would appreciate help in disposing of what remains.

It sounds like a wonderful opportunity to add to your library at minimal cost and at the same time benefit the chapter. See you at St. Paul's on the 22nd!


Beverly Simmons, SPC
Dean, Central Hudson Valley AGO
Deadline for Next Newsletter

We are always glad to receive input for the chapter newsletter in the form of calendar items, reviews of recent concerts and events, biographies, letters, photographs, etc. In order to make sure these submissions can be processed in a timely fashion, please make sure they are received by the 23rd of each month. However, material such as calendar items may be submitted at any time; even if the material may not make it into the printed newsletter, it can be quickly posted on our web site at www.chvago.org.

You may submit newsletter or web site material by mail, e-mail, fax or phone. Just contact the editor, Susan LaGrande, using the information given above. Remember, the deadline for the next printed newsletter, to be available the first week in February, is January 23rd.


Editor's Corner

This newsletter is published by the Central Hudson Valley Chapter of the American Guild of Organists. The editor is:
Susan LaGrande
12 Montrose Lane
Wappingers Falls, NY 12590
Phone: 845-226-6496 (home) - Fax: 845-226-1035
e-mail: SUSANEL2@OPTONLINE.NET

Membership News

Following is the full text of the obituary for Frederick Calvin Brown, father of Susan Guse, whose death was reported in last month's newsletter.

EVERETT, Wash. – Frederick Calvin Brown, 87, of Everett, Wash., passed away peacefully in his sleep on Friday, Nov. 18, 2011, in Waterford, Conn.

He was born July 6, 1924, to Rose and Fred Brown in Seattle, Wash. He graduated in 1942 from Roosevelt High School in Seattle and received his S.B. (1946), A.M. (1947) and Ph.D. (1950) from Harvard University. During World War II, while an undergraduate at Harvard, he worked for the U.S. Navy to help develop radar technology. On Aug. 9, 1952, he married Joan Adele Schauble in Seattle, Wash.

He began his academic career at Reed College in Portland, Ore., in 1952. Three years later, he joined the teaching faculty in the physics department at the University of Illinois at Urbana-Champaign, where he remained until his retirement in 1987. He authored a textbook, "The Physics of Solids," published in 1967, in addition to numerous publications and professional journal articles. He mentored over 20 graduate students.

His early work studied defects in silver halides as related to the photographic process and he spent many years as a consultant to the Eastman Kodak Company. In his later work, he focused on the application of synchrotron radiation in the study of defects in crystals and he invented the grasshopper monochrometer, which was useful in this area of inquiry. He was a Fellow at St. John's College, Oxford, England, during his first sabbatical; he worked at Stanford University and Xerox Corporation in Palo Alto, Calif., during his second sabbatical and received a Humboldt Award while at the University of Kiel, Kiel, West Germany, during his third sabbatical.

Upon retirement in 1987, Fred and Joan moved to Whidbey Island, Wash. In 1993 he became Professor Emeritus at the University of Washington and maintained an office there until his death. In 1997, Fred and Joan moved to Everett, Wash., and celebrated their 50th wedding anniversary before Joan's death in 2003.

Fred loved the outdoors and climbed all of the mountains in the Pacific Northwest over 10,000 feet except Glacier Peak. He had his pilot's license for a number of years and was a member of the Aircraft Owners and Pilot's Association. He loved to garden, was an avid photographer and collected and repaired clocks.

Fred joins his beloved wife, Joan, in heaven. He is survived by his daughters, Susan Guse (Mike) of Hopewell Junction, N.Y., and Gail Brown (Mark) of Groton, Conn.; his son, Derek of Mukilteo, Wash.; and five grandchildren, Brian, Benjamin and Matthew Guse, and Jeffrey and Carolyn Brown.

The Rev. Daniel B. Ward held a memorial service for the family on Saturday, Nov. 26, 2011, at St. John's Lutheran Church, Poughkeepsie, N.Y. The committal service will take place in Washington State in the near future.

Memorial donations may be made in Frederick C. Brown's memory to the Nature Conservancy, P.O. Box 6014, Albert Lea, MN 56007 (www.nature.org). Published in The News-Gazette, serving Central Illinois, on 12/2/2011.