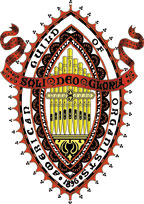 Newsletter
February 2012

Click here for the Newsletter Archive

Click here for a printable copy of the current newsletter



Dear Colleagues,

If you haven't heard, Gerre Hancock died on January 21st. He was certainly one of the giants of the organ world. His improvisations were incredible. He will be missed by all of us.

Our Spuds and Sundaes was a terrific success. Many thanks to our "cooks": Susan LaGrande for all the potatoes, Barbara Bayers and Nancy Harle for the toppings and beverages, Celestine Campbell and Craig Williams for the ice cream and Eric Hepp for all the necessary paper goods. A really big thank you to Maris Kristapsons who sorted all the music and offered it to all of us. The sale was a huge success. We added over $500 to our scholarship fund! In addition many of us added new music to our libraries at a fraction of the usual cost. It was a win – win for everyone.

You should also be aware of the outcome of our Patriotic Hymn Sing and concert from last November. We had a wonderful crowd and raised about $3,000 which was donated to local Veterans groups. It was amazing how smoothly everything flowed considering there were 11 different organists involved. Kudos to all of you. (Copies of the CD recorded at the concert may be obtained by calling Laura Russell at 845-485-1648.)

Now it is time to look ahead. Our next chapter event is a choral reading session on March 10th from 2-4 at the Balmville Presbyterian Church in Newburgh. (Directions next month) The theme is Advent and Christmas. Here's how it works. You pick one or two anthems from your library to share. Bring the copies with you for all of us to read through while you conduct. Margaret Small has graciously volunteered to accompany. BUT, we do need to know ahead of time who will be presenting anthems and Margaret would like time to prepare the accompaniment. So – no later than March 1 you need to contact Barbara Bayers at babayers@gmail.com or 845-391-8479 and tell her what you will be bringing. She will compile a list with the title, composer and publisher so if you hear a piece you like you will have all the information you need to order it. Also, please send a hard copy to her (603 Dove Court, New Windsor, NY 12533) or else scan it and send it to her electronically. She will then get the copy to Margaret Small.

The more people who participate the better it will be. We also need people to come and sing so invite your singing friends and choir members to join us so we can hear what these pieces sound like. Please don't wait until the last minute. Contact Barbara soon while your Advent/Christmas music is still fresh in your mind and so she can start organizing this.

The year is off to a "great" start. Let's keep it that way.



Deadline for Next Newsletter

We are always glad to receive input for the chapter newsletter in the form of calendar items, reviews of recent concerts and events, biographies, letters, photographs, etc. In order to make sure these submissions can be processed in a timely fashion, please make sure they are received by the 23rd of each month. However, material such as calendar items may be submitted at any time; even if the material may not make it into the printed newsletter, it can be quickly posted on our web site at www.chvago.org.

You may submit newsletter or web site material by mail, e-mail, fax or phone. Just contact the editor, Susan LaGrande, using the information given above. Remember, the deadline for the next printed newsletter, to be available the first week in March, is February 23rd.

Editor's Corner

This newsletter is published by the Central Hudson Valley Chapter of the American Guild of Organists. The editor is:
Susan LaGrande
12 Montrose Lane
Wappingers Falls, NY 12590
Phone: 845-226-6496 (home) - Fax: 845-226-1035
e-mail: SUSANEL2@OPTONLINE.NET

Membership News

• Stu Ballinger has a new e-mail address, effective immediately: wa2bss@hvi.net.
• Janice Grace, one of our newest members, has accepted a position as organist and choir director at the Reformed Church in Poughkeepsie, NY. Playing organ since the age of 10, Janice's organ career began at 13 as assistant organist to Charles F. Boehm at Trinity Lutheran Church, Hicksville, NY. As an undergraduate of Westminster Choir College, she studied with Dr. George Markey, Joan Lippincott and Frauke Haussman. Her record company JaguarRecords.com is home for her Electro-Pop-Dance music she composes in her recording studio.