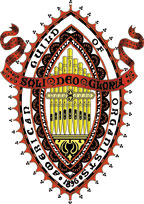 Newsletter
March 2012

Click here for the Newsletter Archive

Click here for a printable copy of the current newsletter



Dear Colleagues,

Now that we are beginning the season of Lent most of us are already focused on Easter and the plans we have for the big day. I know I am rehearsing our Easter anthem and transposing music for brass. But we need to be careful that we donít let Lent disappear for ourselves in all our outward preparations for what comes next.

I would urge you to set aside at least a few minutes each day to meditate on the reason we have a season called Lent. One help in doing this can be to read over very slowly the text of some of our Lenten hymns. Most hymns in our Hymnbooks are full of very sound theology and worthy not only of singing but of our meditation as texts. That is true of most anthems as well. As an example I would like to share with you an anthem text that I will be doing with my choir in a few weeks. The music is by Carl Schalk and the text was written by the contemporary poet Jaroslav Vajda.

Who is the one we love the most, the one who has our total trust?
Something or someone is our God, whose will is willingly obeyed,
To whom we give the years we live: let that be you, our God, our Lord!

Count evíry heartbeat, evíry breath, trace evíry step from birth to death,
Track evíry second to its source, each drop of blood, each blade of grass,
The rising sun, and evíry one; let that be you, our God, our Lord!

Preserve us from all other gods, all damned deceitful, loveless frauds;
Compare them ruthlessly to you, the only One, eternal true
Creator of all life and love: You are that One, our God, our Lord!

A love no other god has shown, Your Son upon a cross makes known.
How shall we worship such a God with more than words and passing nod,
If not with whole heart, mind, and soul, like yours for us, our God, our Lord?!

Have a blessed Lent (and remember our Anthem Reading Workshop on March 10th!)



Beverly Simmons, SPC
Dean, Central Hudson Valley AGO
Book Shelf

We have received information from Stu Ballinger about a new book (published September 2011) about organbuilder Robert S. Rowland (1898-1995), many of whose instruments are here in the Hudson Valley. The book is available from Amazon.com if anyone would like to obtain a copy.
Title: Only his organs remain: the life of New York State pipe organ builder Robert S. Rowland
Author: Richard Triumpho
Published 2011 by Sunnyside Press in Saint Johnsville, N.Y .

Deadline for Next Newsletter

We are always glad to receive input for the chapter newsletter in the form of calendar items, reviews of recent concerts and events, biographies, letters, photographs, etc. In order to make sure these submissions can be processed in a timely fashion, please make sure they are received by the 23rd of each month. However, material such as calendar items may be submitted at any time; even if the material may not make it into the printed newsletter, it can be quickly posted on our web site at www.chvago.org.

You may submit newsletter or web site material by mail, e-mail, fax or phone. Just contact the editor, Susan LaGrande, using the information given above. Remember, the deadline for the next printed newsletter, to be available the first week in April, is March 23rd.

Editorís Corner

This newsletter is published by the Central Hudson Valley Chapter of the American Guild of Organists. The editor is:
Susan LaGrande
12 Montrose Lane
Wappingers Falls, NY 12590
Phone: 845-226-6496
e-mail: SUSANEL2@OPTONLINE.NET