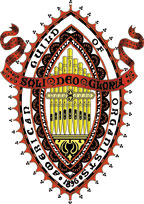 Newsletter
April 2012

Click here for the Newsletter Archive

Click here for a printable copy of the current newsletter



Dear Colleagues,

According to the National AGO headquarters, chapters can hold elections either annually or biennially in even numbered years. Our chapter has chosen the latter. So a nominating committee consisting of Laura Russell, Lois Hoger and Gregory Citarella was formed. I told them that it was my intention to step down at the end of the current term, which is June 30th. The following are the people nominated for the coming two years:
Dean: Craig Williams
Sub-Dean: Laura Russell
Secretary: Celestine Campbell
Treasurer: Eric Hepp
Membership Chair: Barbara Bayers
Members-at-large: Glenn May, Nancy Harle, Charles Faverio, Janice Grace and Susan LaGrande.

Other names may be added to the ballot if you have the personís permission. Please contact me if you wish to add someone. We will be electing 10 people to our Board. In our next newsletter we will have a ballot you can send in or you may cast your ballot in person at our May meeting which is the Members Recital. Results will be announced in our June newsletter and the new Board takes office on July 1, 2012.

That wonderful Easter Postlude that you have been practicing Ė why not play it at our Membersí Recital on May 18th (Friday) at 7:30 PM? The recital is being held at Christ Church in Poughkeepsie on the recently refurbished Gress-Miles organ. Laura Russell is the contact person. You need to let her know what you are playing and you can also arrange practice time through her. She can be reached at lrussell@hvc.rr.com or 845-485-1648. Iím sure she would appreciate knowing sooner rather than later that you wish to participate Ė even if you arenít sure yet of your piece.

Please begin putting aside your dues money for the coming year. According to National, the new year begins on May 1st and dues should be collected after that time. Many of us have gotten sloppy about sending in the money in a timely fashion. We hope to correct that this year by sending out reminders after the initial period so that we can wrap it up by the end of summer at the latest. Note: National no longer furnishes Membership cards so please donít ask for one.

Last, but far from least, please remember our next program which is the week after Easter on April 15th (Sunday) from 2-4 at St. Johnís Lutheran Church in Poughkeepsie. Our workshop Presenter, Phyllis Warner, comes to us from Dayton, Ohio. The title of the program is ďT-N-T hymn introductions to ignite interest and enthusiasm in hymn singingĒ. The program demonstrates 15 different styles of hymns by examining the Texts aNd Tunes. Ms. Warner will have a handout with a list of over fifty tunes to which the ďset-the-moodĒ techniques can be applied. I believe this approach would be helpful to all of us in our hymn playing. I hope to see you there!


Beverly Simmons, SPC
Dean, Central Hudson Valley AGO
Membership News

As mentioned in the Deanís Letter above, many of us have gotten sloppy about renewing our AGO memberships in recent year Ė your editor included! So this year we are going to try very hard to get our membership renewals taken care of early. To that end, next monthís newsletter will include a membership renewal form.

It may help you to know in advance that membership rates will be going up this year, from $92 to $97 for regular members and from $67 to $72 for special members. (Student membership and other categories will remain unchanged at $37.)

But donít let the slight rise in fees discourage you from renewing your membership! Consider all the benefits that come with membership in the CHVAGO:

Access to all services provided by AGO headquarters, including education, certification, publications, group insurance, discounts, and other benefits, some of which you may not even know about. For a complete list of these, visit the web page at http://www.agohq.org/membership/benefits.html.


Frequent local chapter events that will inspire and instruct you, including workshops, concerts, socials, and field trips.


Free access to our web site with all its useful features:


Chapter News (including a complete archive of newsletters going back over ten years)


Calendar of Events


Position Openings


Photo Gallery (sadly in need of some new photos submitted by YOU)


Sub List


List of Local Organs, with specifications and photos


List of Organ Teachers


Private Area (login required) for our membership roster and other personal information and communication



Fellowship with and support from your fellow organists. Who else can understand your joys, your frustrations, your interests as an organist? Who else can laugh at your jokes?[ebul
We are fortunate to have a very congenial group of people who make up our chapter, from very diverse backgrounds, and with many diverse gifts. It is always a pleasure when we get together and we wish we could do it more often. Donít let this opportunity slip away! Fill out your membership renewal form as soon as you receive it and send it in right away! Youíll be glad you did.

An Invitation

Stu Ballinger will be celebrating his 65th Birthday on Saturday, March 31, from 3:00 to 5:00 PM at St. Andrews Episcopal Church; 110 Overlook Road, Poughkeepsie. If you miss the party, birthday wishes may be sent to: Mr. Stuart Ballinger, 11 Lown Court, Poughkeepsie, NY 12603-3321.

Deadline for Next Newsletter

We are always glad to receive input for the chapter newsletter in the form of calendar items, reviews of recent concerts and events, biographies, letters, photographs, etc. In order to make sure these submissions can be processed in a timely fashion, please make sure they are received by the 23rd of each month. However, material such as calendar items may be submitted at any time; even if the material may not make it into the printed newsletter, it can be quickly posted on our web site at www.chvago.org.

You may submit newsletter or web site material by mail, e-mail, fax or phone. Just contact the editor, Susan LaGrande, using the information given above. Remember, the deadline for the next printed newsletter, to be available the first week in May, is April 23rd.

Editorís Corner

This newsletter is published by the Central Hudson Valley Chapter of the American Guild of Organists. The editor is:
Susan LaGrande
12 Montrose Lane
Wappingers Falls, NY 12590
Phone: 845-226-6496 (home) - Fax: 845-226-1035
e-mail: SUSANEL2@OPTONLINE.NET