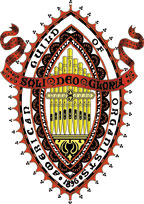 Newsletter
May 2012

Click here for the Newsletter Archive

Click here for a printable copy of the current newsletter



There were about a dozen of us from the Hudson Valley who attended Craig Williamsí organ recital at St. Thomas Fifth Avenue. We were treated to a wonderful mix of styles and pieces from all periods of music history. Craig started with Bach and Mendelssohn from the gallery organ and then switched to the main organ up front for Duprť, Messiaen, Rinehart and the wonderful Toccata of Nancy Plummer Faxon. The rafters were shaking by the time he was finished. Well done, Craig!!

We now have the opportunity to produce our own wonderful organ concert right here in the Hudson Valley. The date is Friday, May 18th and the venue is the Gress-Miles organ at Christ Church in Poughkeepsie. The performers? YOU! Yes, we need you to contact Laura Russell at LRUSSELL@hvc.rr.com or 845-485-1648 to let her know that you want to play in our Membersí Recital. She will also be able to help you set up practice time on the organ. This is just around the corner so please contact her ASAP!

You will also find in this issue of the newsletter a ballot for voting on the slate of officers to guide our chapter for the next two years. Please take a moment to follow the directions to vote. (I believe Eric told me that there will also be an opportunity to vote at the next meeting which is, of course, our Membersí Recital.) The next newsletter will announce the new officers. They will begin (or continue) their duties on July 1st.

As of May 1st our dues for next year are due. As you saw in our last newsletter there is a slight increase which I believe is offset by our many benefits. Susan did an outstanding job of listing those last month so I wonít repeat it here. But go back and look at what she wrote if you have any doubts. We are asking that everyone do their best to have their dues paid within the next few months. So if you canít come up with it all at once, start setting a portion aside each month until you can send it in. And if you have never asked your church to help pay for this now might be the time to ask. Point out all the benefits of your membership to you (and to the church). Most clergy belong to professional organizations and the church usually pays for their membership fees. So at least ask. It might get them thinking for a future year.

I do hope you are having a blessed Eastertide.


Beverly Simmons, SPC
Dean, Central Hudson Valley AGO

Membership News
Denise Bassen has changed her phone number to 845-226-1564. Please begin using this new phone number immediately.


Included in this newsletter is a membership application for your use. Please fill it out and mail it ASAP to Eric Hepp at the address listed on the form. If you need an additional form for a friend whom you are recruiting (hint, hint!) you may print one from our web site at www.chvago.org or request one from the Editor, Susan LaGrande, by calling 845-226-6496.


Also included in this newsletter is the official CHVAGO ballot. You may send this in with your membership application, or you may vote at the Membersí Recital on May 18.
Free to a Good Home

An acquaintance of ours has two old pump organs to dispose of. The smaller one, pictured immediately below, dates probably from about 1875; the maker is listed as Peloubet, Pelton & Co. For information on this maker, visit the web page. The larger pump organ, the lower picture below, is more recent, probably from 1890-1910; it was made by the Sherlock-Manning Organ Co. of London, Ontario, Canada. Some information about this manufacturer is available at http://www.encyclopediecanadienne.ca/articles/emc/sherlockmanning-piano-company-ltd. See Photos below. If you are interested, please contact Judie Marsden at 845-266-5188.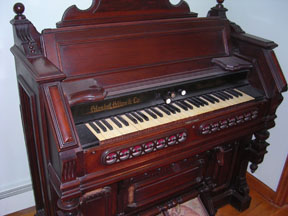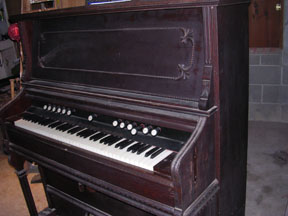 Deadline for Next Newsletter

We are always glad to receive input for the chapter newsletter in the form of calendar items, reviews of recent concerts and events, biographies, letters, photographs, etc. In order to make sure these submissions can be processed in a timely fashion, please make sure they are received by the 23rd of each month. However, material such as calendar items may be submitted at any time; even if the material may not make it into the printed newsletter, it can be quickly posted on our web site at www.chvago.org.

You may submit newsletter or web site material by mail, e-mail, fax or phone. Just contact the editor, Susan LaGrande, using the information given above. Remember, the deadline for the next printed newsletter, to be available the first week in June, is May 23rd.

Editorís Corner

This newsletter is published by the Central Hudson Valley Chapter of the American Guild of Organists. The editor is:
Susan LaGrande
12 Montrose Lane
Wappingers Falls, NY 12590
Phone: 845-226-6496 (home) - Fax: 845-226-1035
e-mail: SUSANEL2@OPTONLINE.NET