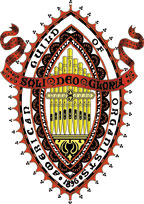 Newsletter
June 2012

Click here for the Newsletter Archive

Click here for a printable copy of the current newsletter



Dear Colleagues,

We had a very fine Memberís Recital with nine performers and over 70 people in the audience. Some were there who didnít even know any of the performers! We also raised $310 for our scholarship fund. Thanks to all who performed and a special thanks to Laura Russell for coordinating everything from practice time to programs and advertising. I understand that the potluck reception was delicious.

Not that the election was in any real doubt, but we now have a Board for the next two years. Beginning July 1st your officers are as follows: Dean, Craig Williams; Sub-Dean, Laura Russell; Treasurer, Eric Hepp; Secretary, Celestine Campbell; Membership, Barbara Bayers; Members-at-large: Nancy Harle, Susan LaGrande, Janice Grace, Charles Faverio, Glenn May. Thank you to Susan Guse who is stepping down. I also am retiring from the Board so this will be my last newsletter.

Our next chapter program is on June 10th at 4:00 PM at Calvary Presbyterian Church in Newburgh (120 South St. at the corner of Grand). Susan Young will be presenting a program on Creative Handbell Ringing for Choirs of all sizes. It is open to the public so if you have anyone interested in ringing or a handbell choir in your church, bring them along! I personally have never worked with a handbell choir but itís always fun to learn something new.

The program will last about an hour and a quarter; afterward, those who wish can join a group of us who will go to the riverfront for a lite supper. Barbara Bayers who lives in Newburgh has suggested Torches as a nice place to go with reasonably priced options. Nothing is set in stone, however, so join us and give us your input.

I have enjoyed working with all of you and serving as your Dean for the past three years. Thanks to the help and support of many, many people we have a good chapter with interesting programs. (Remember to send your dues in so you can continue to be part of it!) I may be stepping down but I am certainly not going away so Iíll see you at our programs!

Have a great, swell and positiv summer!



Beverly Simmons, SPC
Dean, Central Hudson Valley AGO

Membership News

Joseph Bertolozzi has accepted the position of Director of Music at St. Josephís RC Church in Middletown, NY. He leaves Christ Episcopal Church in Suffern, NY, and continues as Organist at Vassar Temple in Poughkeepsie, NY where he has presided for 16+ years. He will direct the choir and play the organ for 3 weekly Masses in addition to the usual Holy Days and sacramental Masses in the Roman Catholic calendar.

Editorís Corner

This newsletter is published by the Central Hudson Valley Chapter of the American Guild of Organists. The editor is:
Susan LaGrande
12 Montrose Lane
Wappingers Falls, NY 12590
Phone: 845-226-6496 (home) - Fax: 845-226-1035
e-mail: SUSANEL2@OPTONLINE.NET

Deadline for Next Newsletter

We are always glad to receive input for the chapter newsletter in the form of calendar items, reviews of recent concerts and events, biographies, letters, photographs, etc. In order to make sure these submissions can be processed in a timely fashion, please make sure they are received by the 23rd of each month. However, material such as calendar items may be submitted at any time; even if the material may not make it into the printed newsletter, it can be quickly posted on our web site at www.chvago.org.

You may submit newsletter or web site material by mail, e-mail, fax or phone. Just contact the editor, Susan LaGrande, using the information given above. Remember, the deadline for the next printed newsletter, to be available the first week in July, is June 23rd.