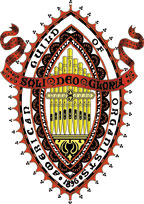 Newsletter
February 2004

Click here for the Newsletter Archive

Click here for a printable copy of the current newsletter


Letter from the Dean

Greetings on another brisk New York day. It seems that global warming must surely be a myth.

We had a great time at the annual Spuds and Sundaes – even though my wife made me eat some salad. Thankfully it wasn't enough to spoil my appetite for dessert. Thanks to Connie Lacey, our always gracious hostess, and also to Susan LaGrande for coordinating all the goodies. One highlight of the event was a visitor – Siri Milkove, an area piano teacher who participated in our November Pedals, Pipes and Pizza at the Balmville location. She was able to increase her organ music library very nicely at the musical bake sale table.

My wife and I had our annual trip to Hershey, Pennsylvania for a handbell conference in January. We had a great time ringing bells and seeing friends from all over. Bells and chocolate, does it get any better? I got to ring in a choir with Dr. William Payn once again and got to torment many other bell people. It only took me until the second session of the weekend to have a clinician look at my name so he could remember to watch out for me (and my humor). Dr. Payn is the director for the Hudson Valley Handbell festival at Nyack College this year; our bell choirs are already looking forward to that!

The convention planning is in full force – we're now finalizing the artists and setting up the various venues. The program committee has done a huge amount of work with content and scheduling concerts and workshops and more. We've already received a "seed money" loan from National to help us get things rolling.

We invite you to come hear our Sub-Dean extraordinaire John Sullivan at Saint John's Lutheran in Poughkeepsie at 3 p.m. on Sunday, February 15th. Keep an eye on the calendar page, where there are plenty of concert listings to keep you busy!



Membership News

• Welcome to our newest member! Her contact information is:
Ruby Hyatt, Mus.Ed.
8 Laura Lane
Hopewell Junction, NY 12533
845-896-1475
jhyatt4@juno.com
Substitute organist, First Presbyterian Church, Mahopac
• Alice Cann is renewing her plea for the donation of a piano for the Association for Retarded Citizens center in the town of LaGrange. Alice plays on a weekly basis for these joyful citizens and would appreciate a piano that isn't falling apart. Even a donation to ARC for the purpose of purchasing an electronic keyboard would probably be helpful. Please contact Alice at 845-223-5344 to see how you might be able to help.


Inspiring Words
Some of you may recall reading in the October 2003 issue of The American Organist magazine about a tragedy that befell Mark Thallander, former organist at the Crystal Cathedral. As Fred Swann recounted in his monthly column on page three of that issue, "Mark was in a horrific car accident that resulted in the removal of his left arm at the shoulder."
Thankfully, Mark has made a remarkable recovery, and is playing the organ again using his right arm and both feet. A story in the Pasadena Star-News newspaper on Friday, December 5, 2003, reported that "Thallander's friends are rewriting music for one hand for his future concerts. He has an invitation to play Duruflé's Requiem at Carnegie Hall in March and, appropriately, at the Cathedral of Our Lady of the Angels in Los Angeles."
A copy of this article was circulated to the members who have access to e-mail, and we received this response from our newest member, Ruby Hyatt:
Thank you so much for sending me (and all the AGO members!) the article about Mark Thallander's heroic continuance of his organist career. It was quite meaningful to me, because I have been through something similar, although on a lesser level. On September 9th, I fell down the stairs in my home and broke my right arm, pretty near my wrist. It seemed very bad to me, because the bone was all twisted and humped up, and painful, of course. When my wonderful bone doctor, Dr. Shanker Krishnamurthy, set my arm, I thought that I would never play again. But he kept reassuring me that I would, and that even though I had my cast on, I should try to play the piano every day, just to keep my fingers a little mobile. I did this, and although I had to have pins put in my arm for a while, it worked. When my arm came out of the cast in November, it was extremely stiff, and I could hardly reach an octave, but [my doctor] told me it would all be fine. Every day I practiced, and stretched my hand, and soaked it in hot water, and started going to a wonderful hand therapist, E. Debra Molanado-Baker, and my fingers seemed to be as good as before.
But before the cast came off, I had to play one Sunday at the First Presbyterian Church of Mahopac. The date had been set up for a long time. At first, I thought I just could not do the job without my right hand, but finally decided to try, since I had a little lead time. So, I played all the hymns with my left hand and two feet. My husband, a trumpet player, played a concerto movement with me (and my one hand and two feet) for the prelude, and I found a suitable offertory, and wrote a postlude for left hand and two feet. My thought was to do my best to do the job I was given to do, with what I had. It was actually fun and challenging, if occasionally bumpy!
I thank God for my recovery every day, and no longer take my organ playing and piano playing for granted at all. Also, I really am amazed that Thallander is going to play the Duruflé Requiem with his right hand and two feet, because it is very difficult to play, I have heard, with complete equipment! Will he be using three hands and four feet? I would love to hear this performance!!!
Sincerely,
Ruby Hyatt, a new AGO member

Editor's Corner

This newsletter is published by the Central Hudson Valley Chapter of the American Guild of Organists. The editor is:
Susan LaGrande
12 Montrose Lane
Wappingers Falls, NY 12590
Phone: 845-226-6496 (home)
Fax: 845-226-1035
e-mail: SUSANEL2@HOTMAIL.COM
Contributions to this newsletter are always welcome. We have been very pleased to offer a member profile in previous issues. If you would like to be profiled, you may write your own biography (up to 500 words) or contact the editor to arrange an interview.