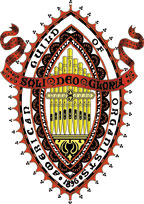 Newsletter
August 2012

Click here for the Newsletter Archive

Click here for a printable copy of the current newsletter



Dear Colleagues,

Summer is seen by many as a time to ease up on responsibilities, relax and enjoy the beauties of the warmer season. What I observe however is that people are as busy as ever. Perhaps we are not involved in many of the routine tasks we face between September and June, but it does seem we stay very busy.

At West Point, July ends up being one of my busiest months because we are in the middle of preparing worship services for the New Cadets undergoing Basic Training in addition to keeping our regular services going – not to mention weddings and funerals. Recitals and festivals continue at a good pace, and we enjoyed here this past month the annual Hudson Valley Bachfest in Poughkeepsie and Cornwall-on-Hudson. Wonderful opportunities all.

Before long the academic year will be starting again and the leaves will be falling from the trees. Then the beauties of this season will be gone for another year. Of course each season has its own peculiar beauties – especially in this region.

As we think about the music we share, I hope we will remember that it is important to find those moments to rest, listen to that small still voice, and enjoy simple beauties for their own sake. I mainly preach to myself, the chief of sinners, here. And then when we return to our music and our other work, we and those with whom we share will be all the richer for having taken the extra moments in enjoying that with which we have been blessed.

Please make checking our Calendar part of your fall planning. There will be much sharing in the months ahead.



Craig Williams
Dean, Central Hudson Valley AGO
Deadline for Next Newsletter

We are always glad to receive input for the chapter newsletter in the form of calendar items, reviews of recent concerts and events, biographies, letters, photographs, etc. In order to make sure these submissions can be processed in a timely fashion, please make sure they are received by the 23rd of each month. However, material such as calendar items may be submitted at any time; even if the material may not make it into the printed newsletter, it can be quickly posted on our web site at www.chvago.org.

You may submit newsletter or web site material by mail, e-mail, fax or phone. Just contact the editor, Susan LaGrande, using the information given above. Remember, the deadline for the next printed newsletter, to be available the first week in September, is August 23rd.

Editor's Corner

This newsletter is published by the Central Hudson Valley Chapter of the American Guild of Organists. The editor is:
Susan LaGrande
12 Montrose Lane
Wappingers Falls, NY 12590
Phone: 845-226-6496 (home) - Fax: 845-226-1035
e-mail: SUSANEL2@OPTONLINE.NET