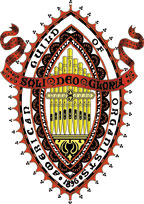 Newsletter
September 2012

Click here for the Newsletter Archive

Click here for a printable copy of the current newsletter



Dear Colleagues,

Today I played a funeral at West Point where the grieving parents of the deceased were both younger than I am. I have played many funerals for young people, but when the parents are getting younger, that gives me pause. My daughter recently introduced me to the never-ending stream of social media known as Facebook; and amidst all the postings telling me the dire consequences of not voting for one candidate or the other, I see these small postings from former choir members saying "R.I.P. 1st Lieutenant Smith, R.I.P. 2nd LT Jones, etc." I have seen a disturbing number of those postings lately. I am reminded on a regular basis of the price paid for our freedoms regardless of political party or persuasion.

How wonderful is it that we are free to prepare on a weekly basis the worship music for a variety of churches and temples which in turn are allowed to operate freely! We coordinate music with our priests and pastors and various volunteers where we can contribute to the spiritual well-being of people using our gifts and talents. It is good to reflect on these blessings we share amidst some of the stressful times and circumstances.

As a chapter, we will be reflecting on these themes in a concert of choral and organ music this coming Veterans' Day (Sunday, November 11) at 5:00 PM. At Christ Episcopal Church, Poughkeepsie, we will present a Concert and Service honoring our veterans young and old. More information will follow but please save that date and time!

Now I have gotten ahead of myself. This wonderful Veterans' Day concert is actually the third event planned this fall in the central Hudson valley. On Sunday, September 30 at 3:00 PM, Darren Motise will be giving an organ recital at the West Point Cadet Chapel, in part sponsored by our chapter. Darren will play music of Bach, Messiaen and others.

Then on October 14 at 4:00 PM, we will take part in an Organ Crawl and Demonstration at Franklin Delano Roosevelt High School in Hyde Park. This event will be led by Johannes Vanderlee and features performances by John Baratta and one or more of the high school students. This is a terrific opportunity to see how some people are bringing the organ legacy to a new generation.

Please continue to check our Calendar for wonderful events coming up – both sponsored by our chapter and also by other organizations. There is a lot of wonderful music-making here in the Hudson Valley!


Craig Williams
Dean, Central Hudson Valley AGO

Membership News
We recently learned that Jeanne Shupe, widow of Jay Shupe, died on July 22. Jay, who predeceased her in 2011, was a long-time Friend of the chapter. As a couple Jay and Jeanne were very supportive of the AGO and local organists, sponsoring a yearly organ concert at their church and providing encouragement to young organists. Jay and Jeanne always enjoyed our Annual Picnic, and we enjoyed Jeanne's special baked beans! The chapter is planning a donation in their memory to the Organ Fund at the First Presbyterian Church in Beacon.


Larry Hazard is now playing at the Reformed Church in Beacon.


As of August 26th Lois Hoger has officially retired from St. Timothy Lutheran Church in Hyde Park, where she has played for almost five years.


Gregory Citarella is leaving St. Nicholas-on-the-Hudson in New Hamburg, NY, and has accepted a position at Holy Cross Episcopal Church in Kingston, NY.
Editor's Corner

This newsletter is published by the Central Hudson Valley Chapter of the American Guild of Organists. The editor is:
Susan LaGrande
12 Montrose Lane
Wappingers Falls, NY 12590
Phone: 845-226-6496 (home) - Fax: 845-226-1035
e-mail: SUSANEL2@OPTONLINE.NET

Deadline for Next Newsletter

We are always glad to receive input for the chapter newsletter in the form of calendar items, reviews of recent concerts and events, biographies, letters, photographs, etc. In order to make sure these submissions can be processed in a timely fashion, please make sure they are received by the 23rd of each month. However, material such as calendar items may be submitted at any time; even if the material may not make it into the printed newsletter, it can be quickly posted on our web site at www.chvago.org.

You may submit newsletter or web site material by mail, e-mail, fax or phone. Just contact the editor, Susan LaGrande, using the information given above. Remember, the deadline for the next printed newsletter, to be available the first week in October, is September 23rd.