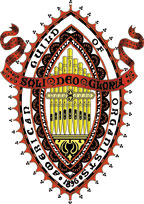 Newsletter
October 2012

Click here for the Newsletter Archive

Click here for a printable copy of the current newsletter



Dear Colleagues,

My first church job was playing an electronic organ. I will not say what kind it was – suffice to say it was not distinguished and when the church finally obtained a Rodgers, it was a considerable upgrade.

Our relationship with electronic organs is an interesting one. We love the pipe organ – the sheer majesty and complexity of the sound – and I have always preferred to play one when I can. But I have held my share of jobs where the church had an electronic organ. I consider myself fortunate to play the large pipe organ at West Point and have resisted the movement to install digital stops in some of the chapel organs at the Academy. Though I still find myself accepting a fair share of dedication recitals where the church wants to show off its new Allen or Rodgers organ. And I must admit I have been impressed with the efforts of those companies in improving their product over the last couple of decades.

We do have some impressive electronic installations in the Hudson Valley. Blessed Kateri Tekakwitha Church in LaGrangeville comes to mind. Diane Bish played a very fine dedication recital to a packed house a few years back on the church's large Allen organ, and they still feature recitalists from time to time.

Another installation which is greatly facilitating the education of young musicians and introducing them to the organ is at Franklin Delano Roosevelt High School in Hyde Park. The Allen organ contains both theater and classical voices. This organ continues to be used as a means to teach and develop high school students, and many graduates have gone on to become professional organists in some manner.

On Sunday, October 14 at 4 pm, the Central Hudson Valley chapter will have the opportunity to hear and play this organ. John Baratta, the main teacher and performer at the high school, will demonstrate a number of classical and theater pieces on the organ showing off its versatility. Hopefully one or more of the students may be available to play. Chapter member Johannes Vanderlee, who spearheaded and supervised the installation, will give a few words as well. Everyone is invited and encouraged to bring some music to try out the instrument as well. Those interested will be able to grab dinner afterward (around 5:30) at a local restaurant with the demonstration participants. I am very much looking forward to this afternoon.

On the one hand autumn is a bit melancholy as we see the days shorten and the leaves begin to fall. On the other hand this is a season where there are so many exciting musical offerings – many no farther than a quick trip up the road. Please check our Calendar to see the many performances being given here in the Hudson Valley including our own chapter events – the Organ Crawl on October 14th and the upcoming Veterans' Day Concert on November 11th at Christ Church Poughkeepsie. We all participate in a dynamic community.


Craig Williams
Dean, Central Hudson Valley AGO
Membership News

Don Filkins informs us that he has left First Presbyterian Church in Wappingers Falls, and returned to the First Presbyterian Church in Beacon where he served previously for many years.

Details About the Organ Crawl/Demonstration at FDR High School

From Co-Presenter John Vanderlee:
We urge all members to join us for this exciting event on October 14. Support will show the school district, as well as some of the students we hope to have there, that the AGO cares! While I don't play personally, I believe that we can and should all be instrumental in encouraging youngsters to take up the organ. We are eager to share this program with you!

This project has been 12 years in the making. The instrument itself is the latest in technology where we have spared no expense to produce an almost visceral realism. The organ is two totally separate instruments in one console; consisting of 21 ranks of Skinner pipe samples, as well as 24 ranks of theatre pipe samples. Thus it can fully serve the classical literature, as well as operate in "theater" mode, depending on the requirements of the moment.

John Baratta and I will do a short presentation on the history of the organ and our program, and how this honors the late Gus Pratt, after who the organ is named. John will demonstrate the classical organ with a variety of compositions, then followed by a theatre-style selection to show the 'other' side. Following this will be a tour of the studio, and a time for questions and comments. "Open Console" will be in place for anyone wishing to enjoy the many features of the instrument. Be sure to sign up!

Refreshments will be served throughout.

The entire program will last until about 5:30. Anyone wishing to join us afterward for dinner at one of Hyde Park's restaurants afterwards is welcome to do so. This will be most likely the Eveready Diner, a place known for good food, fast service, and very reasonable prices.

We hope to see you there!

Please see the calendar page for the address of the school and contact phone numbers. Directions: From Poughkeepsie, proceed north on US Rte 9 past the Mid-Hudson Bridge. Continue north 3 miles past the Culinary Institute of America on your left; keep right as you go up the hill. At the top of the hill, turn RIGHT onto St. Andrew's Road (County Rd 40A). Proceed to the end of St. Andrew's Road (1.2 miles), then turn LEFT onto US Rte 9G. Continue 5.2 miles, then turn LEFT onto South Cross Road.

Editor's Corner

This newsletter is published by the Central Hudson Valley Chapter of the American Guild of Organists. The editor is:
Susan LaGrande
12 Montrose Lane
Wappingers Falls, NY 12590
Phone: 845-226-6496 (home) - Fax: 845-226-1035
e-mail: SUSANEL2@OPTONLINE.NET

Deadline for Next Newsletter

We are always glad to receive input for the chapter newsletter in the form of calendar items, reviews of recent concerts and events, biographies, letters, photographs, etc. In order to make sure these submissions can be processed in a timely fashion, please make sure they are received by the 23rd of each month. However, material such as calendar items may be submitted at any time; even if the material may not make it into the printed newsletter, it can be quickly posted on our web site at www.chvago.org.

You may submit newsletter or web site material by mail, e-mail, fax or phone. Just contact the editor, Susan LaGrande, using the information given above. Remember, the deadline for the next printed newsletter, to be available the first week in November, is October 23rd.