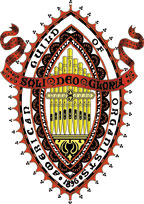 Newsletter
November 2012

Click here for the Newsletter Archive

Click here for a printable copy of the current newsletter



This past October 14, a nice crowd of Central Hudson AGO members and also other affiliates enjoyed seeing, hearing and playing the Allen theatre organ at FD Roosevelt High School in Hyde Park. John Vanderlee gave some very good opening comments explaining the organ's history: there was a donation to the school to obtain a theatre organ, with the final decision being made to install an electronic organ. John Baratta gave a very nice performance/demonstration consisting of Bach's "Dorian" Toccata, Franck's "Cantabile" and Robert Jones' "Moto Perpetuo" – an energetic toccata which evoked Henri Mulet and Percy Fletcher. He concluded with a medley of theatrical pieces showing off both the "classical" and theatre sounds of which the organ was capable. Our hosts were also very generous with refreshments. It was a very good presentation and an inspiration for some who were considering similar programs at other schools. Congratulations and thank you to Messrs. Vanderlee and Baratta for their fine work.

This upcoming month we will be presenting a Veterans' Day Concert celebrating the veterans who have given so much for our nation's freedoms, and also dedicated to the cause of peace in our day. This concert will be on Sunday, November 11 at 5:00 PM – presented at Christ Church, 20 Carroll Street, Poughkeepsie. A suggested donation of $15 will benefit mental health organizations serving veterans of Operation Enduring Freedom/Operation Iraqi Freedom/Operation New Dawn. Combined choirs will perform works of Mendelssohn, Lindh and Vaughan Williams in addition to hymns and related works of the organ repertoire. For more information, please see http://www.christchurchpok.org/upcomingmusicevents.html. This should prove to be an extraordinary evening.

Common to all our experiences in the American Guild of Organists is the ability to share music and the transcendent power of the medium and message of our instrument. In the midst of storms, elections and various other controversies drummed up by both mainstream and social media, we should always be careful to find a moment of peace listening to the small still voice (and sometimes some loud stops as well). Regardless of circumstances, nothing can take away the common bond we share as artists and musicians. The Veterans' Day Concert and many other chapter meetings coming up will give us the opportunity to remember what unites us amidst everything else. I hope to see you soon.


Craig Williams
Dean, Central Hudson Valley AGO
Membership News

Susan Macnish has accepted a position at St. Nicholas-on-the-Hudson in New Hamburg.

Editor's Corner

This newsletter is published by the Central Hudson Valley Chapter of the American Guild of Organists. The editor is:
Susan LaGrande
12 Montrose Lane
Wappingers Falls, NY 12590
Phone: 845-226-6496 (home) - Fax: 845-226-1035
e-mail: SUSANEL2@OPTONLINE.NET

Deadline for Next Newsletter

We are always glad to receive input for the chapter newsletter in the form of calendar items, reviews of recent concerts and events, biographies, letters, photographs, etc. In order to make sure these submissions can be processed in a timely fashion, please make sure they are received by the 23rd of each month. However, material such as calendar items may be submitted at any time; even if the material may not make it into the printed newsletter, it can be quickly posted on our web site at www.chvago.org.

You may submit newsletter or web site material by mail, e-mail, fax or phone. Just contact the editor, Susan LaGrande, using the information given above. Remember, the deadline for the next printed newsletter, to be available the first week in December, is November 23rd.