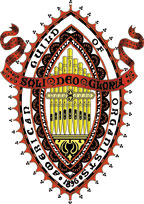 Newsletter
December 2012

Click here for the Newsletter Archive

Click here for a printable copy of the current newsletter



Dear Colleagues,

As we enter the season of Christmas and Hanukkah, we are reminded of the old adage, "It is more blessed to give than to receive." That is true because certainly without giving there would be no receiving.

However, please note the comparison. Whereas we are told it is more blessed to give, the adage does suggest that there is blessing in receiving as well. When we read the account where Jesus washes the feet of his disciples, Peter first refuses to receive the washing from the Lord but then is told he cannot have any part in the Lord's service unless he is willing to receive. I know as a father that some of the most rewarding times I have with my children is when I am willing to open my mind to receiving what they have to offer apart from everything I have given them. Receiving takes humility, and I definitely experience a blessing when I allow others the opportunity to give.

We are now in the giving season, and we musicians who serve in our temples and churches will be giving much of our time and talent this month. I ask you also to open yourselves to receiving what this season has to offer. Find the quiet times and the small still voice, be open to receiving the music which your choir and musicians have to offer under your directorship, take in some of your colleagues' musical offerings, and especially give yourself permission to be tired and try to relax once in a while. The chief of sinners preaches to himself here.

Have a wonderful time of giving and receiving as we share the priceless gifts of worship and music this season!


Craig Williams
Dean, Central Hudson Valley AGO

Editor's Corner

This newsletter is published by the Central Hudson Valley Chapter of the American Guild of Organists. The editor is:
Susan LaGrande
12 Montrose Lane
Wappingers Falls, NY 12590
Phone: 845-226-6496 (home) - Fax: 845-226-1035
e-mail: SUSANEL2@OPTONLINE.NET

Deadline for Next Newsletter

We are always glad to receive input for the chapter newsletter in the form of calendar items, reviews of recent concerts and events, biographies, letters, photographs, etc. In order to make sure these submissions can be processed in a timely fashion, please make sure they are received by the 23rd of each month. However, material such as calendar items may be submitted at any time; even if the material may not make it into the printed newsletter, it can be quickly posted on our web site at www.chvago.org.

You may submit newsletter or web site material by mail, e-mail, fax or phone. Just contact the editor, Susan LaGrande, using the information given above. Remember, the deadline for the next printed newsletter, to be available the first week in January 2013, is December 23rd.