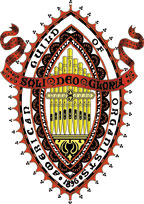 Newsletter
January 2013

Click here for the Newsletter Archive

Click here for a printable copy of the current newsletter



Dear Colleagues,

Advent is over, the season of Christmas is passing, and Epiphany is upon us. The times and seasons always change, and it is hard sometimes to stop and enjoy the quiet times because we are continually preparing for the next busy season. I had not yet gotten through Christmas week services when I was already thinking about preparing for performances in February and looking toward Easter.

Whereas I advocate that we slow down when we can, I will add that an opportunity will present itself one week after Epiphany to make plans for Lent and Easter. On Sunday, January 13 from 5 PM to 6:15 PM, there will be a choral reading workshop at the Reform Church in Poughkeepsie focusing on music for Lent and Easter. This will be our chapter's first meeting since the moving Veterans' Day Concert at Christ Church this past November. These choral workshops are terrific places to get ideas for seasonal music to share with your choir – especially if you work with a small choir or have limited rehearsal time. I do hope you will plan on attending.

In the meantime, enjoy the peace – and arrival – of Christmas. We have all worked so hard to get there – we should stop and stay awhile. There will be plenty of time for the journeys ahead.


Craig Williams
Dean, Central Hudson Valley AGO
Membership News

Laura Russell has a new email address: laurarus629@gmail.com. Please add this email to your address book and delete the old one.

Pipedreams

Don't forget that you can hear outstanding organ music every Sunday night at 8:00 PM on Pipedreams, hosted by Michael Barone, available on your radio dial at WMHT FM (88.7 & 89.1 MHz), or online at http://pipedreams.publicradio.org/.

Editor's Corner

This newsletter is published by the Central Hudson Valley Chapter of the American Guild of Organists. The editor is:
Susan LaGrande
12 Montrose Lane
Wappingers Falls, NY 12590
Phone: 845-226-6496 (home) - Fax: 845-226-1035
e-mail: SUSANEL2@OPTONLINE.NET

Deadline for Next Newsletter

We are always glad to receive input for the chapter newsletter in the form of calendar items, reviews of recent concerts and events, biographies, letters, photographs, etc. In order to make sure these submissions can be processed in a timely fashion, please make sure they are received by the 23rd of each month. However, material such as calendar items may be submitted at any time; even if the material may not make it into the printed newsletter, it can be quickly posted on our web site at www.chvago.org.

You may submit newsletter or web site material by mail, e-mail, fax or phone. Just contact the editor, Susan LaGrande, using the information given above. Remember, the deadline for the next printed newsletter, to be available the first week in February 2013, is January 23rd.