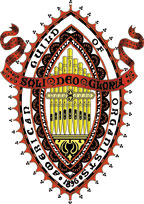 Newsletter
February 2013

Click here for the Newsletter Archive

Click here for a printable copy of the current newsletter



Dear Colleagues,

I was privileged to start the month of February (which indicates how late this letter is this month) giving a recital of French organ symphonies at the Cadet Chapel. Playing an entire symphony is rare in a recital because one multi-movement work ties up an entire half (or whole depending on the programming) of a recital. The model of Charles-Marie Widor followed by Louis Vierne was not simply to write three or four movements, like we encounter in a typical sonata, but rather five or six. To play five movements in a row – usually with two weightier slow movements – is a big commitment. Many varying moods are presented which need to be re-created convincingly by the performer. I decided to stretch myself (and my audience) despite the demands of my schedule.

Exploring the variety of this repertoire brought up some points about performance practice which actually speak to our role as church musicians – indeed our many roles including itinerant repertoire performer (preludes, voluntaries and postludes), choir director and/or accompanist and hymn leader. One of my early observations about being a hymn leader from the console in my first church job was that my style of playing hymns was remarkable in being too fast, too slow, too loud and too soft – all at the same time! (Actually I am not sure I have ever received complaints about playing too soft but you get my point…)

We encounter these same observations when we perform the instrumental and choral repertoire. What is the proper tempo? Is historical performance practice (as currently understood in the decade of your choice) necessary or desirable? Is the fingering and pedaling – or conducting pattern – correct?

I confess that trying to play or conduct in order to please others has at times been so discouraging that I have found myself wondering if I should get into another line of business.

The parable of the talents told in the Gospels is about three individuals: Two found a proper course within their own mind and took the risk of following the wisdom they had gained from their Master while using some self-initiative; their efforts multiplied the initial investment. The third individual took a sincere approach at trying to please others and gave in to fear – thus burying the talent! The resulting lack of benefit to anybody takes on a tragic proportion in the telling of the parable.

So as winter wears on and we look toward Lent and Easter, let me encourage you to do that with which I still struggle in my own performance choices. Trust your own talent and knowledge, and be bold in sharing your unique gifts with your choirs, congregation and – not less importantly – yourself.

And while you are doing that, come enjoy some nice food and camaraderie at the Spuds 'n' Sundaes at Bethel Missionary Baptist Church on Sunday, February 24th. Please check the Calendar often for the many opportunities to enjoy and share great music here in the Hudson Valley!



Craig Williams
Dean, Central Hudson Valley AGO

Pipes, Pedals & Pizza
In 2002, our chapter presented its first "Pipes, Pedals & Pizza," a workshop which introduces young piano students to the King of Instruments via demonstrations and hands-on experience. Over the years this event has taken various forms; but one consistent feature has been long-time member Dr. Margaret Small as host. Here is Margaret's report on the event which took place on October 27, 2012, at Union Presbyterian Church in Newburgh:
Last year, in November 2011, we had 11 students who each played one or two pieces on several different registrations of their choosing, and on different manuals. (Our Kimball organ at Union Presbyterian Church has 3 manuals and 30 stops). This year, on October 27, 2012, we had only five students, each of whom played two pieces each; this gave them more time at the organ, time to try different stops, and time to try different combinations. The two older students worked on the pedals a bit, even though they had sneakers on. It is definitely worth the time and effort to have this organ workshop for piano students, as we have to give them an opportunity to try out the "King of Instruments" in hopes that they will in time be our next generation of organists.

Editor's Corner

This newsletter is published by the Central Hudson Valley Chapter of the American Guild of Organists. The editor is:
Susan LaGrande
12 Montrose Lane
Wappingers Falls, NY 12590
Phone: 845-226-6496 (home/fax)
e-mail: SUSANEL2@OPTONLINE.NET

Deadline for Next Newsletter

We are always glad to receive input for the chapter newsletter in the form of calendar items, reviews of recent concerts and events, biographies, letters, photographs, etc. In order to make sure these submissions can be processed in a timely fashion, please make sure they are received by the 23rd of each month. However, material such as calendar items may be submitted at any time; even if the material may not make it into the printed newsletter, it can be quickly posted on our web site at www.chvago.org.

You may submit newsletter or web site material by mail, e-mail, fax or phone. Just contact the editor, Susan LaGrande, using the information given above. Remember, the deadline for the next printed newsletter, to be available the first week in March 2013, is February 23rd.