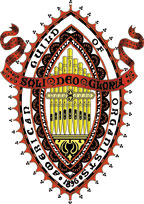 Newsletter
March 2013

Click here for the Newsletter Archive

Click here for a printable copy of the current newsletter



Dear Colleagues,

Yesterday after the service at Cadet Chapel, one of my choir members and his fiancé walked up to me kind of excited about something. It turns out she was holding a ladybug in her hands which was walking around. I rarely get excited at seeing ladybugs in the Cadet Chapel – we have cleaned out thousands of their shells from the organ console on a regular basis! But they were excited because the ladybug was alive and to them it showed the first signs of spring!

It was an exciting weekend all around. The graduating Class of 2013 just celebrated 100th Night meaning that they are just under 100 days from that great day in the football stadium where they will be given their degrees, recite the oath while they are commissioned as Second Lieutenants in the United States Army and then throw their hats up into the air. Spring indeed!

Earlier in the morning I was thrilled to welcome three new sopranos and altos into the Cadet Choir. This never happens in late February!

I also have been encouraged by the last two meetings of our chapter – first the Lent and Easter Choral Reading we had at the Reform Church Poughkeepsie in January and then more recently the Spuds 'n' Sundaes social at Bethel Missionary Baptist Church in Wappingers Falls. At both events we were privileged to introduce ourselves to new members of our chapter. One normally does not expect to see new participants at January and February meetings so this was very positive to see! Also our membership rolls show that more new people and some members who have not been with us for a while are joining or re-enlisting their membership. This renewal affirming what we do year-round is a great development.

I hope you will be encouraged as I have been while we move through Lent toward Passover and Easter. Spring is around the corner. That does not necessarily mean moving toward a set goal or being overwhelmed by certain seasons. Rather this shows us time and time again that the continued movement through the seasons is a year-round journey through which we can always find reaffirming and purpose. Please continue to check our Calendar for events in our community and meetings with the Central Hudson Valley AGO. Our chapter continues to be a place where you will meet friends, find the support of colleagues and grow your own skills and perspective through the gifts of others. On to spring!


Craig Williams
Dean, Central Hudson Valley AGO

Membership News
As of March 1, 2013, renewed member Jimrae K. Lenser will have a new address, as follows:
Jimrae K. Lenser
Northwood Village
424 Carpenter Avenue #5
Newburgh, New York 12550
Phone: 845-802-4284 / E-mail: jimrael@yahoo.com


We are very happy to welcome several new members, including Sarah Bell, Michael Golzmane, Wesley Joseph, Johanna C. Kvamme, and Judie Marsden. Several other former members have renewed as well, and we are glad to have them join us again.


A new membership directory with complete contact information for everyone is being prepared. Details of the distribution are still being worked out, but rest assured that your information will not be made public without your consent. The list will be made available as soon as possible, hopefully in next month's newsletter.
Updates to the Sub List

In order for us to bring our Sub List up to date, we request the following information from any member who wishes to be included on the list. This information will be included in an expanded Sub List page on our web site and should make it easier for prospective employers to connect with the right person. Please contact the newsletter editor, Susan LaGrande with this information.
AGO certificates & degrees:
_________________________________________________________________________________
Experience:
_________________________________________________________________________________
_________________________________________________________________________________

Type(s) of service you prefer to play:
Non-Liturgical _________________________
Liturgical Protestant _____________________
Roman Catholic ________________________
Weddings? Yes No
Funerals? Yes No
Work with choirs? Yes No
Areas of Central Hudson Valley preferred:
________________________________________________
Dates & Times available:
Sunday: ______________________________
Other: ______________________________
Minimum acceptable fees:
Single Service: $__________
Single Service plus choir $__________
Two or more identical services $__________
Wedding $__________
Funeral $__________