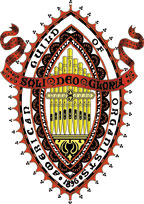 Newsletter
April 2013

Click here for the Newsletter Archive

Click here for a printable copy of the current newsletter



Dear Colleagues,

Easter Sunday and Passover always serve as a wonderful spiritual climax to this time of year! Certainly these days signify new beginnings as the season of spring brings new responsibilities and different tasks. This is the time we begin to plant our gardens, renew our music schedules and catch up on everything we let slide during the busy season of Holy Week preparations.

This year feels different, however, in that it seems the passing of Easter is not going to mark a let-up in the busy nature of the schedule. It almost feels like Monday, April 1st and beyond are just a continuation of the work we had going into the last week of March.

Much of this work presents exciting opportunities for participation in and attendance of concerts and other musical events. Just look at the Calendar on the chapter website, and you will see the great concert schedule in the Hudson Valley. Also please note that if you want to see your events posted, all you need to do is contact Susan LaGrande at susanel2@optonline.net.

I observe that Joseph Bertolozzi is putting together the next phase of his Bridge Music project and his Tower Project in Paris is well underway. Many local churches have a steady stream of post-Easter concerts into the early summer. Personally I am helping out Nyack College with an anniversary Lincoln Center concert and hosting two more West Point concerts in the spring. And that is just the beginning of a schedule which I have a hard time keeping track of.

I guess this is a good thing. I know the Dostoevsky impulse in me wants to stop and assess every once in a while – see if this is all worth it. But I think there are other times when one just needs to embrace the opportunities and get out there exercising the creative energies. Then perhaps take inventory later…There is a time and season for everything.

So enjoy the opportunities we have to share in our own achievements as well as taking in the fruits of others' labors – those of colleagues, family and friends. And hopefully spend a little time enjoying the emergent beauties of spring and other simple pleasures life has to offer as well.



Craig Williams
Dean, Central Hudson Valley AGO

Editor's Corner

This newsletter is published by the Central Hudson Valley Chapter of the American Guild of Organists. The editor is:
Susan LaGrande
12 Montrose Lane
Wappingers Falls, NY 12590
Phone: 845-226-6496 (home) - Fax: 845-226-1035
e-mail: SUSANEL2@OPTONLINE.NET

Deadline for Next Newsletter

We are always glad to receive input for the chapter newsletter in the form of calendar items, reviews of recent concerts and events, biographies, letters, photographs, etc. In order to make sure these submissions can be processed in a timely fashion, please make sure they are received by the 23rd of each month. However, material such as calendar items may be submitted at any time; even if the material may not make it into the printed newsletter, it can be quickly posted on our web site at www.chvago.org.

You may submit newsletter or web site material by mail, e-mail, fax or phone. Just contact the editor, Susan LaGrande, using the information given above. Remember, the deadline for the next printed newsletter, to be available the first week in May 2013, is April 23rd.