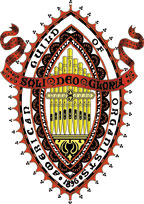 Newsletter
May 2013

Click here for the Newsletter Archive

Click here for a printable copy of the current newsletter



Dear Colleagues,

Two events are coming up for the Central Hudson Valley chapter wherein we will have the opportunity to affirm our membership in the American Guild of Organists. The first is our Membership Drive where we renew our membership for another year, and the second is the Annual Members' Recital. Please consider participating as a performer in this year's recital – or coming to appreciate your colleagues' musical offerings – while you give thought to renewing your membership for the coming year.

This upcoming month our new Membership Coordinator Barbara Bayers will be sending a letter in the mail inviting all of us to renew our membership by June 30. In renewing membership this year, we are asking all to send in the information form with the dues payment. This letter is being sent for several reasons: 1) We value you as a member and are very appreciative you have chosen the Central Hudson Valley chapter to participate in the National organization. 2) We want to emphasize the importance of not only receiving dues but making sure we have current contact information while providing an up-to-date list of available Substitutes. Options to provide information for substitute availability as well as current professional status and contact information are all on the Membership form submitted with the current annual dues. And 3) we want to emphasize the importance of renewing our membership in line with National Headquarters' fiscal year which ends June 30th. We hope that most members will renew before the end of June; this will allow the Central Hudson Valley chapter to have a comprehensive members' list by September, the beginning of the academic year and when many activities and meetings start up again.

Please note that membership information and dues should be sent to Barbara Bayers, not Eric Hepp as has been done in the past. Your timely response will be greatly appreciated.

On the subject of starting up, we should have a full schedule of next year's meetings by the June newsletter which will assist you in planning ahead.

As we plan ahead, please note that our activity calendar this year will close with our Annual Members' Recital on Sunday, June 23 at 3:00 PM. The recital will take place at Poughkeepsie Reformed Church, 70 Hooker Avenue, Poughkeepsie. If you wish to participate or desire other information regarding the recital, please contact the church's Organist/Choir Director Janice Grace at 917-882-9343 or at jag@janicegrace.com. The church's historic Gothic building and wonderful 45 rank Schantz pipe organ will provide a grand setting for a terrific performance. I look forward to seeing you there!


Craig Williams
Dean, Central Hudson Valley AGO

Editor's Corner

This newsletter is published by the Central Hudson Valley Chapter of the American Guild of Organists. The editor is:
Susan LaGrande
12 Montrose Lane
Wappingers Falls, NY 12590
Phone: 845-226-6496 (home) - Fax: 845-226-1035
e-mail: SUSANEL2@OPTONLINE.NET

Deadline for Next Newsletter

We are always glad to receive input for the chapter newsletter in the form of calendar items, reviews of recent concerts and events, biographies, letters, photographs, etc. In order to make sure these submissions can be processed in a timely fashion, please make sure they are received by the 23rd of each month. However, material such as calendar items may be submitted at any time; even if the material may not make it into the printed newsletter, it can be quickly posted on our web site at www.chvago.org.

You may submit newsletter or web site material by mail, e-mail, fax or phone. Just contact the editor, Susan LaGrande, using the information given above. Remember, the deadline for the next printed newsletter, to be available the first week in June 2013, is May 23rd.

AGO Dues Rates 2013-2014

Membership Category Total Dues
Voting Membership
Regular - $97
Special (65 and over, under 21, or disabled) - $72
Full-Time Student - $37
Partner (2nd member at same address, no TAO) - $72
Dual (paid to second chapter) - $38
Student Dual - $15
Non-Voting Membership
Chapter Friend (no TAO, no other AGOHQ benefits) - $15

Timetable for Membership Renewal and Dues Collection

April 15: Dues collection begins for 2013-2014. All who become members after this date will automatically begin their membership in the 2013-2014 year.


July 1: Start of the new membership year. All dues should be collected by July 30.


September 1: Deadline for chapters to report dues to National Headquarters.


November: The last issue of TAO that will be sent to any 2012-2013 member not renewing for 2013-2014.


December: The first issue of TAO that all 2013-2014 members will receive. New members may receive earlier issues of TAO if their membership is reported to National Headquarters before September. Mailing labels for each issue of TAO are submitted to the printer one month before the magazine's cover date.

Soon you will be receiving a letter from Barbara Bayers, our membership chairman, providing you with a membership renewal form and other information you will need to guarantee your membership in good standing. Please note that dues and completed applications are to be mailed to Barbara, NOT to Eric Hepp as has been done in the past. Barbara's address is:
Barbara Bayers
603 Dove Court
New Windsor, NY 12553