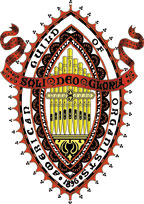 Newsletter
June 2013

Click here for the Newsletter Archive

Click here for a printable copy of the current newsletter



Dear Colleagues,

As we move into June and we are still not sure if it is winter one week or summer the next (while we pray for the people affected by the severe weather in the Midwest), we do get to look forward to the next year as we slow down from this one.

First of all, I hope you will take advantage of all the AGO and this chapter have to offer by renewing your membership. Just a few days ago, Membership Coordinator Barbara Bayers sent out a letter giving us information on how to renew our membership. We hope that most of you will be able to send it back to her by June 30.

These are some of the activities we have planned in the coming year. Some dates are still being confirmed:

Sunday, June 23, 3:00 PM – Members' Recital at the Reformed Church in Poughkeepsie. The organ was built by Schantz and has 45 ranks over three manuals – wonderful to listen to and even more wonderful to play. We are still looking for performers. If you wish to participate or desire other information regarding the recital, please contact the church's Organist/Choir Director Janice Grace at 917-882-9343 or at jag@janicegrace.com.

Sunday, July 21, 3:00 – Annual Picnic at Treasurer Eric Hepp's house (in Wappingers Falls). Wonderful food – Eric has fun with the grill – and wonderful company.

Saturday, either September 14 or 21 (TBD) – Visit to Paramount Theater and Middletown Organ Crawl. The visit to the theater will consist of an organ demonstration by the theater's organist John Baratta, who will also accompany a short silent movie! Also the curator will give a brief history of the Wurlitzer organ, and there will be open console for those who wish to play.

Sunday, October 20, 5:00 PM – Celebration of Psalms, Gathered Choirs and Organ at Christ Episcopal Church, Poughkeepsie. We are looking for church choirs and individuals to participate. Please contact Laura Russell at (845) 485-1648 or e-mail her at laurarus629@gmail.com.

Less firmed up are:
• Saturday, November 9 (Time and Location TBD) – Choral Reading – Anthems for Pentecost and Feast Days.
• Sunday, January 12, 2014, 5:00 PM – Spuds 'n' Sundaes (Location to be confirmed)
• Saturday, February 8: A Second Choral Reading on the "Green" Sundays (Whitsuntide) (Time and Location TBD)
• Sunday, March 23, 3:00 PM – 2014 Members' Recital – earlier in the year than the last couple of years (Location TBD)
Please mark your calendars now. The year will be starting before we know it. (But in the meantime enjoy summer while it is here).



Craig Williams
Dean, Central Hudson Valley AGO

Updates to the Sub List

Please note that the Sub List page on our web site has been updated to accept more detailed information. Those of you who have already returned the form included in the March 2013 newsletter will see that your information has been included in the new format. If you would like to update your information, please call Susan LaGrande at 845-226-6496 or e-mail her at SUSANEL2@OPTONLINE.NET.

Editor's Corner

This newsletter is published by the Central Hudson Valley Chapter of the American Guild of Organists. The editor is:
Susan LaGrande
12 Montrose Lane
Wappingers Falls, NY 12590
Phone: 845-226-6496 (home) - Fax: 845-226-1035
e-mail: SUSANEL2@OPTONLINE.NET

Deadline for Next Newsletter

We are always glad to receive input for the chapter newsletter in the form of calendar items, reviews of recent concerts and events, biographies, letters, photographs, etc. In order to make sure these submissions can be processed in a timely fashion, please make sure they are received by the 23rd of each month. However, material such as calendar items may be submitted at any time; even if the material may not make it into the printed newsletter, it can be quickly posted on our web site at www.chvago.org.

You may submit newsletter or web site material by mail, e-mail, fax or phone. Just contact the editor, Susan LaGrande, using the information given above. Remember, the deadline for the next printed newsletter, to be available the first week in July 2013, is June 23rd.