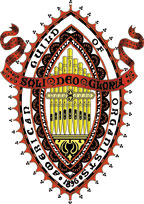 Newsletter
July 2013

Click here for the Newsletter Archive

Click here for a printable copy of the current newsletter



Dear Colleagues,

We had a terrific Members' Recital at the Reformed Church in Poughkeepsie this past Sunday – June 23rd. Many thanks to Janice Grace, the church's organist and choir director, the Rev. Bob Geehan, pastor and to Bill Bakker and others who provided technical support. He set up a screen so that the organists were clearly visible to the audience. Also many good photographs were taken which I hope to share later.

Also many thanks to those who participated – Janice Grace with trumpeter James Paradies, Boyd Herforth, Celestine Campbell, Wesley T. Joseph, Patrick Walker, Rob Brown and Craig Williams. The music of Bach, Handel, Lubeck, Duruflé, Widor and others was played at a very high standard - professional concert caliber from each and every one of the players. Also many thanks to Barbara Bayers who organized the reception after the concert and also managed to distribute registration materials at the same time. Many people who had paid their annual dues received their membership cards, and others were encouraged to join the AGO.

The audience was generous in their appreciation of the players as well as in their giving to the scholarship fund. We raised almost $300 for the fund.

Now we look forward to some other activities planned for the Central Hudson Valley chapter. On Sunday, July 21st at 3:00 PM, we will be having our Annual Picnic at Eric Hepp's house (24 LorMar Court in Wappingers Falls) – this is always a nice and relaxing event with good food, beverages and friends – a great way to introduce yourself to fellow members of the chapter. Then on Saturday, September 14th we will take part in the Middletown Organ Crawl beginning at 10:00 AM in the famous Paramount Theater where we will hear the "mighty" Wurlitzer organ and even see a short movie accompanied by theater organist John Baratta. In addition, we will visit other local churches that day. Please also mark your calendars for the Celebration of Psalms at Christ Church Poughkeepsie on Sunday, October 20 at 5:00 PM and a Choral Reading also at Christ Church on Saturday, November 9th. More details to follow in the coming months.

As we prepare for the activities of our churches, schools and other work in the year ahead, hopefully we can take some time to appreciate the simple joys and silent moments of the summer season. Enjoy the blessings!



Craig Williams
Dean, Central Hudson Valley AGO

Congratulations to Wesley T. Joseph, CAGO

We want to congratulate a member of our chapter, Wesley T. Joseph, for successfully obtaining the Colleague of the American Guild of Organists certificate this year. Wesley is Organist and Choir Director of Hopewell Reformed Church and recently performed on this year's Annual Members' Recital. We commend him for this achievement. Many thanks to Laura Russell, Organist and Director of Music at Christ Episcopal Church Poughkeepsie for making the church available and preparing the sanctuary for the administration of the exam and also to her husband, Paul Frazer, who recorded the exam for submission. Paul proved himself indispensable to the success of the exam when he located and replaced a dead fuse powering the organ blower five minutes before Wesley's arrival!

New Additions to the "Local Organs" Web Page

Thanks to Joseph Bertolozzi for the time and effort he devoted to the Beacon Centennial Pipes Project, which concluded on June 25. The six pipe organs featured in that Tour were, in order:

St. Joachim's Church, 51 Leonard Street, organ by J.H. & C.S. Odell & Co., 1885/1926.

First Presbyterian Church, 50 Liberty Street, organ by Aeolian-Skinner Organ Co., 1945.

St. John the Evangelist Church, 35 Willow Street, organ by Peragallo Pipe Organ Company, 1989.

St. Luke's Church, 850 Wolcott Avenue, organ by J.H. and C. S. Odell & Co., 1960.

St. Andrew's Church, 17 South Avenue, organ by George Jardine & Son, ca. 1860.

The Reformed Church, 1113 Wolcott Avenue, organ by Geo. H. Ryder, 1895.

Photographs, descriptions, and stop lists of these organs are now available on our "Local Organs" page on our web site. In addition, several other historic organs of Beacon which were not included on the tour are also listed:

Ursuline Novitiate (now the Carmelite Monastery), 89 Hiddenbrooke Drive, Beacon, NY . organ by M.P. Moller & Co.,1959, Op. 9438.

Craig House, Rte 9D, Beacon, NY, organ by Johnson & Co, 1873.

St. Lawrence Friary, 180 Sargent Ave, Beacon, NY, organ by Peregallo Pipe Organ Company, c. 1990.

Springfield Baptist Church, 8 Mattie Cooper Square, Beacon, NY, organ by George Jardine & Son, 1892.

Tabernacle of Christ Church (formerly First Methodist Church), 483 Main Street, Beacon, NY, organ by F. J. N. Tallman, 1889.

Please take advantage of this wonderful resource and get to know some of the rich history of the pipe organ in the Central Hudson Valley.

Editor's Corner

This newsletter is published by the Central Hudson Valley Chapter of the American Guild of Organists. The editor is:
Susan LaGrande
12 Montrose Lane
Wappingers Falls, NY 12590
Phone: 845-226-6496 (home) - Fax: 845-226-1035
e-mail: SUSANEL2@OPTONLINE.NET

Deadline for Next Newsletter

We are always glad to receive input for the chapter newsletter in the form of calendar items, reviews of recent concerts and events, biographies, letters, photographs, etc. In order to make sure these submissions can be processed in a timely fashion, please make sure they are received by the 23rd of each month. However, material such as calendar items may be submitted at any time; even if the material may not make it into the printed newsletter, it can be quickly posted on our web site at www.chvago.org.

You may submit newsletter or web site material by mail, e-mail, fax or phone. Just contact the editor, Susan LaGrande, using the information given above. Remember, the deadline for the next printed newsletter, to be available the first week in August 2013, is July 23rd.