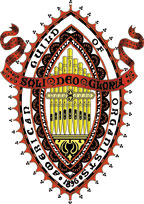 Newsletter
September 2013

Click here for the Newsletter Archive

Click here for a printable copy of the current newsletter



Dear Colleagues,

I am very excited about two chapter events coming up very soon. On Saturday, September 14, we will be participating in a day-long Organ Crawl in Middletown, NY. We are going to start with a visit to the famous Paramount Theatre downtown which has been spectacularly restored to its historic appearance within and houses a wonderful Wurlitzer theatre organ well maintained by the New York Theatre Organ Society. This visit will include a brief history of the theatre and its organ which will then be demonstrated by John Baratta in a brief recital and accompaniment of a short movie! The console will then be made available for anyone to play. Then we will have lunch taking advantage of the many restaurants downtown and then walk to nearby First Congregational Church which was founded in 1785 and houses one of the largest pipe organs in the Hudson Valley. Then we will walk to Grace Episcopal Church and see, hear and play the historic Austin pipe organ there. These two churches have the tallest landmark steeples in town! For those who are unable to walk the approximately half a mile circle from the Paramount to the restaurants, churches and back to the theatre, there is ample parking available next to the churches. Finally we will drive two miles to the north to North Congregational Church which sits on a hill with a wonderful view of the surrounding area. There we will have the opportunity to hear and play the 20-rank E.M. Skinner organ in the church's resonant acoustic. This is a very rare Skinner organ which has not been modified. The day will end with a small wine and cheese reception at the church.

This event will be open to the public and will be a very good opportunity to bring family and friends. The Paramount visit will be two hours from 10-12, lunch will be one hour and the visit to each of the churches will be one hour so please plan to spend the day – or feel free to come and go as your schedule allows.

Middletown is very accessible from the Interstate 84. You take the interstate west from the Newburgh-Beacon Bridge 25 miles to Exit 3W, take that road (Dolson Ave.) 2 miles into town, left turn at Fulton and then right turn at South Street – and the theatre is right there on the left with parking lot across the street on the right.

I am also looking forward to the Concert of Psalms at Christ Episcopal Church Poughkeepsie on Sunday, October 20 at 5 pm. This will involve combined choirs led by Laura Russell in great anthems by Parry, Bairstow and Franck. This concert continues what has become an annual tradition of remembrance by our chapter the last three years. Please consider participating as a chorister or having your church choir participate – you may contact Laura Russell, sub-dean, whose contact information is on the officer roster.

Please look at our Calendar for more information about these and other events. We look forward to seeing and meeting you.


Craig Williams, AAGO
Dean, Central Hudson Valley AGO

Membership News

Stu Ballinger has informed us that he has a new address as of September 3, 2013. His new contact information is:
Stuart Ballinger
66 Washington Avenue 10A
Poughkeepsie, NY 12601
e-mail (unchanged): wa2bss@hvi.net
Cell phone: 845-380-3226

Changes to the Sub List and Teachers List

Please note that only CHVAGO members in good standing are eligible to be included in these lists. If you would like your name listed, please contact the editor (see information below).

Editor's Corner

This newsletter is published by the Central Hudson Valley Chapter of the American Guild of Organists. The editor is:
Susan LaGrande
12 Montrose Lane
Wappingers Falls, NY 12590
Phone: 845-226-6496 (home) - Fax: 845-226-1035
e-mail: SUSANEL2@OPTONLINE.NET

Deadline for Next Newsletter

We are always glad to receive input for the chapter newsletter in the form of calendar items, reviews of recent concerts and events, biographies, letters, photographs, etc. In order to make sure these submissions can be processed in a timely fashion, please make sure they are received by the 23rd of each month. However, material such as calendar items may be submitted at any time; even if the material may not make it into the printed newsletter, it can be quickly posted on our web site at www.chvago.org.

You may submit newsletter or web site material by mail, e-mail, fax or phone. Just contact the editor, Susan LaGrande, using the information given above. Remember, the deadline for the next printed newsletter, to be available the first week in October 2013, is September 23rd.