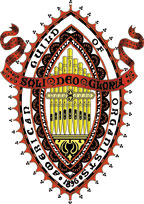 Newsletter
October 2013

Click here for the Newsletter Archive

Click here for a printable copy of the current newsletter



Dear Colleagues,

As we enter this beautiful season of autumn, we face many challenges personally as we begin a new academic year (and this cycle affects most of us regardless of whether or not we are involved with academia) and also collectively as a society and nation. Consistent exposure to the internet leaves us bombarded with continuous strong opinions – the positions of many supporting or opposing the Affordable Care Act, or perhaps the use of 16' manual tone in a Bach organo pleno. Passions and tempers run high in the blogosphere!

One of the strongest appeals to membership in the American Guild of Organists is that this organization encourages people to come together and enjoy a common artistic enterprise even while engaging in healthy debate over different elements of that art. I was very appreciative that almost 80 people came to hear the theatre organ at the Paramount Theatre in Middletown last month – and then we still had 50 people going into the afternoon at Grace Episcopal Church. The day of the Middletown Organ Crawl we visited the theatre and three different churches, and it was terrific to see members of the New York Theatre Organ Society stay for the entire day as well as parishioners of the individual churches come out to support the event. The coordination between our local chapter of the AGO and the local chapter of NYTOS made this a great success. I hope we can enjoy such coordination again in the future. Personally I want to thank John Baratta and Thomas Stehle of NYTOS for a great presentation at the Paramount Theatre and also our member Boyd Herforth for a humorous and very well played demonstration of the Austin Organ at Grace Episcopal. It was also encouraging to see the teenagers in attendance take the opportunity to perform at every organ.

Another point of contention about which we read often is the role of our different world religions and how opportunists in all have taken very divisive political views, not to mention sometimes perpetrating very destructive actions. That said we are going to take this on as well on Sunday, October 20 at 5:00 PM when the Central Hudson Valley AGO and Christ Episcopal Church Poughkeepsie co-sponsor a Celebration of Psalms which will explore through readings and music the unifying role the psalms have played for hundreds of years in the religions of Judaism, Christianity and Islam. This should be a very inspiring concert in the same vein as the two Veterans' Day Concerts of the past couple of years. The concert will involve combined choirs led by Laura Russell in great anthems by Parry, Bairstow and Franck in addition to readings from representatives of the various religions and also psalm-based organ pieces. You can see more details about the concert in the Calendar. And while you are looking at the Calendar, please note the other activities marked in red planned by our chapter – in addition to many other events. We have numerous opportunities to come together and enjoy this great music of the organ which unifies us in the midst of all the other noise out there.

Enjoy the blessings and share with others. Basically it boils down to that.


Craig Williams, AAGO
Dean, Central Hudson Valley AGO

Organists on Facebook

In this month's Dean's Letter, we read that the AGO "encourages people to come together and enjoy a common artistic enterprise even while engaging in healthy debate over different elements of that art." Since more and more people are using Facebook to keep in touch and offer their opinions, here are some relevant Facebook groups that you may find interesting.

https://www.facebook.com/groups/CHVAGO/ - This is our own chapter's page, so we are especially interested in this one.
https://www.facebook.com/agohq - The official group for The American Guild of Organists.
https://www.facebook.com/groups/organists/ - Faebook Organists' AssociationThis group defines itself as "… a location on the Facebook Network for organists to meet each other and enjoy the company of others who share the same passion for the art of the organ." Lots of contributors from around the world.
https://www.facebook.com/groups/2208548144/ - Named "I'm Fed Up With Bad Church Music," this group gives people a forum for discussing "all aspects of bad (and good!) church music and its practice." Can get a bit contentious at times.

Editor's Corner

This newsletter is published by the Central Hudson Valley Chapter of the American Guild of Organists. The editor is:
Susan LaGrande
12 Montrose Lane
Wappingers Falls, NY 12590
Phone: 845-226-6496 (home) - Fax: 845-226-1035
e-mail: SUSANEL2@OPTONLINE.NET

Deadline for Next Newsletter

We are always glad to receive input for the chapter newsletter in the form of calendar items, reviews of recent concerts and events, biographies, letters, photographs, etc. In order to make sure these submissions can be processed in a timely fashion, please make sure they are received by the 23rd of each month. However, material such as calendar items may be submitted at any time; even if the material may not make it into the printed newsletter, it can be quickly posted on our web site at www.chvago.org.

You may submit newsletter or web site material by mail, e-mail, fax or phone. Just contact the editor, Susan LaGrande, using the information given above. Remember, the deadline for the next printed newsletter, to be available the first week in November 2013, is October 23rd.