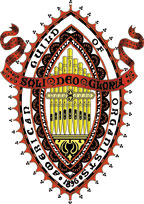 Newsletter
November 2013

Click here for the Newsletter Archive

Click here for a printable copy of the current newsletter




Dear Friends,

A rabbi, a pastor and an imam all get together…but not in a bar. Rather they come together and share their insights at Christ Episcopal Church. The preceding paraphrases the Rev. Blake Rider's introduction a bit. At the Celebration of Psalms on October 20, we were treated to different reflections by these spiritual leaders, beginning with the rabbi remarking that the Law and the Prophets represent God speaking to us but then the Psalms are us speaking back to God. This set a wonderful tone for our further response through music setting the Psalm words in hymns and anthems. The concert was another successful collaboration of our Central Hudson Valley chapter with Christ Episcopal Church and the many community choirs which participated. Many thanks are due to Laura Russell who directed the choirs and to the individual choir directors, many of them chapter members, who motivated their volunteers to contribute their time and talent in this worthy endeavor. One of the most interesting musical juxtapositions in the concert which showed a particular affinity between the different types of music presented was the specialized chanting of the imam immediately followed by C.H.H. Parry's "I Was Glad." The circular chant-like directions of Parry's revolving (and evolving) melodies were brought out by the chanting which preceded them. Another wonderful outcome was that the Dutchess Interfaith Council received a sizeable donation.

Some of my favorite memories of chapter events are of these autumn concerts. I remember a terrific hymn festival led by Richard Erickson at West Point (complete with "wave canons") and then the entire Bach Cantata 80 ("Ein feste Burg ist unser Gott") being the main unifying element of a Reformation Evensong a year later. This was followed by a festival at Christ Church of favorite hymns of American presidents – led by 11 different organists and many other readers – and a very moving Veteran's Day concert last year, finally followed by the multi-faith psalm celebration this year. If you have not been to one of these concerts – or one lately – I definitely recommend that you plan future events on your calendar. There is talk of perhaps another hymn-sing next year. We will have further details in future newsletters.

As we celebrated our traditions of hymn-singing and great anthems in the concert, we are looking forward to two choral music readings coming up that allow members to share music for our particular choir situations – especially those of us with smaller choirs and limited time commitments. On the one hand, we need music which is simpler than the grand anthems of Franck and Parry but on the other hand, we do not want to shortchange our congregations or worship services with mediocre offerings. These choral readings are a good opportunity to find quality music that fits our situations. The first of these will take place Saturday November 9th at Christ Episcopal Church. Refreshments and coffee will be provided at 9:30 AM and the workshop will begin at 10:00 AM. Previous readings have focused on Advent and Christmas and then Lent and Easter; so this one will focus on Pentecost and Other Feast Days. Please contact Barbara Bayers (babayers@gmail.com) if you wish to participate. Our Calendar contains many details about this and other upcoming events. We would love to see you.


Craig Williams, AAGO
Dean, Central Hudson Valley AGO

Editor's Corner

This newsletter is published by the Central Hudson Valley Chapter of the American Guild of Organists. The editor is:
Susan LaGrande
12 Montrose Lane
Wappingers Falls, NY 12590
Phone: 845-226-6496 (home) - Fax: 845-226-1035
e-mail: SUSANEL2@OPTONLINE.NET

Deadline for Next Newsletter

We are always glad to receive input for the chapter newsletter in the form of calendar items, reviews of recent concerts and events, biographies, letters, photographs, etc. In order to make sure these submissions can be processed in a timely fashion, please make sure they are received by the 23rd of each month. However, material such as calendar items may be submitted at any time; even if the material may not make it into the printed newsletter, it can be quickly posted on our web site at www.chvago.org.

You may submit newsletter or web site material by mail, e-mail, fax or phone. Just contact the editor, Susan LaGrande, using the information given above. Remember, the deadline for the next printed newsletter, to be available the first week in December 2013, is November 23rd.