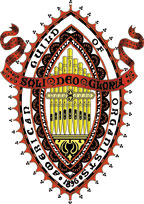 Newsletter
December 2013

Click here for the Newsletter Archive

Click here for a printable copy of the current newsletter



Dear Colleagues,

As we enter this season of an early Hanukkah, Advent, Christmas and a busy new year, I find that I have so many thoughts about so many different challenges we face that I could fill three Dean's letters and barely scratch the surface.

But nobody has time to read all that this time of year!

So I think I will distill my thoughts down to one idea: Search for and emphasize those blessings which unite us – bring us together. We share a common bond in that we love music. We wish to use our music to enhance and enrich the lives of others. We share a common appreciation of the organ and its ability with the human voice to produce melody that gives us an earthly vision of the heavenly choirs. We can all enjoy these things during this season.

As I observe this season, I am going to dwell on the positive benefits of the opportunities which I have been given and not worry about the dividing elements. There will be plenty of time for that in 2014 and even then I pray for the strength to be a positive influence.

In the New Year, we have an early opportunity to come together and celebrate our common interests. On Sunday, January 12, we will have our annual Spuds 'n' Sundaes get-together. This is always a fun time of food, relaxation and sharing music and conversation. Please check out the details in the Calendar and plan to come. You will enjoy it.

May you have a blessed holiday season filled with beautiful music and special moments!


Craig Williams, AAGO
Dean, Central Hudson Valley AGO

Membership News

We are excited to welcome a large number of new members to our chapter! A full roster with contact information will be posted on the Private page of our web site. If you have not yet accessed this page or have forgotten your username and password, please contact Susan LaGrande at 845-226-6496 or SUSANEL2@OPTONLINE.NET.

Here is a list of new members since June of 2013. Welcome to you all!:

Gail Archer
Dylan Finley
Michael David Golzmane
Sarah Johnson
Stephanie Jonas
Luke Kachelein
Sean Keller
Zachary Kondak
Lonnie Kulick
Zeke Maben
Dr. Peter Muir
Elaine Simpson
Joseph Sopchak
Jonathan Spiegel
Marisa Tomaino
Bruce Xu
Reilly Xu

The Sounds of the Eiffel Tower Have Been Cataloged!

Taking four months, from July 24 to November 21, Joseph Bertolozzi sorted through ten thousand raw samples, yielding about twenty-eight hundred chosen ones for his next opus from Paris, Tower Music. Taking a short break, Joe will soon begin composing #TowerMusic soon. To learn more about this project, visit the web site josephbertolozzi.com and click on the Tower Music link at the top of the page.

Editor's Corner

This newsletter is published by the Central Hudson Valley Chapter of the American Guild of Organists. The editor is:
Susan LaGrande
12 Montrose Lane
Wappingers Falls, NY 12590
Phone: 845-226-6496 (home) - Fax: 845-226-1035
e-mail: SUSANEL2@OPTONLINE.NET

Deadline for Next Newsletter

We are always glad to receive input for the chapter newsletter in the form of calendar items, reviews of recent concerts and events, biographies, letters, photographs, etc. In order to make sure these submissions can be processed in a timely fashion, please make sure they are received by the 23rd of each month. However, material such as calendar items may be submitted at any time; even if the material may not make it into the printed newsletter, it can be quickly posted on our web site at www.chvago.org.

You may submit newsletter or web site material by mail, e-mail, fax or phone. Just contact the editor, Susan LaGrande, using the information given above. Remember, the deadline for the next printed newsletter, to be available the first week in January 2014, is November 23rd.