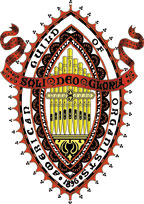 Newsletter
January 2014

Click here for the Newsletter Archive

Click here for a printable copy of the current newsletter



Dear Colleagues,

As we enter another New Year, I imagine your calendars look very much like mine – already quite full with activities of the next few months. I confess I would not have it any other way! We are all busy people and probably mark the Advent and Christmas season – the beginning of the new church year – as more significant than a switching of the calendars. Still this emergent season is hopefully a time to get some rest and reflect on past accomplishments and maybe even some unmet expectations. The changing of the calendar reminds us that if we did not get something done, it is not a failure if we still have the chance in the future to get it done – or perhaps modify our expectations.

There is nothing wrong with modifying expectations. As professionals, we should do this more. How many times have we risen from the organ bench feeling like we totally messed up something – only to have members of the congregation thank us for the beautiful music? Or, conversely, how many times have we achieved a new goal at the organ only to turn around and face a congregation or staff that had no idea we were meeting or surpassing a goal? I remember in my early days of church music when I was teaching myself how to play the organ (I wisely chose lessons a few years later) and I mastered a difficult postlude – pedals and all! I turned in triumph to the people standing around the console – only to have the president of the church council castigate me for playing all seven stanzas of the last hymn! (I thought Lutherans liked to sing…) Valuable lesson learned – Our agenda is not always their agenda. But another valuable lesson learned is that a difference in agendas does not need to be ascribed more value than it is worth: We still need to set our own goals and meet them…our personal development is usually acknowledged in more subtle ways than outright compliments or other types of affirmation. So as we examine our personal goals, it is okay to see where some adjustment of expectations is okay as long as we feel true to our own personal calling as musicians. We just need to see that we rarely impress or disappoint others the way we are impressing or disappointing ourselves.

Again I remember taking a job in midtown Manhattan seated on the bench of a popular organist who had played there for decades…but also aware that changes were necessary. After one difficult rehearsal, one of the old-guard choir members called me "mediocre" and a few other things (we later on became very good friends). I complained to the head pastor that perhaps I was not what the church needed at that challenging time. That pastor never went out of his way to compliment me but at that moment he told me in a very soft voice, "If you were mediocre, you would not be here." That was not warm or fuzzy but I understood the point completely. Another valuable lesson learned…

So I invite you to join me in learning new lessons every new year. The first adjustment we are making this year is that our annual Spuds 'n' Sundaes get-together has been changed from January 12 to January 26! Please note in our Calendar that this represents a date and time change – we will be meeting at Trinity Church Fishkill at 5 pm. I hope to see many of you there!

We changed this to accommodate the schedule of the Cappella Festiva concert which was postponed due to weather and moved to the 12th at 4 pm (Vassar College Chapel). Please consider taking advantage of this and many other musical events in the Hudson Valley this winter. The Calendar in this newsletter and website is a wonderful resource for checking out local music events.

Have a happy, prosperous and blessed New Year!


Craig Williams, AAGO
Dean, Central Hudson Valley AGO

Membership News

Fr. George Hafemann has a new e-mail address, effective immediately: frgeohafe@icloud.com.

Editor's Corner

This newsletter is published by the Central Hudson Valley Chapter of the American Guild of Organists. The editor is:
Susan LaGrande
12 Montrose Lane
Wappingers Falls, NY 12590
Phone: 845-226-6496 (home) - Fax: 845-226-1035
e-mail: SUSANEL2@OPTONLINE.NET

Deadline for Next Newsletter

We are always glad to receive input for the chapter newsletter in the form of calendar items, reviews of recent concerts and events, biographies, letters, photographs, etc. In order to make sure these submissions can be processed in a timely fashion, please make sure they are received by the 23rd of each month. However, material such as calendar items may be submitted at any time; even if the material may not make it into the printed newsletter, it can be quickly posted on our web site at www.chvago.org.

You may submit newsletter or web site material by mail, e-mail, fax or phone. Just contact the editor, Susan LaGrande, using the information given above. Remember, the deadline for the next printed newsletter, to be available the first week in February 2014, is January 23rd.