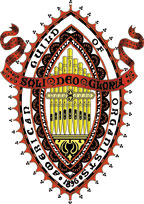 Newsletter
February 2014

Click here for the Newsletter Archive

Click here for a printable copy of the current newsletter



Dear Friends,

I want to take this opportunity to thank the hard-working officers and board members of the Central Hudson Valley chapter. Laura Russell, our sub-dean, continues to bring wonderful organizations skills and ideas coming from her experience to the planning of music concerts. The last several years we have had wonderful events in the fall – ranging from hymn sings to Veterans Day concerts – thanks to Laura's expertise as conductor and organizer. I am very pleased that as a chapter we are privileged to host these events and look forward to many more. Eric Hepp has been our Treasurer for many years and continues to keep us organized – he also is a source of many ideas and inspiration behind the scenes. Celestine Campbell keeps us up to date with events through being our Secretary and keeping thorough minutes. Susan LaGrande has kept us all informed through continuing to maintain our excellent chapter website and distributing the newsletter. She has continued selfless service for many years. Barbara Bayers has been a remarkable Membership Coordinator and has done wonderful outreach. Membership has grown this year from 39 to 61 and continues to grow! Many thanks also to Nancy Harle, Janice Grace, Charles Faverio and Glenn May for their wonderful service to the board, showing a great dedication to the Central Hudson chapter traveling many miles to continue participating in chapter events and helping us to meet your goals.

As I thank these people, I look to the future and I encourage you to do the same! What role might you play in the future chapter leadership? Or in selecting our leaders? Please give that some thought as we begin the process of choosing a slate of prospective new officers and board members for election this upcoming June.

We have two wonderful opportunities for active participation coming up. This Saturday (February 8) we will be conducting another Choral Reading centered on World Music. This will be at the Reformed Church in Poughkeepsie (please see Calendar for details) with coffee provided at 9:30 AM and the workshop beginning at 10:00 AM. Then on Sunday, March 23 at 2:00 PM, we will have our Annual Members' Recital at the Vassar Chapel. Participants will perform on the chapel's 106-rank Gress-Miles organ! If you are interested in playing, please contact Eric Hepp (details provided in the Calendar).

The Central Hudson Valley – stretching from Port Jervis to Millbrook, from West Point to Kingston – has many wonderful pipe organs. You can see the details of many of them on our website. Active participation in our chapter gives many opportunities to hear and play these wonderful organs – as well as getting to know the terrific organists who play them.

Thank you for your involvement in the Central Hudson Valley chapter and your continued dedication to the cause of great organ music.


Craig Williams, AAGO
Dean, Central Hudson Valley AGO

Membership News

We welcome three new members who came in after the listing in last month's newsletter:
• Ms. Heidi Schnarr, Music Director at Hyde Park United Methodist Church. Her phone number is 860-508-4642 and her e-mail is hls3@hood.edu.
• Mark L. Huffman, 35 years experience. His phone number is 518-859-5482 and his e-mail is mark.logan.huffman.business@gmail.com.
• Mrs. Kathleen Stockburger, Director of Music at St. Joseph's Church in Somers, NY. Her phone number is 845-457-5059 and her e-mail is prayingtwice57@frontier.com.
Heidi and Mark have both asked to be included in our Sub List; you can find more information about each of them in their listing on that web page. Kathleen is holding off on the Sub List for a while; hopefully you had a chance to get to know her at the recent Spuds & Sundaes Social.

Alice Cann has a new e-mail address, effective immediately: alicecann@frontier.com.

Editor's Corner

This newsletter is published by the Central Hudson Valley Chapter of the American Guild of Organists. The editor is:
Susan LaGrande
12 Montrose Lane
Wappingers Falls, NY 12590
Phone: 845-226-6496 (home)
e-mail: SUSANEL2@OPTONLINE.NET

Deadline for Next Newsletter

We are always glad to receive input for the chapter newsletter in the form of calendar items, reviews of recent concerts and events, biographies, letters, photographs, etc. In order to make sure these submissions can be processed in a timely fashion, please make sure they are received by the 23rd of each month. However, material such as calendar items may be submitted at any time; even if the material may not make it into the printed newsletter, it can be quickly posted on our web site at www.chvago.org.

You may submit newsletter or web site material by mail, e-mail, fax or phone. Just contact the editor, Susan LaGrande, using the information given above. Remember, the deadline for the next printed newsletter, to be available the first week in March 2014, is February 23rd.