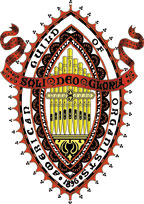 Newsletter
April 2004

Click here for the Newsletter Archive

Click here for a printable copy of the current newsletter


Letter from the Dean

April Greetings! Our chapter was well represented at the dedication service for the new Schantz organ at the Reformed Church in Poughkeepsie. Not only did Jack Davis get to share the new organ, he had the opportunity to share his student, Thomas Sheehan, with us. A wonderful service, and a packed house. I arrived during the prelude and had to sit up in the balcony. The Dedication Recital will be performed by Ken Cowen at 4 PM on May 23rd. Should be great!

We've run into a problem getting a young artist recital for our April time frame – seems that the timing is convenient for us, but not for them… We'll have to concentrate on our next chapter program, scheduled for Friday, May 7th at 7:30 at Saint Columba RC Church in Hopewell Junction. This program will be a workshop to help the non-liturgical organist learn to play a Mass. (Here's a quick tip for remembering the "Ordinary" or reoccurring elements of the mass: King George Chased Sally Around – or Kyrie, Gloria, Credo, Sanctus and Agnus Dei. Bet you won't ever get THAT question wrong on the test!)

It's the season of busy. As if Lent, Holy Week and Easter weren't enough, at Sacred Heart School (Highland Falls) they did 3 performances of The Music Man. My wife is the music director, and I helped out with running sound and stuff. Production week was, shall we say, full of challenges, but the kids (grades 1-8) did a great job. On Palm Sunday, we're taking part in a multiple church choir concert of Dubois' Seven Last Words of Christ. You know, we all need to find ways to spend all that free time.

It's not too early to reserve a spot in this year's Members' Recital. Jack Davis will be hosting and coordinating the program which will be held on Sunday, June 13th at 4:00 PM. Please contact Jack at 845-831-1761 or jdavisjr@localnet.com to let him know what selection(s) you'd like to play. I'd love to hear that we have too many folks signed up!

Good and bad news about the West Point Band's intramural volleyball team – we are undefeated at 2 and 0 – but I haven't played yet. Hopefully I won't be a jinx. For you softball fans, summer is just around the corner and the Band is looking to improve on last season. For me, that's easy –just don't strike out and don't get hurt!



Letter from the Convention Coordinator

Yes, it's been cold – but that's not the significance of this little cartoon.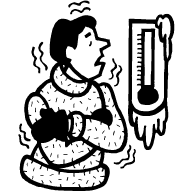 In our last newsletter, as well as in a separate mailing and phone call to each member, we asked the entire chapter to rally together to make the 2005 Region II & III Convention a success. We tried to make it clear that the size of any given contribution was not important. While large gifts are obviously helpful, even very small donations represent encouragement, support, and the unanimity of spirit that has been the hallmark of our chapter for more than fifty years.

This sense of oneness and commitment to our profession can propel us into a spectacular convention. The steering committee or program committee or the board can't do the job alone. What we need and what we are hoping for is total participation!

So far we are a long way from achieving that. As of March 29, 2004, only about 38% of our members have sent in a contribution or pledge. No wonder it's been so cold! Let's see if we can heat things up, so that in next month's newsletter we can report closer to 75% or even 90% participation.

A blessed Easter to you.

Sincerely,

John Sullivan


Membership News

• Don't forget to check the Private area of this web site for special members-only features. If you don't remember your login ID and password, contact Susan LaGrande for a reminder.
• We have been informed that Don Filkins will be having bypass surgery at Vassar Brothers Hospital in Poughkeepsie on April 2. In a phone conversation on April 1, he sounded upbeat and funny as usual. Please keep him and Doris in your prayers as he recovers.
• We are pleased to welcome our newest member:
Thomas Sheehan
14 Glenn Ridge Rd
Red Hook, NY 12771
845-758-2413
e-mail: rhsheehan@frontiernet.net
Thomas studies with Jack Davis, and many of us heard him play at the dedication of the new Schantz organ at the Reformed Church a few weeks ago. Welcome, Thomas!
• Many of us remember Margaret Pecoraro, who was a great supporter of this chapter until her death in November of 2002. Now we have been informed that her husband Cyrus, who attended many chapter events and local concerts with Margaret, passed away on March 14. In his memory the chapter has made a donation of $25 to the Margaret Pecoraro Memorial Scholarship Fund. We offer our condolences to the surviving members of the Pecoraro family.
• From the Alban family: As you may know, Jeff's younger brother Douglas was involved in a serious car accident on March 1. He had an open fracture of the humerus, which had five breaks. To date, he had two surgeries at St. Francis Hospital to stabilize the break and a third surgery at Presbyterian Hospital in NYC. This surgery included a bone graft, plate, and screws inserted into Doug's arm. He is recovering nicely and has started physical therapy. We pray he should hopefully gain full use of his arm. Thank you for all your thoughts and prayers. –- Janis, Michael, Jeffrey, and Douglas Alban

Adult Pipe Organ Encounter Announced

This summer the Detroit Chapter of the American Guild of Organists will be hosting the nation's only POE+ for adults, centered in the suburban Detroit area with its many fine instruments and venues.
In this newsletter you will find a copy of our brochure; if it doesn't answer all your questions, don't hesitate to contact:
Ray Stilwell (POE+ Publicity) - DetroitAGO@aol.com
Tom Trenney (POE+ Chairman) - ttrenney@comcast.net
Glenn Miller (POE+ Registrar)
c/o Kirk in the Hills
1340 W. Long Lake Rd.
Bloomfield Hills, MI 48302

Editor's Corner

This newsletter is published by the Central Hudson Valley Chapter of the American Guild of Organists. The editor is:
Susan LaGrande
12 Montrose Lane
Wappingers Falls, NY 12590
Phone: 845-226-6496 (home)
Fax: 845-226-1035
e-mail: SUSANEL2@HOTMAIL.COM

Contributions to this newsletter are always welcome. We have been very pleased to offer a member profile in previous issues. If you would like to be profiled, you may write your own biography (up to 500 words) or contact the editor to arrange an interview.