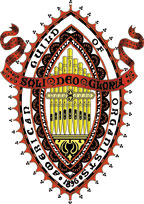 Newsletter
March 2014

Click here for the Newsletter Archive

Click here for a printable copy of the current newsletter



Dear Chapter Members,

The National Headquarters of the AGO is beginning this year with a new way to collect dues online from all members. In many ways, this will make payment of dues and management of membership information easier for our chapter officers as well as every individual member, and we feel this rollout of what they call ONCARD (Online National Collection and Remittal of Dues) is a positive step. However not everyone is comfortable with the computer and the internet. We here at the Central Hudson Valley chapter want everyone to know that we are willing to work with all members providing assistance where needed and alternatives when required. Our Membership Coordinator, Barbara Bayers, is our liaison to National for implementing the use of ONCARD in our chapter. She has taken considerable time and effort getting to know how this system is being implemented and how it impacts individual members. I asked her to provide a letter to our membership detailing information which you will be receiving soon. Please take the time to read her letter which follows:

"With regard to the rollout of National AGO's ONCARD, you and every Guild member will receive an email from AGO Headquarters early next week inviting you to access ONCARD and update your personal information. National will provide you a user name and your membership number in the email. Your membership number may also be found on the label of your The American Organist magazine. Please note that National has collected your information from past membership renewal/dues forms, so some material may need to be updated.

"Though dues remittal is being made directly to National, you are encouraged to take the opportunity to use ONCARD to renew your membership with our Central Hudson Valley AGO Chapter: This feature will be rolled out later in the spring prior to the AGO fiscal year July 2014-June 2015. While streamlining the dues renewal process, this service will also offer the following features:
• Members can update their personal information at any time
• Members can pay their dues online via credit card; National will remit the chapter portion to our local chapter's account
• Members will have an opportunity to donate to National AGO's various funds, our chapter in general, our chapter programming, and our scholarship fund all in the same transaction
• Members will have the opportunity to search the nation-wide database for other members

"Additional information:
• If you do not have an email address on file, an invoice will be mailed to you directly
• If your religious organization pays your dues, there will be an opportunity to print the invoice and submit for payment
• If you have an email address and prefer not to use ONCARD, you have the opportunity to pay our chapter directly as you have in the past
• If you are a dual member with CHVAGO as your secondary chapter, please note that all your information will only be found with your primary chapter at this point in time. National does have a record of your membership with our chapter (which has been verified via phone), but linking both chapters to your name will take place over the summer

"An additional benefit will be the fact that National AGO's valuable information and ONCARD are all available from one site. Your chapter officers encourage you to browse all that National has to offer each of its members. We sincerely hope that you will take advantage of all."

If you have any questions, please direct them to Membership Chair Barbara Bayers at 203-260-4295 or via email: babayers@gmail.com.

I appreciate your kind attention to these details as National headquarters changes its policies. Change can be exciting but we also recognize that your schedules are busy, and any attention to change requires time and effort on your part. We greatly appreciate your membership and contribution to our chapter, and we hope we can provide all assistance you may need.



Craig Williams, AAGO
Dean, Central Hudson Valley AGO

Membership News

Beverly Simmons has a new e-mail address: beverlysimmons412@gmail.com

Also, Helen Schimpf has informed us that she has moved. Her new address is:
206 Oak Drive South #61B
Lake Jackson, TX 77566
Cell Phone: 845-380-1282
"As this is a permanent address, I shall probably not be joining next year." We will miss you, Helen!

Members' Recital

This year's Members' Recital for the Central Hudson Valley Chapter will be held in the Vassar College Chapel (124 Raymond Avenue, Poughkeepsie) on Sunday, March 23 at 2:30 PM. This four manual Gress-Miles (1967) instrument is versatile, well-scaled for the space, and offers a wide dynamic range for all organ repertoire. The console is comfortable and provided with fully adjustable bench, good lighting and numerous combination memory levels. Please consider the opportunity of performing on one of the Hudson Valley's landmark pipe organs.

If you are interested in performing, please contact the Recital Coordinator, Eric Hepp or call him at 845-489-2625. He will provide information on practice times, memory levels and the process for checking out chapel keys. Recitalists will have access to the organ 10 days prior to the recital. Please contact him also about repertoire selection and optional program notes. He is available to provide orientation to the instrument if desired.

Editor's Corner

This newsletter is published by the Central Hudson Valley Chapter of the American Guild of Organists. The editor is:
Susan LaGrande
12 Montrose Lane
Wappingers Falls, NY 12590
Phone: 845-226-6496 (home) - Fax: 845-226-1035
e-mail: SUSANEL2@OPTONLINE.NET

Deadline for Next Newsletter

We are always glad to receive input for the chapter newsletter in the form of calendar items, reviews of recent concerts and events, biographies, letters, photographs, etc. In order to make sure these submissions can be processed in a timely fashion, please make sure they are received by the 23rd of each month. However, material such as calendar items may be submitted at any time; even if the material may not make it into the printed newsletter, it can be quickly posted on our web site at www.chvago.org.

You may submit newsletter or web site material by mail, e-mail, fax or phone. Just contact the editor, Susan LaGrande, using the information given above. Remember, the deadline for the next printed newsletter, to be available the first week in April 2014, is March 23rd.