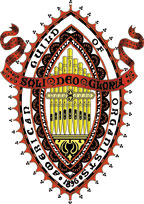 Newsletter
April 2014

Click here for the Newsletter Archive

Click here for a printable copy of the current newsletter



Dear Friends,

April is the month where we finally begin to enjoy some spring weather. It is also the busy month of Palm Sunday, Easter and Passover. I wish all of you great rewards as you go about doing the wonderful work in serving your parishes and congregations!

This is also the month to vote for the National and Regional officers of the AGO. I imagine by now you have all received an e-mail with a fairly easy web-link to vote. Information about the candidates and re-configuration of the now seven – not nine – Regions are in the April issue of The American Organist magazine. Please take some time to get to know what is going on in the national AGO. (Note that if you do not receive the magazine or are unable to access the internet, please call one of the officers listed above for help in voting.)

Shortly we will be presenting the slate of our Chapter Officers as well. Please take some time as well to be involved in the affairs of our chapter. We have done some very exciting events lately. We had a very nice choral reading of sacred World Music at the Reformed Church Poughkeepsie back in February, and this past month we had our Annual Members' Recital at the grand chapel of Vassar College. I was privileged to play the 106 rank Gress-Miles Organ in this terrific concert. I also want to offer congratulations to everyone who participated and played so excellently. Thanks to Wesley Joseph, Laura Russell, Alexander Green, Janice Grace, Boyd Herforth, Patrick Walker and Eric Hepp for a very well played variety of great organ music! Also many thanks to Eric Hepp who coordinated the event.

As we go into the new fiscal year, please note some of the changes in paying dues – for those who choose to do so online. Details about the new ONCARD system can be found in my March Dean's Letter – including contact information for Barb Bayers, our Membership Coordinator. Not only will ONCARD give a direct way to remit dues online – it will also give members an opportunity to develop a profile to be maintained on the national level.

In the meantime, enjoy the weather as it slowly grows warmer. And hopefully we will all have a little time to recover after all the Holy Days this month.


Craig Williams, AAGO
Dean, Central Hudson Valley AGO

Editor's Corner

This newsletter is published by the Central Hudson Valley Chapter of the American Guild of Organists. The editor is:
Susan LaGrande
12 Montrose Lane
Wappingers Falls, NY 12590
Phone: 845-226-6496 (home) - Fax: 845-226-1035
e-mail: SUSANEL2@OPTONLINE.NET

Deadline for Next Newsletter

We are always glad to receive input for the chapter newsletter in the form of calendar items, reviews of recent concerts and events, biographies, letters, photographs, etc. In order to make sure these submissions can be processed in a timely fashion, please make sure they are received by the 23rd of each month. However, material such as calendar items may be submitted at any time; even if the material may not make it into the printed newsletter, it can be quickly posted on our web site at www.chvago.org.

You may submit newsletter or web site material by mail, e-mail, fax or phone. Just contact the editor, Susan LaGrande, using the information given above. Remember, the deadline for the next printed newsletter, to be available the first week in May 2014, is April 23rd.