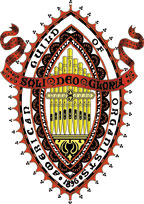 Newsletter
May 2014

Click here for the Newsletter Archive

Click here for a printable copy of the current newsletter



Dear Colleagues,

In years past, we looked forward to Easter season finally coming to a close where we could finally relax. Lately it seems we are busier than ever the year round.

Hopefully we can always find time to listen to that "small, still voice" and allow the music within to add new dimensions to our performances. Music is art which exists in time, and it is always good to take time to hear fresh perspectives on music – whether it is through personal study or listening to the efforts of others. The American Guild of Organists encourages both.

As you can see, there is a new way not only to renew your membership – through ONCARD – but also develop a portfolio online which is easy to access and continually develop. If you have questions, our Membership Coordinator Barb Bayers is in consistent touch with the people at headquarters who are implementing this program. By all means look at our officer information and give her or me an e-mail or phone call.

Development may be done in many ways. If you bought new music at one of our Spuds 'n' Sundaes, perhaps now is the time to begin looking through some new scores and see what may be added to your repertoire. Or pull out an old piece and see if you can refine it further than before. The AGO has a great certification program – if you do not have certification, investigate what it may take to prepare for and pass an exam. If you already have certification, give serious consideration to moving to the next level. If you want to look for ways to serve the Central Hudson Valley chapter, give one of us a call. Developing programs, keeping up list information, continuing to provide a relevant monthly newsletter as well as maintaining a website which is attractive and easy to navigate – these are all tasks which are made easier with assistance.

Enjoy spring and the many opportunities for new and renewed possibilities which it brings!


Editor's Corner

This newsletter is published by the Central Hudson Valley Chapter of the American Guild of Organists. The editor is:
Susan LaGrande
12 Montrose Lane
Wappingers Falls, NY 12590
Phone: 845-226-6496 (home) - Fax: 845-226-1035
e-mail: SUSANEL2@OPTONLINE.NET

Deadline for Next Newsletter

We are always glad to receive input for the chapter newsletter in the form of calendar items, reviews of recent concerts and events, biographies, letters, photographs, etc. In order to make sure these submissions can be processed in a timely fashion, please make sure they are received by the 23rd of each month. However, material such as calendar items may be submitted at any time; even if the material may not make it into the printed newsletter, it can be quickly posted on our web site at www.chvago.org.

You may submit newsletter or web site material by mail, e-mail, fax or phone. Just contact the editor, Susan LaGrande, using the information given above. Remember, the deadline for the next printed newsletter, to be available the first week in June 2014, is May 23rd.