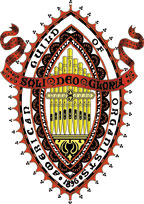 Newsletter
June 2014

Click here for the Newsletter Archive

Click here for a printable copy of the current newsletter



I just renewed my membership and paid my dues using ONCARD – and I lived!
It was actually quite easy. There is an article in this month's TAO which provides a step-by-step guide on how to navigate the website but I found I did not need it. The online instructions are quite easy. You will see there are quite a few choices in updating your personal profile. Also there are numerous ways to contribute both to the chapter and to national causes apart from the dues renewal. There are also fields which allow you to make suggestions regarding chapter programming and some other options as well.

I did this after playing eight weddings in three days so you can imagine how simple it is!
All of us organists experience periodic times when we are called upon to take on extraordinary schedules and workloads. Many of us have this during the Christmas season and also Triduum – and some of us also have intense schedules around the end of the school year. Many of us also have to deal with the pressures of work outside our music vocations – many times pulling together the intense Christmas, Easter and High Holy Days seasons during our "time off."

If we did not love what we do and also the effect music has on worshippers and audiences, it would be very easy to burn out. There are times we feel burned out and tired anyway despite our dedication to the cause of our work.

So this is a time in late spring and early summer to take a deep breath and reflect on what we do and why we do it. Also please remember that membership in the American Guild of Organists allows us to come together during meetings and special events so that we do not feel like we are conducting our life's work in a vacuum. It can be very encouraging to hear how others are facing the same challenges and sometimes discussing novel solutions in dealing with those challenges. Also through recitals, concerts and workshops we have the opportunity to make music for each other.

Enjoy the weather and take the time to reflect on your own music making and perhaps take in the concert of another. And also take about five minutes and please renew your membership using ONCARD. It will not take much longer than that. Of course for those without a computer or those who do need assistance, we are here to help.


Craig Williams, AAGO
Dean, Central Hudson Valley AGO

Editor's Corner

This newsletter is published by the Central Hudson Valley Chapter of the American Guild of Organists. The editor is:
Susan LaGrande
12 Montrose Lane
Wappingers Falls, NY 12590
Phone: 845-226-6496 (home) - Fax: 845-226-1035
e-mail: SUSANEL2@OPTONLINE.NET

Deadline for Next Newsletter

We are always glad to receive input for the chapter newsletter in the form of calendar items, reviews of recent concerts and events, biographies, letters, photographs, etc. In order to make sure these submissions can be processed in a timely fashion, please make sure they are received by the 23rd of each month. However, material such as calendar items may be submitted at any time; even if the material may not make it into the printed newsletter, it can be quickly posted on our web site at www.chvago.org.

You may submit newsletter or web site material by mail, e-mail, fax or phone. Just contact the editor, Susan LaGrande, using the information given above. Remember, the deadline for the next printed newsletter, to be available the first week in July 2014, is June 23rd.