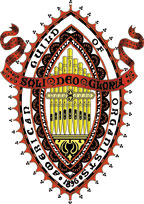 Newsletter
July 2014

Click here for the Newsletter Archive

Click here for a printable copy of the current newsletter



Dear Friends,

This is the season when we are able to re-charge from our routine work during the academic year and yet still remain busy. The months of June and July are seeing the National Convention of the AGO in addition to many denominational conferences, and I think the Organ Historical Society will have their convention soon. Probably if one planned his or her calendar just right, that person could spend over two months straight attending conventions and conferences! As it was, many of our chapter members enjoyed the AAM conference in Washington DC and the weeklong AGO National Convention in Boston. I attended the National Convention for one day and got a taste of the flurry of activities and really wonderful performances in Boston's historic churches.

Also I attended the meeting for the new Northeast Region led by our new Regional Councilor Cheryl Duerr. As many of you know, the AGO no longer has 9 regions but 7. This reapportionment has a direct impact on our local area because now we are no longer part of Region II where New York is paired with New Jersey. We in New York are now placed in the Northeast Region with all the New England States (along with Europe and Argentina which were also part of Region II in the past), and New Jersey is now in the mid-Atlantic Region. So the Hudson River in the area of New York City just got a whole lot wider speaking in terms of AGO geography! The meeting included a very nice address by Agnes Armstrong who is stepping down as the former Region II Councilor, and an acknowledgment of her services these past several years. Cheryl Duerr was the former Region I Councilor and will now serve this whole area.

I want to take this space now to highlight another acknowledgment brought up in the meeting: Please join me in extending hearty congratulations to our newest Colleague, Alexander Green, CAGO! Alex successfully passed the Colleague Certificate exam this past May. I also want to thank Laura Russell who served as proctor of his exam, Paul Frazer who recorded the exam for submission and Christ Church Poughkeepsie for allowing us use of their sanctuary and organ for the administration of the exam. I hope all members of our chapter will consider obtaining an AGO certificate (or a higher certificate). If you are willing to take that initiative, please contact me – I will be more than happy to use our chapter's resources or guidance in assisting you in meeting that goal.

You will have the opportunity to congratulate Alex Green in person if you come to our Chapter Picnic on Sunday, July 20th at 3 p.m. The picnic will be at Eric Hepp's house – 24 Lor Mar Court, Wappingers Falls, NY. Eric will provide the main course and guests are encouraged to bring salads, desserts and beverages. For details, please call Eric at 845-489-2625. If you are unable to bring something, come anyway! We would love to see you!

Enjoy summer!


Craig Williams, AAGO
Dean, Central Hudson Valley AGO
Membership News
We recently received a postcard from Helen Schimpf, who reports: "I am enjoying my stay in a Texas assisted living facility, and keeping up my music by playing piano each Monday morning for 2 hours and playing hymns for an hour each Thursday before lunch, and I have won second place in a talent contest (A singer won first!) If you would like to contact Helen, please note that her correct address is: 206 Oak Drive S Apt. 25B, Lake Jackson, TX 77566.


Kudos to Alex Green, who successfully passed the AGO Colleague Certificate exam this past May! Give him your congratulations in person at the chapter picnic on July 20.
Local Organs in the News
From Joe Bertolozzi: There was a nice article on the church and organ of the Beacon Reformed Church in the 7/2/14 edition Poughkeepsie Journal. I was contacted by the writer, Anthony Musso for info on the organ, but was misquoted: the organ, Geo. H. Ryder's, Opus 188 from 1895 is the LARGEST organ in Beacon; not the oldest. That accolade goes to St. Andrew's Episcopal Church, c.1860 by Jardine & Sons.


From Larry Hazard: The Reformed Church of Beacon, site of the above-mentioned Ryder Opus 188, has received a donation of $10,000 to fix the organ's two main chests (work to begin this summer) and straighten out any bent pipes. The church is still accepting donations to the organ fund, as it will cost $295,000 to restore the whole organ as quoted to Larry by Peter O'Hearn of the Carey Organ Co. who maintains the organ. Larry says, "Don't forget, you cannot enlarge a tracker pipe organ, because of the tracker action. When the church gets enough money in the organ fund, the pastor, the consistory and myself will sit down and decide what direction we will go. Keep in mind the whole organ is about 120 years old, including pipes, trackers,chests, and wind lines, and has also sustained water damage from a leak in our slate roof. In addition, the blower is up in our belltower, but should be reinstalled some place else so that we are not blowing in cold air in the winter and humid or dry air in the summer, not to mention the bird droppings up in the tower. A lot of the pipes don't hold their pitch, and are being held together with tape. However we will just have to make do until repairs can be made."
Editor's Corner

This newsletter is published by the Central Hudson Valley Chapter of the American Guild of Organists. The editor is:
Susan LaGrande
12 Montrose Lane
Wappingers Falls, NY 12590
Phone: 845-226-6496 (home) - Fax: 845-226-1035
e-mail: SUSANEL2@OPTONLINE.NET

Deadline for Next Newsletter

We are always glad to receive input for the chapter newsletter in the form of calendar items, reviews of recent concerts and events, biographies, letters, photographs, etc. In order to make sure these submissions can be processed in a timely fashion, please make sure they are received by the 23rd of each month. However, material such as calendar items may be submitted at any time; even if the material may not make it into the printed newsletter, it can be quickly posted on our web site at www.chvago.org.

You may submit newsletter or web site material by mail, e-mail, fax or phone. Just contact the editor, Susan LaGrande, using the information given above. Remember, the deadline for the next printed newsletter, to be available the first week in August 2014, is July 23rd.