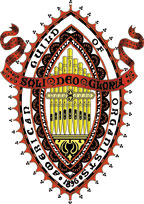 Newsletter
August 2014

Click here for the Newsletter Archive

Click here for a printable copy of the current newsletter



Dear Friends,

I hope you are enjoying summer and able to get a bit of a break from the regular workload of the year. For some of us, it is a real break. For others, it is a time to find new entertainments for children and teenagers as we wait for them to go back to school. Those in academia recognize the beginning of hurricane season coinciding with planning for the new academic year! In all things, hopefully we take time to hear the inner music while creating the outer - finding the small still voice which we should be seeking throughout the year.

As a chapter we enjoyed some friendship time at our annual July Picnic very graciously hosted by Eric Hepp at his house. He has opened up his house to us now for the last several years, and we have been truly grateful for that. We had wonderful weather, food and camaraderie.

Now in the fall we look forward to some rewarding events. Please check our newsletter Calendar frequently. We are looking forward to the Poughkeepsie Organ Crawl (the first of two this year) in September and in October the first of several concerts highlighting the masterworks of certain great composers. This fall at Christ Church Poughkeepsie we will be featuring the works of Haydn and Mozart for choir, organ and chamber orchestra. You can see all our chapter events highlighted in red, and there are many other Hudson Valley music events listed on our Calendar as well!

If you wish for your music event to be posted on that calendar, please contact Susan LaGrande. She has done a wonderful job keeping our website up to date. Also, many of you have already updated your membership profile and renewed your annual dues using ONCARD. The designers of that system have done a terrific job in making the website user-friendly. I confess to being a techno-phobe, and I found renewing my dues to be very simple with their step-by-step instructions. However, if you do encounter problems, please feel free to contact our Registrar and Membership Coordinator, Barbara Bayers. And if you less comfortable with computers than I, there is always the option of remitting a check to our Treasurer, Eric Hepp. We do not want anything to get in the way of enjoying the privileges of being part of the AGO.

Meanwhile, enjoy the rest of summer!


Craig Williams, AAGO
Dean, Central Hudson Valley AGO
Editorís Corner

This newsletter is published by the Central Hudson Valley Chapter of the American Guild of Organists. The editor is:
Susan LaGrande
12 Montrose Lane
Wappingers Falls, NY 12590
Phone: 845-226-6496 (home) - Fax: 845-226-1035
e-mail: SUSANEL2@OPTONLINE.NET

Deadline for Next Newsletter

We are always glad to receive input for the chapter newsletter in the form of calendar items, reviews of recent concerts and events, biographies, letters, photographs, etc. In order to make sure these submissions can be processed in a timely fashion, please make sure they are received by the 23rd of each month. However, material such as calendar items may be submitted at any time; even if the material may not make it into the printed newsletter, it can be quickly posted on our web site at www.chvago.org.

You may submit newsletter or web site material by mail, e-mail, fax or phone. Just contact the editor, Susan LaGrande, using the information given above. Remember, the deadline for the next printed newsletter, to be available the first week in September 2014, is August 23rd.