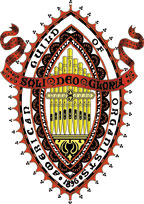 Newsletter
September 2014

Click here for the Newsletter Archive

Click here for a printable copy of the current newsletter



September and all the responsibilities of a new academic year are upon us (and we are all impacted – even if we do not attend a school). For much of this summer, I took my daughter to prospective colleges. She is beginning her senior year of high school and the applications will be due very soon! I know many of you who have put children or yourselves through a college education recently know of what I speak.

Technology is such a large part of student and business life today. I was taken with these huge rooms filled with computer terminals and ports (for personal laptops, iPads and phones) which these universities all had for their students. We also see in the AGO how our method of remitting dues and keeping your personal information up to date is now done through the internet – using ONCARD. In many ways, this brings convenience, speed and simplicity to these processes. However, implementing these changes can still be intimidating for some. We are sensitive to that and are willing to help if needed. Most of the officers have already remitted their dues and are familiar with the new system, our registrar Barb Bayers is very proficient in using the system (she is personal friends with the person who designed the prototype of the present ONCARD webpage) and also Susan LaGrande is highly experienced in using the internet (wonderfully maintaining our online newsletter and website).

Remitting dues the old-fashioned way – by check sent to Eric Hepp, treasurer – is still available for those who choose that method or who do not have a computer.

Still, whether you are reading this newsletter printed on paper or through the website, please note the September and October chapter meetings coming up – a comprehensive organ crawl visiting many of the notable pipe organs in the city of Poughkeepsie, and a choir, organ and chamber orchestra concert featuring the music of Haydn and Mozart. This will be the first of a series of concerts highlighting the works of various great composers.

We look forward to seeing you at some of these events and throughout the year. Take time to enjoy the beauties of the fall season between scheduled appointments and rehearsals.


Craig Williams, AAGO
Dean, Central Hudson Valley AGO

Editor's Corner

This newsletter is published by the Central Hudson Valley Chapter of the American Guild of Organists. The editor is:
Susan LaGrande
12 Montrose Lane
Wappingers Falls, NY 12590
Phone: 845-226-6496 (home) - Fax: 845-226-1035
e-mail:SUSANEL2@OPTONLINE.NET

Deadline for Next Newsletter

We are always glad to receive input for the chapter newsletter in the form of calendar items, reviews of recent concerts and events, biographies, letters, photographs, etc. In order to make sure these submissions can be processed in a timely fashion, please make sure they are received by the 23rd of each month. However, material such as calendar items may be submitted at any time; even if the material may not make it into the printed newsletter, it can be quickly posted on our web site at www.chvago.org.

You may submit newsletter or web site material by mail, e-mail, fax or phone. Just contact the editor, Susan LaGrande, using the information given above. Remember, the deadline for the next printed newsletter, to be available the first week in October 2014, is September 23rd.