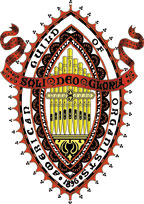 Newsletter
October 2014

Click here for the Newsletter Archive

Click here for a printable copy of the current newsletter



Dear Colleagues,

As October rolls into double-digits and I finally sit down to write a Dean's Letter for this month, I am continually reminded how busy the schedule can get and how important it is to slow down occasionally. I especially appreciate this time of year because special beauties fill our sight as we anticipate the long winter ahead. The season brings allergies too, but that is always part of the mix here in the central Hudson Valley.

After two weeks of performing in concerts and attending others, I am struck by the fact that we organists have the most wonderful colleagues in the world. Yes, there is a lot of negativity out there but overall I see us organists as a group being a particularly tight-knit association of people with a common cause and common goal. I celebrate the achievements of many of my fellow organists, great and small, and I have been the object of much appreciation myself – in a way I never would have imagined coming out of music school.

The AGO gives us great opportunities to share and appreciate our respective gifts. The Calendar in our chapter newsletter and on the website has a wealth of information about concerts in the Hudson Valley; and posting your event on the Calendar is as simple as contacting Susan LaGrande. Susan is terrific about keeping the newsletter up-to-date. I want to draw special attention to the first concert presented by the Central Hudson Valley chapter paying particular tribute to great composers – on October 19, a concert featuring choir, organ and strings will present music of Mozart and Haydn at Christ Church Poughkeepsie. We join in supporting our greater community by co-sponsoring this concert with Christ Church, and all proceeds will go to benefit the local chapter of Habitat for Humanity. There will be other concerts featuring more composers in the future.

Then on November 8, we will have a Choral Workshop focusing on Contemporary Music. Some of us have been able to avoid the pervasive use of Contemporary Music in our church situations, but many others have had to accept it – or walk away from a position. Therefore a new challenge is how to take this style of music and mold it into something where we can still maintain our musical, liturgical, theological and pastoral standards as church musicians. Artful choir arrangements of some of these songs provide one method, and this workshop will give us ideas of the materials available for our use. If you have contemporary anthem/hymn settings which might be considered Praise music, or if you are involved with Praise and/or Blended Services and would like to share some music, ideas, and resources, please contact Barbara Bayers.

Lastly, we need to cultivate new colleagues among our younger people. The Pipes, Pedals and Pizza event on October 18 – which has been hosted annually by Margaret Small – is a fun and convenient way to introduce young pianists and other musicians to the pipe organ. Similar events will be held region-wide in the AGO through Pipe Organ Encounters (POE).
I look forward to seeing you at one of our activities or one of the other Hudson Valley concerts soon.


Craig Williams, AAGO
Dean, Central Hudson Valley AGO

Membership News
Several members have advised us that they are moving out of the area. We will miss them, and we wish them well in their new endeavors.
- Mark Huffman is moving to Buffalo in the near future.
- Gregory Quaglieni has moved to Virginia
- Heidi Schnarr has moved to New Jersey.
- Alex Green has moved to Newton, Massachusetts, where he s pursuing a Master's Degree in Sacred Music.


Please forward all inquiries as to chapter membership such as changes in membership, membership payment, Sub List preferences, etc. directly to Membership Chairperson Barbara Bayers at 203-260-4295 – babayers@gmail.com.


We were saddened to learn that Pastor Donald Hoger, husband of our long-time member Lois Hoger, passed away on October 8, 2014, at 11 AM at home.  Lois and his family were with him.  Funeral arrangements are at St. Paul's, Red Hook.  Pastor Will Starkweather, Pastor Heller and The Rev. Louis Nuechterlein, Lois's brother, from Connecticut will preside; several choir members from St. John's Evangelical Lutheran Church in Poughkeepsie and from other churches, will participate, with Lois's brother directing. Susan Guse will be at the organ. We offer our sincere sympathy to Lois and her family. For a complete obituary, visit the web site at http://www.sweetsfuneralhome.com/obituary/Donald-R.-Hoger/Hyde-Park-NY/1438946
.

Editor's Corner

This newsletter is published by the Central Hudson Valley Chapter of the American Guild of Organists. The editor is:
Susan LaGrande
12 Montrose Lane
Wappingers Falls, NY 12590
Phone: 845-226-6496 (home) - Fax: 845-226-6496
e-mail: SUSANEL2@OPTONLINE.NET

Deadline for Next Newsletter

We are always glad to receive input for the chapter newsletter in the form of calendar items, reviews of recent concerts and events, biographies, letters, photographs, etc. In order to make sure these submissions can be processed in a timely fashion, please make sure they are received by the 23rd of each month. However, material such as calendar items may be submitted at any time; even if the material may not make it into the printed newsletter, it can be quickly posted on our web site at www.chvago.org.

You may submit newsletter or web site material by mail, e-mail, fax or phone. Just contact the editor, Susan LaGrande, using the information given above. Remember, the deadline for the next printed newsletter, to be available the first week in November 2014, is October 23rd.