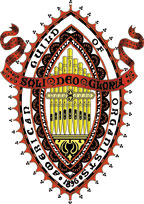 Newsletter
November 2014

Click here for the Newsletter Archive

Click here for a printable copy of the current newsletter



Dear Friends,

I begin this letter with a statement that our November Choral Reading scheduled at St. Andrew's Episcopal Church in Beacon is canceled. We will let you know when we might re-stage this event.

Mainly this is canceled because of challenges in some of the lives of our leadership presently. This has been a month of many challenges – both in terms of people keeping up stamina in the face of increasingly hectic schedules as well as health challenges among themselves and loved ones. I have had some issues myself lately though when I think of the grave health problems some of my neighbors are facing I find I do not have much cause for complaint.

This concept of complaints and issues actually came up – not in this past month's excellent October concert – and I thank my esteemed colleague Laura Russell and many others in the leadership for the success of that event – but the October event the year before. That concert focused on the Psalms and how the "Bible's hymnbook" influenced not only the Judaic religion from which it sprang but also centuries of Christian and Islamic worship. The rabbi who spoke at that event mentioned that the Hebrew Scriptures put the Psalms after the Law and Prophets (a bit different from the Bible most American Christians read) because in the first sections God speaks to us but in the Psalms we speak to God. We not only bring to God our praise and good news but also our complaints and sorrows – and the Psalms can be very blunt in those areas.

So we have the sorrows and challenges of life tied into worship music because the Psalms is a songbook. This is where we as organists enter into the lives of so many. As we practice ministry – or you may call it therapy or meditation – in the lives of those who enter the churches and temples we serve, we have no idea sometimes what people are experiencing and the comfort they may derive from attending the worship service and hearing all of which we are just a part. And we may still not know when they leave.

There are many articles written about falling church attendance and the struggle to keep membership up in the AGO. However sometimes I wonder, given our celebrity-driven and media-crazed culture, how anybody makes it to church any more at all! Certainly our TV and radio and internet and other media give us no reason to put any stock or time in going to worship services. Yet people are still coming. There must be a reason for that.

I think we all know that reason. And as organists, choir directors and church musicians, we need to understand that we actively participate in that reason and that there is a purpose for what we do – many times thanklessly – week in and week out.

As we recognize our needs for comfort and the helping healing hands of others, please also recognize how you are being used to be that same source of comfort and healing in their lives.

Have a great Thanksgiving, and take a look at our Calendar for coming Chapter Events. We would love to see you.


Craig Williams, AAGO
Dean, Central Hudson Valley AGO

Deadline for Next Newsletter

We are always glad to receive input for the chapter newsletter in the form of calendar items, reviews of recent concerts and events, biographies, letters, photographs, etc. In order to make sure these submissions can be processed in a timely fashion, please make sure they are received by the 23rd of each month. However, material such as calendar items may be submitted at any time; even if the material may not make it into the printed newsletter, it can be quickly posted on our web site at www.chvago.org.

You may submit newsletter or web site material by mail, e-mail, fax or phone. Just contact the editor, Susan LaGrande, using the information given above. Remember, the deadline for the next printed newsletter, to be available the first week in December 2014, is November 23rd.

Editor's Corner

This newsletter is published by the Central Hudson Valley Chapter of the American Guild of Organists. The editor is:
Susan LaGrande
12 Montrose Lane
Wappingers Falls, NY 12590
Phone: 845-226-6496 (home) - Fax: 845-226-1035 e-mail: SUSANEL2@OPTONLINE.NET