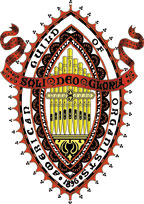 Newsletter
December 2014

Click here for the Newsletter Archive

Click here for a printable copy of the current newsletter



Dear Colleagues,

Last month I wrote in this letter about the challenges which have faced many of our chapter leaders and members. This month the holiday season allows us to stop and focus on the blessings which have been given us and also the God-breathed mysteries in our midst.

Yes, this is a busy season for us. After the concerts, service planning and performances and get-togethers we still have shopping and the day-to-day care for loved ones and friends. Our routines have gotten fuller than ever, and those routines do not stop just because of the added responsibilities of the holidays.

Still we need to take some time to focus on the positive events in our lives. I am right in the thick of the busy-ness of this season – playing organ for five different Christmas concerts (two of which feature two performances) and keeping the services at West Point going – including funerals and weddings. Added to this is the additional strain of dealing with moving out of the Cadet Chapel temporarily to facilitate repairs, deferred maintenance and cleaning. We should only be out of the building for the first 4 months of a 3 year project (so they say) but there still is a lot to plan when initiating the move of services to another location on post (and all during one of the busiest seasons of the year). It would be easy and tempting to succumb to frustration. Add some snow and ice, and the heavenly call to flexibility is complete!

Still the colder air brings some beautiful starry nights. A snow day sometimes forces us to stay home, slow down and maybe get caught up on some chores – or rest – that we neglected before. Or a snow day may allow those who have snow tires and all-wheel drive to enjoy fewer crowds at the mall. That would not be my car however.

Along with the blessings come the mysteries. This is the time when those of the Jewish faith remember when the lights stayed on in the darkness securing victory against all odds. Christians around the world celebrate a time when a great fearful unseen God was humble enough to be born as a child in a lowly manger. As the literal translation to "Cantique de Noël" reads: "Midnight, Christians, it is the solemn hour, When the God-Man descended among us To erase original sin And to end the wrath of His Father. The entire world thrills with hope On this night that gives it a Savior." These words convey the import of the Divine Mystery a bit more than the usual words to "O Holy Night."

So try to take the time to reflect and celebrate. Play beautiful music and enjoy the music around you. If possible, take in a concert other than one in which you are participating – our Calendar has many postings. With last month's cancellation of the November choral reading, our chapter does not have too many activities now but we will begin again in the winter and spring – beginning with Spuds 'n' Sundaes on February 1st. That will be at Trinity Episcopal Church, Fishkill – very conveniently located where the Route 9 meets Route 52, just off I-84. I look forward to seeing many of you there!

Blessings and joy to all,


Craig Williams, AAGO
Dean, Central Hudson Valley AGO

Deadline for Next Newsletter

We are always glad to receive input for the chapter newsletter in the form of calendar items, reviews of recent concerts and events, biographies, letters, photographs, etc. In order to make sure these submissions can be processed in a timely fashion, please make sure they are received by the 23rd of each month. However, material such as calendar items may be submitted at any time; even if the material may not make it into the printed newsletter, it can be quickly posted on our web site at www.chvago.org.

You may submit newsletter or web site material by mail, e-mail, fax or phone. Just contact the editor, Susan LaGrande, using the information given above. Remember, the deadline for the next printed newsletter, to be available the first week in January 2015, is December 23rd.

Editor's Corner

This newsletter is published by the Central Hudson Valley Chapter of the American Guild of Organists. The editor is:
Susan LaGrande
12 Montrose Lane
Wappingers Falls, NY 12590
Phone: 845-226-6496 (home) - Fax: 845-226-1035 e-mail: SUSANEL2@OPTONLINE.NET