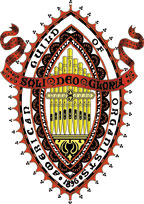 Newsletter
May 2004

Click here for the Newsletter Archive

Click here for a printable copy of the current newsletter


Letter from the Dean

This letter is so long that if I wrote it in verse, I might have to call it a "tome poem."

Sorry, but it is Spring, at least for a few days, according to the weather. Hope to see many of you on Friday, May 7th at 7:30 PM at Saint Columba RC Church in Hopewell Junction. The program will be a workshop to help the non-liturgical organist learn to play a liturgical service. This will be a great opportunity for those of us (especially me!) who aren't well versed in the more formal worship services to learn the how, what and when. Even if you're not actively looking to be a substitute organist, you never know when a friend and/or colleague will need your help.

There are lots of events on the calendar, as always. As for chapter events, there are just two left this season – Friday at Saint Columba which I already spoke about, and the annual Members' Recital. It's neither too early nor too late to reserve a spot in this year's Members' Recital. Jack Davis will be hosting and coordinating the program which will be held at the Reformed Church of Poughkeepsie on Sunday, June 13th at 4:00 p.m. Please email (jdavisjr@localnet.com) or call (845-831-1761) Jack with the selection(s) you'd like to play.

The board has decided to change the date of our annual picnic from July to September. We hope that more people will be available at that time, plus the weather should be milder. This will be the "kick-off" event for the 2004-2005 chapter season. Although we do expect to scale back some of our activities this coming year in order to focus on the Region II-III Convention that we will be hosting in 2005, we have already tentatively scheduled an organ crawl, our traditional Spuds & Sundaes social, a guest recitalist/masterclass, and the Members' Recital.

Our nominating committee, chaired by Pat Maimone, is moving forward and we will be sending out the ballots for chapter elections in May. Both officers and board members will be on the ballot. As we continue with the option of "cutting edge technology" with our website, we hope to offer "on-line" voting for those members who are comfortable with and who have access to the web. This would be another way to save on postage costs, for each ballot that we didn't have to send by USPS. Please be sure to contact our secretary, Susan LaGrande, if you have changes to your e-mail address or other information.

I am SUCH a good influence on my pastor. While at the dentist's office having his teeth cleaned, he asked the hygienist about the mixture that you spit out at the end: "Would you call that tartar sauce?" I was so proud of him.

As expected, the first game of volleyball I played for the USMA Band team ended up as a loss. We are in second place going into the playoffs – and yes, there ARE more than two teams… Break out the Ben-Gay – softball is just around the corner!! See you Friday!!!



Directions to St. Columba Church, Hopewell Junction


From the South, East, and West: Take Rte I-84 to Exit 15 (Lime Kiln Road). Turn RIGHT at end of exit ramp. Continue straight past IBM site to T-intersection with traffic light. Turn LEFT onto Rte 52 for 0.5 miles. At traffic light, turn RIGHT onto Palen Rd and continue for 2.2 miles. Turn RIGHT onto Rte 376, through the village of Hopewell Junction for 0.6 miles. The church is plainly visible on the left. Turn left into the parking lot at the second driveway.


From the North: Take Rte 9 SOUTH to County Road 28/Old Hopewell Road. Turn LEFT and continue for 3.8 miles. At traffic light by East Fishkill Provisions, turn slight LEFT onto Rte 82 for 1.6 miles, through the village of Hopewell Junction. The church is plainly visible on the left. Turn left into the parking lot at the second driveway.
Time to Renew!

This month begins our annual membership drive. Included in this newsletter is a form which you can use to renew your membership, or which you can copy to give to potential recruits. (As always, this form is also available in printable form on our web site at www.chvago.org.) Yes, dues have been increased this year, but by only a few dollars for each membership category.
What do you get in return for your dues? On the national level, voting membership (regular, special, or student) includes:


Participation in all national activities and elections


Eligibility for certification examinations


Eligibility for all AGO group insurance plans and for a no-annual-fee credit card


A one-year subscription to THE AMERICAN ORGANIST Magazine

On the local level, members of all categories also benefit from:


Opportunities for fellowship and networking with other organists


Educational opportunities such as the previously offered improvisation classes


Notification of concerts, recitals and events around the region


Notification of position openings around the region


Opportunities to advertise both in our Sub List and in paid advertising


Opportunities to participate in preparations for the 2005 Regional convention

With all this to gain, why not send in your membership form today!
Editor's Corner

This newsletter is published by the Central Hudson Valley Chapter of the American Guild of Organists. The editor is:
Susan LaGrande
12 Montrose Lane
Wappingers Falls, NY 12590
Phone: 845-226-6496 (home)
Fax: 845-226-1035
e-mail: SUSANEL2@HOTMAIL.COM
Contributions to this newsletter are always welcome. We have been very pleased to offer a member profile in previous issues. If you would like to be profiled, you may write your own biography (up to 500 words) or contact the editor to arrange an interview.