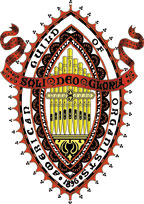 Newsletter
January 2015

Click here for the Newsletter Archive

Click here for a printable copy of the current newsletter



Dear Colleagues,

Happy New Year! This is a time for many to re-set priorities and make new resolutions – reflecting on the good times of the past year while hoping to say final good-byes to the unpleasant memories of 2014. For organists this is a time to catch up on some rest or deferred tasks after the busy holiday season.

We organists love to complain about the holidays – about how we never get time off when others are finally getting a break on the actual holidays. Those who serve Catholic parishes especially get weary by January 1 when the Holy Day of Obligation keeps up demands well into the New Year. For the most part I have avoided the intense schedule after Christmas, though at West Point I help the Catholic organist (Meredith Baker) go on leave after the 25th by filling in for the evening masses the couple of weekends after Christmas. Before I came to West Point, I served two churches which had watch-night services New Year's Eve – which would require using the subway to get home well after midnight. I do not miss those days.

Last month I cautioned us (really speaking to myself) that we need to keep the focus on life's positive events. Like all of us I had to work Christmas Eve. The service involved, however, good friends in the choir and handbell choir making beautiful music of the season. My wife, daughter, and son are all involved in those choirs so we participated in the service together as a family. I also had the privilege of accompanying my daughter singing "O Holy Night." Those are experiences which make good memories. I know many of us have friends, spouses and other significant people participate in our work or waiting for us when we get home. Those of us who do not have that still have found a way somehow – knowing the work enriches the holiday celebrations of others in the context of worship.

I guess that organists need to create their own holidays. Most of us adhere to the tradition of Christmas being twelve days leading into Epiphany. It is a good observance allowing us to enjoy a time of renewal and celebration free from the busy schedule and endless noise of the commercial version of the holidays.

This is one reason Spuds 'n' Sundaes was initiated as an annual event. This meeting gives members of the Central Hudson Valley chapter the opportunity to come together and enjoy some comfort food and raise a few funds for the chapter through selling and buying used music. This year the meeting is Sunday, February 1 at Trinity Church in Fishkill. Trinity is at a very convenient location – where Route 9 meets Route 52 less than a mile north of Interstate 84. I hope you will mark the event on your calendars.

In the meantime I wish all of you a time to enjoy the gifts and slowly emergent light of the Epiphany season.


Craig Williams, AAGO
Dean, Central Hudson Valley AGO

Membership News

We have been informed that as of February 1, Fr. George Hafemann will be at St. John the Evangelist Church, 71 Murray Avenue, Goshen, NY 10924. His new phone number is 845-294-5328. Email remains the same at frgeohafe@icloud.com.

Deadline for Next Newsletter

We are always glad to receive input for the chapter newsletter in the form of calendar items, reviews of recent concerts and events, biographies, letters, photographs, etc. In order to make sure these submissions can be processed in a timely fashion, please make sure they are received by the 23rd of each month. However, material such as calendar items may be submitted at any time; even if the material may not make it into the printed newsletter, it can be quickly posted on our web site at www.chvago.org.

You may submit newsletter or web site material by mail, e-mail, fax or phone. Just contact the editor, Susan LaGrande, using the information given above. Remember, the deadline for the next printed newsletter, to be available the first week in February 2015, is December 23rd.

Editor's Corner

This newsletter is published by the Central Hudson Valley Chapter of the American Guild of Organists. The editor is:
Susan LaGrande
12 Montrose Lane
Wappingers Falls, NY 12590
Phone: 845-226-6496 (home) - Fax: 845-226-1035 e-mail: SUSANEL2@OPTONLINE.NET