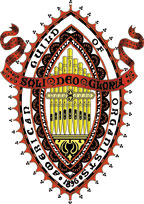 Newsletter
February 2015

Click here for the Newsletter Archive

Click here for a printable copy of the current newsletter



Dear Colleagues,

This is a time when Christmas activities have been put aside, and preparations for Easter are beginning. The days are getting longer yet the winter is just settling in. Fall keeps us all very busy, and then we need to shift gears for spring. For some of us, this can be a bit of a disorienting time.

I used to think everything stopped in the winter but now I see there are plenty of activities still going on – in music and other applied disciplines. For me I have had an unusually busy winter because my older child is applying for colleges and auditioning for their music programs. This means a lot of travel and preparation during these winter months.

Being involved in the college application process has been eye-opening for me. Earlier in the summer and fall I was helping to research different options for schools which have strong music education programs. I found the number of available options to be absolutely staggering! (Almost as mind-boggling as the cost of tuition nowadays…) On our travels, my daughter and I have a new game looking at the announcements of colleges and universities on the highway signs. You can rack up over one hundred just traveling on I-95 through the state of Virginia alone!

Which brings me back home…Here in the immediate Hudson Valley area we have Vassar College, Marist, Bard, Mount St. Mary's and SUNY New Paltz just to name a few. Many of the people involved in the music departments of these colleges and universities are either members of the Central Hudson Valley AGO or have direct ties to members of our chapter. Their music programs offer wonderful opportunities for performance participation or for concert attendance – to name a few, you will see regularly on our website Calendar announcements for Kairos (directed by Edward Lundergan who is professor and director at SUNY New Paltz), Cappella Festiva (directed by Christine Howlett of Vassar College) and the various choral programs of Bard College, Mount St. Mary's and Marist (of which Laura Russell is a past director). I am pleased as the West Point Cadet Chapel choirmaster to involve in our annual Handel's Messiah concert various oratorio societies in Orange County like the Classical Choral Society, Warwick Chorale and Middletown Chorale. The list goes on and on of groups who are looking for audiences and musical participants. It is inevitable that I will neglect the mention of certain groups here because there are so many. If you cannot find opportunities for making music in the Hudson Valley, that means you are not looking.

The Central Hudson Valley AGO is pleased to be partners with and integrated in the music life of the greater Hudson Valley with its ties to New York City and the Capital region. As we move through the transitional period of winter and perhaps you are looking for new opportunities in the spring, please consider all this area has to offer.
Also, right now our Calendar does not have too many activities listed. If you would like your event to appear on our website, please contact Susan LaGrande. Our Calendar is a great way to get the word out to our members as well as finding out about the other music offerings here in the Hudson Valley.


Craig Williams, AAGO
Dean, Central Hudson Valley AGO

Membership Questions

Please address all questions regarding membership and ONCARD to our Registrar/Membership Coordinator, Barb Bayers. Her phone number is 203-260-4295 and her e-mail address is babayers@gmail.com.

Membership News
A Current Membership Roster has been sent to all members with current email addresses.  If you did not receive one, please contact our Registrar/Membership Coordinator, Barb Bayers: 203-260-4295 or babayers@gmail.com.


We are happy to welcome the following New Members:
Brandon Beachamp
Luca Cantone
Justan Foster
Sally Hitchcock
Timothy Lewis
We also welcome the return of Maris Kristapsons. We are so happy to have you all with us! (Contact information for these and all members is available in the Membership Roster which you should be receiving shortly.)
Newsletter Mailings

Because of the rising cost of postage, our default method of delivering our chapter newsletter is via e-mail. We notify you when a new issue is available and include a link to the Newsletter page on our web site, where you can view/download/print the current newsletter, or any of our archived newsletters.
Of course if you are unable to receive e-mail, we will still be happy to send your newsletter via US Mail. If you require this service, please contact the Editor, Susan LaGrande, at 845-226-6496.

Deadline for Next Newsletter

We are always glad to receive input for the chapter newsletter in the form of calendar items, reviews of recent concerts and events, biographies, letters, photographs, etc. In order to make sure these submissions can be processed in a timely fashion, please make sure they are received by the 23rd of each month. However, material such as calendar items may be submitted at any time; even if the material may not make it into the printed newsletter, it can be quickly posted on our web site at www.chvago.org.

You may submit newsletter or web site material by mail, e-mail, fax or phone. Just contact the editor, Susan LaGrande, using the information given above. Remember, the deadline for the next printed newsletter, to be available the first week in March 2015, is February 23rd.

Editor's Corner

This newsletter is published by the Central Hudson Valley Chapter of the American Guild of Organists. The editor is:
Susan LaGrande
12 Montrose Lane
Wappingers Falls, NY 12590
Phone: 845-226-6496 (home) - e-mail: SUSANEL2@OPTONLINE.NET