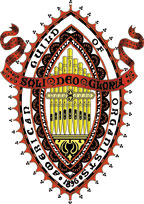 Newsletter
March 2015

Click here for the Newsletter Archive

Click here for a printable copy of the current newsletter



Dear Friends,

One of the success stories of the Central Hudson Valley chapter lately is that our membership rolls are up. I thank Barbara Bayers, our Membership Coordinator, for her tireless efforts in communicating to our membership at large and other organists and church musicians in our region. I also appreciate the work of Susan LaGrande and our other Board members in their work to keep our chapter functioning and acting in keeping the objectives of our profession and the Guild alive in the Hudson Valley.

Most of all, I appreciate all of you. Without you, the Guild's goals of education and quality music for organ and choirs would have ceased to exist long ago.

Whereas I cannot recognize everybody in this brief space, I thought it would be good at this time to acknowledge our new and returning members in our newsletter. This is not to take away from those of you whose membership has been consistent throughout the years but rather to serve as encouragement to all that our chapter is viable and will remain strong even where the Guild has been dealing with challenges in other areas of our country.

Welcome to:

Gail Archer, professor of organ at Vassar College and brilliant touring concert organist. She is a complimentary dual member of our chapter holding her primary membership with New York City


Brandon Beachamp, Organist-Choirmaster of Grace Episcopal Church Nyack


Luca Cantone of Poughkeepsie who studies with past dean Gregory Citarella


Justan Foster, past dean of Hudson-Catskill chapter and current primary member of Eastern New York Chapter


Sally Hitchcock, who has relocated to our area


Maris Kristapsons, Music Director St. Paul's Episcopal Church, Poughkeepsie and former member of the Central Hudson chapter executive board


Timothy Lewis, Director of Music/Organist, Grace Episcopal Church, White Plains. Also Director of Downtown Music at Grace. He is a dual member


Darren Motise of LaGrangeville. He is a dual member with NYC (his primary chapter)


Anthony Rispo of Mahopac, extraordinary concert organist and recording artist – who has moved his primary membership to the Central Hudson Valley
In addition, our two long-time board members, Charles Faverio and Glenn May have now named us as their primary chapter. They both are dual chapter members with NYC and Monmouth County.
There are exciting chapter meetings coming up for all of our members and the public. On Saturday, March 14, we will be having the second Poughkeepsie Organ Crawl this year – highlighting the extraordinary organs we have in the city of Poughkeepsie. Two organs with two manuals and pedal – and flexibility far exceeding what might be suggested by the stoplist of each – will be the focus of the day. We will begin at 9:30 AM at St. John's Lutheran Church, 55 Wilbur Blvd. hosted by Susan Guse, organist and director of music. The church features a II/21 Casavant organ in the loft. Then at 11:00 AM, we will move to the Recital Hall of Vassar College which houses a II/34 stop Fritts tracker organ above the front stage. Participants will have the opportunity to hear and play these instruments. Lunch will follow.
We will have a further opportunity to hear a third distinguished pipe organ in Poughkeepsie at the Members' Recital on April 26 at 3 pm. This will take place at Poughkeepsie United Methodist Church. Please contact Eric Hepp if you wish to perform.
And on May 16, we will hear a fourth distinguished pipe organ at the Reform Church Poughkeepsie where renowned concert organist David Enlow will give a workshop and recital.
Please mark your calendars! There are a lot of wonderful activities coming up. If you check the Calendar on our website, you will see even more musical events taking place around the Hudson Valley.


Craig Williams, AAGO
Dean, Central Hudson Valley AGO

Membership Questions

Please address all questions regarding membership and ONCARD to our Registrar/Membership Coordinator, Barb Bayers. Her phone number is 203-260-4295 and her e-mail address is babayers@gmail.com.

Membership News
Three of our new members were not included in the chapter membership roster. Please add their contact information to your membership roster:
Gail Archer
Vassar College
124 Raymond Avenue Box 18
Poughkeepsie, NY 12604-0018
gaarcher@vassar.edu
Darren Motise
P.O. Box 9
LaGrangeville, NY 12540
djmotise@aol.com
845-242-7276
NYC member; dual with CHV
Anthony Rispo
2 Concord Drive
Mahopac, NY 10541
914-979-5181
anthony.rispo@gmail.com
Anthony is available to substitute and is also available as an organ teacher.


Stu Ballinger's phone number has been incorrectly listed in the membership roster. Please correct it to the following: 845-380-3226
Newsletter Mailings

Because of the rising cost of postage, our default method of delivering our chapter newsletter is via e-mail. We notify you when a new issue is available and include a link to the Newsletter page on our web site, where you can view/download/print the current newsletter, or any of our archived newsletters.

Of course if you are unable to receive e-mail, we will still be happy to send your newsletter via US Mail. If you require this service, please contact the Editor, Susan LaGrande, at 845-226-6496.

Deadline for Next Newsletter

We are always glad to receive input for the chapter newsletter in the form of calendar items, reviews of recent concerts and events, biographies, letters, photographs, etc. In order to make sure these submissions can be processed in a timely fashion, please make sure they are received by the 23rd of each month. However, material such as calendar items may be submitted at any time; even if the material may not make it into the printed newsletter, it can be quickly posted on our web site at www.chvago.org.

You may submit newsletter or web site material by mail, e-mail, fax or phone. Just contact the editor, Susan LaGrande, using the information given above. Remember, the deadline for the next printed newsletter, to be available the first week in April 2015, is March 23rd.

Editor's Corner

This newsletter is published by the Central Hudson Valley Chapter of the American Guild of Organists. The editor is:
Susan LaGrande
12 Montrose Lane
Wappingers Falls, NY 12590
Phone: 845-226-6496 (home) - e-mail: SUSANEL2@OPTONLINE.NET