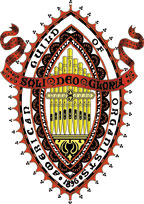 Newsletter
April 2015

Click here for the Newsletter Archive

Click here for a printable copy of the current newsletter



Dear Colleagues,

This Deanís Letter is a bit late this month though this does allow me to look at Easter in hindsight and the continued observance of Passover. I hope you all had very productive and blessed services during Holy Week, Easter and Passover.

As we pass now into the slightly less busy season of spring, we at the Central Hudson Valley chapter are looking forward to two events coming up within the next five weeks.

First, we have our Annual Membersí Recital. This will take place at 3:00 PM the afternoon of Sunday, April 26 at Poughkeepsie United Methodist Church, 2381 New Hackensack Road, Poughkeepsie. The churchís 36-rank Fritzsche pipe organ is placed front and center and speaks brilliantly into the sanctuary. Visible placement of the console up front makes for an engaging and satisfying performer venue. If you would like to participate, please call Eric Hepp at 845-790-3381. Attending this recital is also a great way to contribute to the chapter Scholarship Fund! More information is available on our website Calendar.

Second, we are welcoming internationally acclaimed concert organist David Enlow, FAGO, to the Reformed Church Poughkeepsie, 70 Hooker Avenue on Saturday, May 16. At 10:30 AM, he will present a Workshop on Hymn Playing and Anthem Accompaniment, effective service techniques which he teaches the organ studio at the Juilliard School. Then at 2:30 PM he will perform a recital on the Reformed Churchís 45-rank Schantz pipe organ. For details, you may call the churchís organist and music director, Janice Grace at 917-882-9343.

If you check the Calendar on the website or printed newsletter, you will see many opportunities to enjoy and participate in the performance of great music here in the Hudson Valley.

Membership in the American Guild of Organists has many benefits including being part of a network of colleagues on the national and local level. The opportunities to promote oneself to colleagues while also supporting their efforts are virtually limitless. Membership in the Guild also allows a musician to further the goals of our profession through serving on various boards or as officers and developing skills through several levels of certification.

With spring comes the time to renew our dues annually. Please be aware that membership renewal notices are being sent out via email or the US Postal Service very close to this time in early April. The process through ONCARD is very simple.

Wishing you all the best spring has to offer!


Craig Williams, AAGO
Dean, Central Hudson Valley AGO

Membership Questions

Please address all questions regarding membership and ONCARD to our Registrar/Membership Coordinator, Barb Bayers. Her phone number is 203-260-4295 and her e-mail address is babayers@gmail.com.

Membership News

We are delighted to welcome yet another new member to our chapter! Please add his contact information to your copy of the roster:
Reginald (Reggie) J. Earls
144 MacDaniel Road
Shady, NY 12409
845-532-8282†(H)
rjearls@gmail.com

Newsletter Mailings

Because of the rising cost of postage, our default method of delivering our chapter newsletter is via e-mail. We notify you when a new issue is available and include a link to the Newsletter page on our web site, where you can view/download/print the current newsletter, or any of our archived newsletters.

Of course if you are unable to receive e-mail, we will still be happy to send your newsletter via US Mail. If you require this service, please contact the Editor, Susan LaGrande, at 845-226-6496.

Deadline for Next Newsletter

We are always glad to receive input for the chapter newsletter in the form of calendar items, reviews of recent concerts and events, biographies, letters, photographs, etc. In order to make sure these submissions can be processed in a timely fashion, please make sure they are received by the 23rd of each month. However, material such as calendar items may be submitted at any time; even if the material may not make it into the printed newsletter, it can be quickly posted on our web site at www.chvago.org.

You may submit newsletter or web site material by mail, e-mail, fax or phone. Just contact the editor, Susan LaGrande, using the information given above. Remember, the deadline for the next printed newsletter, to be available the first week in May 2015, is April 23rd.

Editorís Corner

This newsletter is published by the Central Hudson Valley Chapter of the American Guild of Organists. The editor is:
Susan LaGrande
12 Montrose Lane
Wappingers Falls, NY 12590
Phone: 845-226-6496 (home) - e-mail: SUSANEL2@OPTONLINE.NET