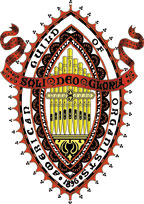 Newsletter
May 2015

Click here for the Newsletter Archive

Click here for a printable copy of the current newsletter




Dear Friends,

We are into the merry – and busy – month of May!

Since this is such a busy time, I am going to forego my usual Dean's Letter and let our Membership Coordinator and Registrar, Barbara Bayers, do most of the talking.

Let me take this opportunity however to congratulate the performers who participated in our Annual Members' Recital at Poughkeepsie United Methodist Church this past month! I was gratified by the number of you who were able to come and listen – we had a terrific audience that day.

Also please mark on your calendars the Workshop and Recital given by David Enlow on Saturday, May 16 at the Reformed Church Poughkeepsie. You will find details on our Calendar.

This is what Barbara Bayers sent me the other day:
"Our membership renewals are underway. Please remember that our fiscal year is the same as National's fiscal year: July 1-June 30. We do ask our members to renew in a timely manner as we expect to publish a full membership directory early in September.

"Those who have joined 'off cycle' will receive an email in the months prior to your annual renewal. Our continuing members are on the regular fiscal year renewal cycle."

If you have any questions about your membership renewal or the ONCARD system, please contact Barb Bayers, Registrar/Membership Chairperson, who would be happy to assist you.  

Enjoy the weather and the renewed colors of spring!


Craig Williams, AAGO
Dean, Central Hudson Valley AGO

Membership News
A cordial welcome to new member James Thomashower - yes, the Executive Direcctor of the AGO has decided to become a dual member of our chapter, along with his primary membership in the New York City chapter, since he lives in Garrison. His contact information is:
James E. Thomashower
55 Old Highland Tpke.
Garrison, NY 10524-3400
jet@agohq.org
212-870-230 x. 4300


Another cordial welcome to new member Andrew Kryzak. Andrew is Organist and Music Director at St. John's Episcopal Church in Kingston, NY. He is available to substitute (organ only, no direct choir); funeral, service, wedding.  Liturgical Protestant ONLY; no Sunday mornings. His contact information is:
Andrew A. Kryzak
4548 Hobbs Lane
Clinton Corners, NY 12514  
andrewkryzak@gmail.com
845-527-8662


Congratulations to Sarah Johnson, a student of Gail Archer at Vassar, who won the second prize $500 award in the 2015 Chapter Level Quimby Regional Competition for Young Organists hosted by the Eastern New York Chapter in February. Patrick Walker also competed in the competition. First prize of $1,000 was awarded to Jillian Gardner, student of James David Christie at Oberlin and previously the student of Stephen Best in Utica. In addition to winning $1,000, Jillian will move on to compete in the next stage of the Quimby RCYO at the Regional Convention in New Haven in June.
Click here to view a photo of
Sarah Johnson, Patrick Walker, Kira Garvie, and Jillian Gardner.


Membership Questions


Please address all questions regarding membership and ONCARD to our Registrar/Membership Coordinator, Barb Bayers. Her phone number is 203-260-4295 and her e-mail address is babayers@gmail.com.


Choral tribute to Donald and Kathleen Funk Pearson


-- A Letter from Amelia Funk
The Funk and Pearson families would like send to interested CHVAGO members complimentary review copies of Carl Nygard's choral setting of "In dir ist freude," ("In Thee Is Gladness"), which was commissioned by the Funk and Pearson families to honor the lives of Donald M. Pearson, Kathleen ("Kay") Funk Pearson, and Erwin D. Funk,Jr. As you know, Donald ("Don") was head of the organ department at Vassar College in Poughkeepsie, NY, and was instrumental in the design and procurement of the Gress-Miles organ in the Vassar Chapel. He and Kay met at Eastman School of Music where they were both graduate students. Erwin, (Kay's brother), a fine violinist, was married to Amelia Wenrich, an organist/choral musician. Can you imagine Dr. Erwin and Estelle Bissey Funk having to "put up with" three organist/choral musicians in their family? Don referred to himself and me as "the outlaws" (word-play on "in-laws") of the family.

The CHVAGO newsletter online of May 2010 gives quite detailed information abut the professional lives of Kay and Don, and for that we are very grateful. Thank you so much! Kay, Don, and Erwin were/are wonderful people and all of us who were privileged to know them are the better for having known and been influenced by them.

I know that you have appreciated Kay and Don's professional work at Vassar College and in churches in the Poughkeepsie area, as well as their outreach far beyond their local area. We are planning also to send review copies to the choral director of the retirement community in Florida where Kay and Don lived after leaving Poughkeepsie, and where Kay organized and conducted a large choral group. Incidentally, Kay purchased the music for that group from the former Onondaga Music Service in Syracuse, where I was the choral music manager. We will also send review copies to choral musicians in the Syracuse, NY area--where I retain my AGO membership-- as well as to choral musicians in other parts of the country, e.g. Pennsylvania, New York, New Jersey, New England, Kentucky, Texas, Florida, Missouri.

Augsburg-Fortress Publishing Company has recently released "In Thee Is Gladness" and will will be sending some complimentary copies to me to send to interested colleagues. If you would be interested in receiving one, please contact the newsletter editor, Susan LaGrande, by June 1, 2015, so she can forward the list to me. If you would like to get a "sneak peek" before ordering, go to the Augsburg web site and type in "In Thee Is Gladness" in the search bar. The first item, with the green cover, is this setting by Carl J. Nygard Jr.. 

Kay, Don, and Erwin were/are wonderful people. We hope they will be looking in with joy when choirs sing this setting!


Newsletter Mailings


Because of the rising cost of postage, our default method of delivering our chapter newsletter is via e-mail. We notify you when a new issue is available and include a link to the Newsletter page on our web site, where you can view/download/print the current newsletter, or any of our archived newsletters.
Of course if you are unable to receive e-mail, we will still be happy to send your newsletter via US Mail. If you require this service, please contact the Editor, Susan LaGrande, at 845-226-6496.


Deadline for Next Newsletter


We are always glad to receive input for the chapter newsletter in the form of calendar items, reviews of recent concerts and events, biographies, letters, photographs, etc. In order to make sure these submissions can be processed in a timely fashion, please make sure they are received by the 23rd of each month. However, material such as calendar items may be submitted at any time; even if the material may not make it into the printed newsletter, it can be quickly posted on our web site at www.chvago.org.

You may submit newsletter or web site material by mail, e-mail, fax or phone. Just contact the editor, Susan LaGrande, using the information given above. Remember, the deadline for the next printed newsletter, to be available the first week in June 2015, is May 23rd.


Editor's Corner


This newsletter is published by the Central Hudson Valley Chapter of the American Guild of Organists. The editor is:
Susan LaGrande
12 Montrose Lane
Wappingers Falls, NY 12590
Phone: 845-226-6496 (home) - e-mail: SUSANEL2@OPTONLINE.NET