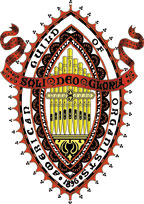 Newsletter
June 2015

Click here for the Newsletter Archive

Click here for a printable copy of the current newsletter



Dear Colleagues,

June is a time of reflecting on the past academic year and getting ready for the responsibilities and opportunities of the next. With the Central Hudson Valley chapter, we had a busy year presenting two organ crawls involving the various fine instruments in Poughkeepsie and also a number of concerts. The concerts included the first of many planned highlighting great composers with choral, orchestral and organ music of Mozart and Haydn, and also the Members' Recital which showed the high level of talent and dedication we have in our chapter. Just this past month the AGO co-sponsored (with the Tower Music Series of the Reformed Church of Poughkeepsie) a workshop and recital by David Enlow, FAGO, which allowed him to present not only his considerable gifts as a concert performer of repertoire but also his great service playing and improvisation skills.

This upcoming year several events are under consideration including a presentation of "Bach to Broadway" at Christ Church in Poughkeepsie; this will feature both pipe organ and theatre organ – sometimes both at the same time! Another concert at Christ Church will present Gail Archer, professor of organ at Vassar College and Barnard College, performing solo works and collaborating with choir. Later there will be an opportunity here in the Hudson Valley to hear the St. Thomas Choir of Men and Boys at Zion Episcopal Church, Wappingers Falls. Please keep an eye on the Calendar in the coming months and plan to attend these wonderful events!

The Calendar is not only a way to see what is going on with the AGO and also other musical activities around the Hudson Valley – it is also a means to let others know what you and your church and other organizations are presenting. If you want your activity to be listed on the Calendar, please contact Susan LaGrande with the information. The official chapter events are highlighted (red type in the printed version, boxed in the online version), but there are many other activities listed besides what is going on with the AGO.

Other good news for the chapter this past year is that we continue to attract new members – students, former members who had not enrolled for a while, those who relocated here and those who belonged to other chapters which unfortunately had to fold. At present, the Central Hudson Valley Chapter is the only strong AGO presence between Westchester County and the various metropolitan New York chapters to the south, Eastern NY (serving Albany and the Capital Region) to the north, New England to the east, and Wilkes-Barre/Scranton to the west. Given the vibrancy of the arts in the Hudson Valley, it is important that we keep alive this strong advocacy for the organ and choirs right here in this beautiful part of our region. Thank you all for your participation and volunteer efforts in maintaining the mission of the Central Hudson Valley AGO. Please share with a friend and colleague all we have to offer.

Happy summer to all!


Craig Williams, AAGO
Dean, Central Hudson Valley AGO

Newsletter Mailings

Because of the rising cost of postage, our default method of delivering our chapter newsletter is via e-mail. We notify you when a new issue is available and include a link to the Newsletter page on our web site, where you can view/download/print the current newsletter, or any of our archived newsletters.
Of course if you are unable to receive e-mail, we will still be happy to send your newsletter via US Mail. If you require this service, please contact the Editor, Susan LaGrande, at 845-226-6496.

Membership News

Welcome to our newest member, Dr. Dorcinda Knauth, currently organist at Redeemer Lutheran Church in New Paltz. She is also available as a Sub. Her contact information is:
Dr. Dorcinda Knauth
49 Spring Street
Kingston, NY 12401
845-750-3444 (H)
dorcinda@gmail.com

Membership Questions
Please address all questions regarding membership and ONCARD to our Registrar/Membership Coordinator, Barb Bayers. Her phone number is 203-260-4295 and her e-mail address is babayers@gmail.com.

Deadline for Next Newsletter

We are always glad to receive input for the chapter newsletter in the form of calendar items, reviews of recent concerts and events, biographies, letters, photographs, etc. In order to make sure these submissions can be processed in a timely fashion, please make sure they are received by the 23rd of each month. However, material such as calendar items may be submitted at any time; even if the material may not make it into the printed newsletter, it can be quickly posted on our web site at www.chvago.org.

You may submit newsletter or web site material by mail, e-mail, fax or phone. Just contact the editor, Susan LaGrande, using the information given above. Remember, the deadline for the next printed newsletter, to be available the first week in July 2015, is June 23rd.

Editor's Corner

This newsletter is published by the Central Hudson Valley Chapter of the American Guild of Organists. The editor is:
Susan LaGrande
12 Montrose Lane
Wappingers Falls, NY 12590
Phone: 845-226-6496 (home) - e-mail: SUSANEL2@OPTONLINE.NET