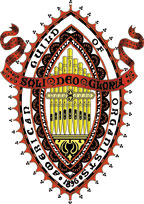 Newsletter
July 2015

Click here for the Newsletter Archive

Click here for a printable copy of the current newsletter



Dear Friends,

July! Fireworks, heat, transitions… Maybe a time to go on vacation – or even "stay-cations" when perhaps we do not have the same schedule of choir rehearsals and other responsibilities. This is also a great month to make sure you have renewed your AGO membership if you have not done so already! (Okay, I had to get in that plug…)

Some of our transitions are expected. This summer I am experiencing what many of you have already experienced or are anticipating in the future – sending off the first child to college! The preparations for and now the execution of this momentous event are all they are cracked up to be! Helping to move a child into adulthood is a time of joy and sorrow, exhilaration and anticipation, pride and humility – a wonderful metaphor for so much of what we do as artists and participants in creation.
Some transitions are not expected. I share the sorrow of many in noting the sudden passing of a great friend, Paul Frazer, the loving husband of our sub-dean Laura Russell. Paul was an enormous talent who contributed so much to music in the Hudson Valley over several decades. We will all miss his quiet and supportive presence, his helping hands and especially his unique beautiful voice which showed no sign of age. I personally was privileged to work with him on several occasions. In particular I was deeply moved by his solos in the Duruflé Requiem and the aria "Mache dich" performed when the Hudson Valley Bachfest presented Bach's St. Matthew Passion a few years ago. Rest well, friend, and we look forward to the time when we will hear you joining with the angels and archangels as they sing their unending hymn of praise.

July is a time for the schedule to slow down somewhat though our chapter will still enjoy the annual picnic at Eric Hepp's house on Sunday, July 19 at 3:00 PM. Eric will grill the main course and provide beverages, and guests are encouraged to bring salads and desserts.

I would like to repeat also what we are planning for the fall. In October, we will have a presentation of "Bach to Broadway" at Christ Church in Poughkeepsie featuring pipe organ and theatre organ. Another concert at Christ Church will present Gail Archer, professor of organ at Vassar College and Barnard College, performer solo works and collaborating with choir. There will also be an opportunity here in the Hudson Valley to hear the St. Thomas Choir of Men and Boys at Zion Episcopal Church, Wappingers Falls. We will update the Calendar during the summer so that you may plan to attend or even participate in these events.

Next month I look forward to sharing some reflections about the wonderful Regional Convention last week in New Haven, CT. In the meantime, please take time to enjoy the blessings of summer.


Craig Williams, AAGO
Dean, Central Hudson Valley AGO

Newsletter Mailings

Because of the rising cost of postage, our default method of delivering our chapter newsletter is via e-mail. We notify you when a new issue is available and include a link to the Newsletter page on our web site, where you can view/download/print the current newsletter, or any of our archived newsletters.

Of course if you are unable to receive e-mail, we will still be happy to send your newsletter via US Mail. If you require this service, please contact the Editor, Susan LaGrande, at 845-226-6496.

Membership News
Larry Hazard reports that he has discontinued one of his phone numbers. Effective immediately, please use only the following phone number for him: 845-452-0119.


Timothy Lewis has a new email address, effective immediately: TimLewis@valstar.net. Please use only this address for him from now on.


Gregory Citarella writes: "My organ student, chapter member Luca Cantone, graduated with honors from Saint Thomas 5th Avenue this weekend past. He played Bach's Choral prelude "Wachet Auf" on the large or main organ in the front of the church. The Bishop of New Jersey The Right Rev. William H. Stokes, D.D. was the guest preacher. The webcast of the entire graduation ceremony is available online at http://www.saintthomaschurch.org/calendar/events/worship/11532/the-96th-commencement-ceremony-of-saint-thomas-choir-school. Luca begins playing at time marker 51:36. He did a very admirable job playing. I am very proud for him and his hard work with me as a student for the last 3 years. He will be subbing for me at Zion on August 23 and 30 of this year." Congratulations to both teacher and student!


Please welcome Ms. Meredith E. Baker, ChM, as a dual member. Her primary chapter is the Nassau Chapter. She resides at:
43 Vails Gate Heights Drive
New Windsor, NY 12553
Phone: 845-565-3321 (h) 914-261-0028 (c)
meb@mbmusicmatters.com
Meredith is the Director of Music at Most Holy Trinity Chapel, West Point.


Also please welcome Dr. John A. Ward, FAGO FRSM, as a dual member. His primary chapter is the NewYork City chapter. He resides at:
600 Pullis Ave #46A
Mahwah, NJ 07430
201-880-4090 (h)
917-657-4614 (c)
jward012@gmail.com
John is a Fellow of the American Guild of Organists and Fellow of the Royal Schools of Music (in Piano). He also has an LRSM (Licentiate of the Royal Schools of Music) in Singing, and with Distinction, in Organ. He is an ATCL (Associate of Trinity College London) in Piano. Since November he is the northern New Jersey representative of Trinity College in London. John is a member of the faculty of The Ridgewood Conservatory in Paramus, NJ, where he teaches piano, organ, voice and composition.


Congratulations to Justan Foster, CAGO, who was recently notified that he had passed the Colleague examination. May Justan's success be an inspiration to all of us to pursue AGO certification likewise!
Membership Questions

Please address all questions regarding membership and ONCARD to our Registrar/Membership Coordinator, Barb Bayers. Her phone number is 203-260-4295 and her e-mail address is babayers@gmail.com.

Deadline for Next Newsletter

We are always glad to receive input for the chapter newsletter in the form of calendar items, reviews of recent concerts and events, biographies, letters, photographs, etc. In order to make sure these submissions can be processed in a timely fashion, please make sure they are received by the 23rd of each month. However, material such as calendar items may be submitted at any time; even if the material may not make it into the printed newsletter, it can be quickly posted on our web site at www.chvago.org.

You may submit newsletter or web site material by mail, e-mail, fax or phone. Just contact the editor, Susan LaGrande, using the information given above. Remember, the deadline for the next printed newsletter, to be available the first week in August 2015, is July 23rd.

Editor's Corner

This newsletter is published by the Central Hudson Valley Chapter of the American Guild of Organists. The editor is:
Susan LaGrande
12 Montrose Lane
Wappingers Falls, NY 12590
Phone: 845-226-6496 (home) - e-mail: SUSANEL2@OPTONLINE.NET