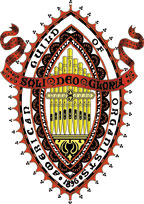 Newsletter
September 2015

Click here for the Newsletter Archive

Click here for a printable copy of the current newsletter



Dear Colleagues,

Once I wrote a poem about winter where it was observed that the frozen state of many things reflected eternity yielding to the true cruel seasons of spring and beyond – where nothing could be held secure as all became fluid and changing. On the surface it seems that fall and winter are where we get all the work done while we look forward to the restful season of summer. Summer though is the season of transitions and it seems where the most work is done around us if not by us.

I mentioned previously the transition of moving a child to college, and I read in the Facebook posts of other parents that my experience is far from unique. In some ways, the trauma to parents is shocking to me, because I do not remember my parents having that reaction when my brother and then I went to college. Perhaps I was not paying attention…
This has been a summer when we have been continually reminded that death could occur at a moment's notice. Whereas we note with sadness the passing of some members who lived full lives or whose end was expected, we have been struck by the suddenness and unexpectedness of having valuable people taken from us. Paul Frazer was one we did not expect to be taken from our musical community.

An unexpected passage which took the entire organ world by surprise was the sudden death of John Scott, Organist and Choirmaster at St. Thomas Church in Manhattan and of course who had had a brilliant career at St. Paul's London for 26 years before arriving here. John had just played a whirlwind tour of Europe (I loved following his posts on Facebook) including a star performance at this year's Three Choirs Festival in Hereford Cathedral and was returning to his wife expecting their child in a couple of months. Here was a man on top of his game at seemingly the prime of his life (60 being the new 40 and all that). Then he is gone. The outpouring of shock and grief that followed his passing was, I believe, expressed for him, his widow and unborn child but also for the human condition of all of us. There but by the grace of God go we!

This speaks to the uniqueness of our profession. In church and synagogue, we practice art and music which gives melody to the voice which expresses the eternal and speaks to something greater than it or us. We do not play merely for the applause or pursue one musical venture after another in search of meaning. We join our voices (sung and played) to a greater music which is already in progress and which will play long after each of us is gone. We are the practitioners of hope.

In the riot of summer – heat and bugs and strangling vines and all transitions expected and unexpected – we need to look up and see a sun which rises and sets in the rhythm of the seasons pointing to a music of spheres beyond our vision, our understanding and our seasons. This is the music of which we hear a hint when we press a key and hear sounds which, unlike any other instrument, span across the entire range of our hearing and comprehension.
Through it all, play on!


Craig Williams, AAGO
Dean, Central Hudson Valley AGO

Membership News
Darren Motise performed a solo organ recital at The Cathedral of Our Lady of the Angels in downtown Los Angeles on August 19, 2015. The program, performed on the cathedral's landmark four-manual, 105-rank Dobson pipe organ, included Duruflé's Suite Opus 5 and the finale of Messiaen's Livre du Saint Sacrement. Congratulations, Darren!


Ben Gessner has a new email address, effective immediately: b.gessner1@gmail.com
.

Heartfelt condolences to Laura Russell, whose husband Paul Frazer died suddenly in June. A beautiful memorial service was held on July 18, 2015. The following is an excerpt from his obituary as printed in the Poughkeepsie Journal:
Paul Sidney Frazer, age 76, died on Thursday, June 18th, 2015, in Bar Harbor, ME, while vacationing with his wife, Laura. He was born on March 15th, 1939 in Camden, NJ to the Reverend Stuart and Ruth (Conger) Frazer. He graduated from Collingswood High School in 1957 and served in the U.S. Navy from 1957-1961. Paul worked at IBM from 1961 until his retirement as an Advisory Engineer in 2005. In 1962 he married Mary Helmey, with whom he had two children. In 1978 he moved to Poughkeepsie, NY, where he lived for the rest of his life. On November 23, 1990 Paul married Laura Ramsey Russell, and the two of them created a wonderful, loving home for their children, step-children, and grandchildren. 
Music was Paul's passion, and he was an amazing singer, performing throughout the Hudson Valley as a baritone soloist in concerts, musical theatre, and opera. He sang with the Cappella Festiva Chamber Choir for nearly forty years and with the Christ Episcopal Church Choir for almost thirty years. He also performed with the Hudson Valley Gilbert & Sullivan Society, and with the Hudson Valley BachFest Choir. 
Paul was a loving and dedicated father, stepfather, and grandfather, and a rock of support, love, and companionship for Laura. Paul is survived by his wife, Laura Ramsey Russell; his brothers David Frazer and wife Marie of Ohio and John Frazer and wife Sandy of Colorado; his daughter Ann Lawson and grandsons Paul and Gabe of Rhinebeck; his son Paul Frazer and wife Phimphorn and granddaughter Maggie of Hyde Park; stepsons Samuel Russell of New Jersey and Jonathan Russell and wife Laura Bacon of London, England. 
In lieu of flowers, donations in Paul's memory may be made to the Paul Frazer Memorial Music Fund at Christ Episcopal Church, 20 Carroll Street, Poughkeepsie  or to Cappella Festiva Chamber Choir.


Sadly, we have another death to report, brought to our attention by Gregory Citarella in the following note: "On August 22, 2015 I had the privilege of playing for the funeral of one of our long time members of the CHVAGO - Anita P. Drake. Anita had been battling cancer and died at the age of 77. Her service took place at St. Margaret's Episcopal Church in Staatsburg and was well-attended by her family and friends.
I write you this note only because during the sermon it was mentioned that when I was dean of our chapter I had given Anita, along with a few others (e.g: Ray Corey) Certificates of Appreciation for their life work to the service of the church and as members of our chapter. In the sermon it was noted that Anita was so very proud of this and kept the framed certificate of appreciation on her piano and was very proud to show this memento off to everybody and anybody who walked through her front door.
Hymns sung at Anita's service, which I understand were her favorites, included Rock of Ages, On Eagle's Wings, There Is a Balm in Gilead, Ave Maria by Schubert, and The Strife Is O'er. Anita had played at St. Margaret's in Staatsburg, St. Martin DePorres in Poughkeepsie, and other local churches."
Editor's Note: Because of her poor health, Anita Drake had been unable to participate in chapter activities for several years. But I remember her fondly because of her graciousness to me when I first joined the chapter. May she rest in peace.


Installation of Chapter Officers for 2015-2016 will take place at the "Bach to Broadway" concert at Christ Church on October 3, 2015.


We bid a fond farewell to past dean Beverly Simmons, who has moved to New Mexico. Her new address is:
Beverly Simmons
7250 Pajarito Rd. NE
Rio Rancho, NM 87144
Her phone number is now only her current cell: 845-464-7809
Email will remain the same: beverlysimmons412@gmail.com
We will miss Beverly and wish her all the best in her new location!


Congratulations to Patrick Walker, who was awarded the chapter's Margaret Pecoraro Memorial Scholarship of $1,000 for his studies at the McGill Summer Organ Academy in Montreal.


Joe Bertolozzi continues to be in the news for his Bridge Music, which can be heard at listening stations on the Mid-Hudson Bridge as well as on CD. The Tower Music project, which features sounds recorded at the Eiffel Tower in Paris, is also in full swing. In addition, Joe has posted on Facebook a 7-part retrospective of his1985 organ concert tour to Portugal. The series links to his website and includes narrative, photos and actual live recordings of Joe playing during the tour. The entire series is available on our chapter's Facebook page at https://www.facebook.com/groups/CHVAGO/


Be sure to look for news of our chapter in the September issue of The American Organist magazine. Nice to see our doings reported in the official publication of our Guild!
Membership Questions

Please address all questions regarding membership and ONCARD to our Registrar/Membership Coordinator, Barb Bayers. Her phone number is 203-260-4295 and her e-mail address is babayers@gmail.com.